Standing Room Only for Sunday 8 March 2015
12:39 On the Bright Side
As the saying goes, if you want a job done well, do it yourself. And a community group in inner-city Auckland has done just that. They took a grim and possibly dangerous pedestrian tunnel and transformed it into a public work of art. Kowhai Butterflies is a mural on Bright Street in Eden Terrace and is an example of folk getting on with it instead of waiting for someone else to put things right. Justin Gregory went for a walk on the Bright side.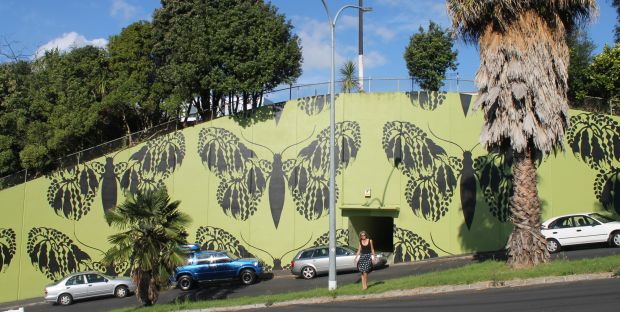 Kowhai Butterflies and artist Kate Millington
12:47 Loading Docs
The hopes of ten New Zealand documentary makers hinge on the kindness of strangers. They're all in the running to get four thousand dollars worth of help to make their short docos. But first, they need to raise two thousand via crowdfunding. It's the second year for the Loading Docs project, which has New Zealand on Air and Film Commission funding. Last year's batch of 10 docos were seen an estimated 300-thousand times online here and around the world.
This year's month-long fundraising started on Boosted on Monday. By Wednesday, two of the filmmakers had secured 80 percent of their target. Film directors Henry Oliver and Nikki Castle tell us about their projects.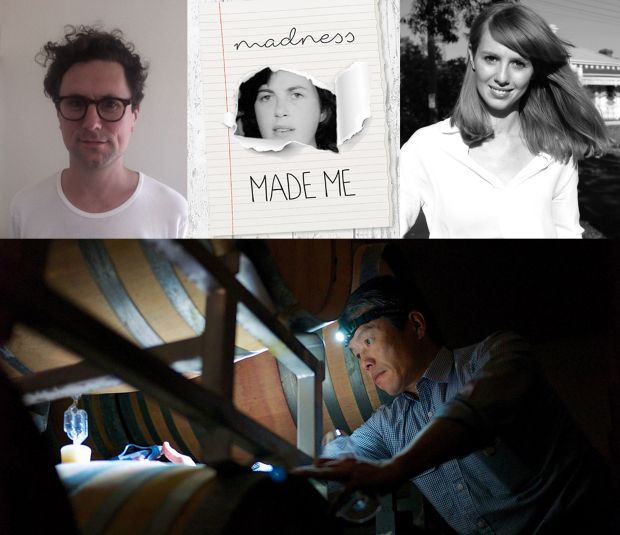 1:10 At the Movies with Simon Morris
The aptly-named Second Best Exotic Marigold Hotel, and the new Vista Foundation – altruism is alive and well in New Zealand's boardrooms
1:34 Matching sound to vision
Worldwide, dubbed film and television is the norm. It's only English speaking nations that don't regularly see a mouth movement that doesn't quite match up to that impassioned speech by the lead. Shaun D Wilson asked awarding-winning American journalist Mac McClelland, who for Matter magazine has reported on the French dubbing industry, for her insight into this fundamentally foreign endeavour, where careers prosper depending on the success of English speaking counterparts.

French actress Nathalie Karsenti is the French January Jones, Keira Knightley, Eva Mendes and Zoe Saldana
1:47 NZ On Screen
Irene Gardiner from NZ On Screen takes us back to the first year of programmes made with New Zealand on Air Funding, as it celebrates its quarter century.
2:05 The Laugh Track
If you think New Zealand comedians have difficulty being understood overseas, with our endearing accent, what about Scottish comedians? Sometimes when Billy Connolly or the Proclaimers are in full flight you wonder if it's still English! But if you're bringing two great Scottish comedians here, where better than to the Dunedin Fringe festival?   Today's laugh track guests are Scottish Comedian of the Year, Bruce Fummey and top headliner Vladimir McTavish.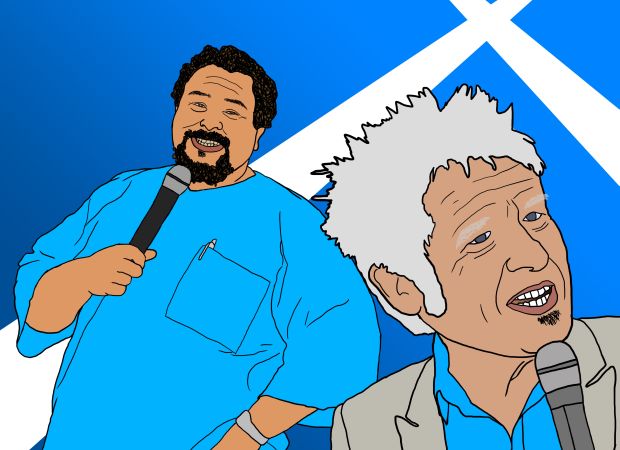 2:26 Author, Julie Thomas
Julie Thomas made a real splash with her largely historical novel that started out as an online only book...The Keeper of Secrets, her latest Blood, Wine and Chocolate is an entirely different genre.   
2:38 Charles Brasch: Selected Poems
Then how and why the literary executor of Charles Brasch's estate, Alan Roddick has chosen now to put out a collection of the influential poets work. The influential poet's work has been out of print for more than 30 years – until now. Charles Brasch: Selected Poems is published by Otago University Press.
2:49 Private Utopia
Dunedin is the only place in New Zealand you'll be able to see contemporary art from the UK selected from the British Council's extensive collection. Past Turner Prize winners like Tracy Emin, she of the unmade bed, and Grayson Perry who won with his pornographic pots, are among the 30 artists who hit the headlines from the 1990s onwards.
Emma Gifford-Mead oversaw the exhibition, it's called Private Utopia: Contemporary Art from the British Council Collection and opens at the Dunedin public art gallery at the end of the month.
3:05 The Drama Hour
This week on the Drama Hour we have another fabulous New Short winner, it's The Worst best Night of Our Lives by Teresa Bass. Stranger Things are happening in Wellington. And Sonia Sly talks with Performance Designer Sam Trubridge.