Standing Room Only for Sunday 1 March 2015
12:39 Richard Meros is back
Before the 2008 election, a character called Richard Meros had a plan to help the incumbent Labour Government avoid certain defeat. And it was as bold as it was wordy. On the Conditions and Possibilities of Helen Clark Taking Me as Her Young Lover played to packed houses around the country but failed to prevent a Labour loss. Undeterred, Meros is back with an even bigger dream; in 2015, he wants to save the world.

Image courtesy of Geoff Pinfield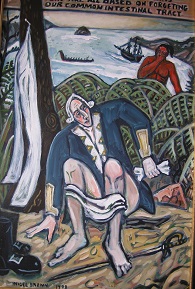 12:47 Tranquillity Disturb'd
Why a new portrait of master mariner Captain James Cook has so many people upset even before it goes on show at the New Zealand Portrait Gallery in Wellington. Nigel Brown's unconventional depiction of the master mariner is part of an exhibition called Tranquillity Disturb'd: A contemporary look at historical New Zealand. It's the first exhibition under the auspices of the gallery's new director, Gaelen Macdonald. The exhibition at the New Zealand Portrait gallery in Shed 11 on Wellington's Queen's Wharf will run from 12 March - 31 May.
Image: Intestinal Tract by Nigel Brown
1:10 At the Movies with Simon Morris
1:34 Bringing back Elbe's Milk Bar 
An art project re-creates the notorious Elbe Milk Bar in the Hutt Valley, the behaviour of some of its teenage patrons led to moral panic which led to the damning Mazengarb Report. Sixty years on, Tim Barlow is working with students from the Rangatahi Learning Centre in Wainuiomata to bring back Elbe's Milk Bar, temporarily, as part of the Common Ground Hutt Public Art Festival. The work also contributes to their NCEA credits. Elbe's Milk Bar opens on the 3rd of March. 
Gallery: Recreating Elbe's Milk Bar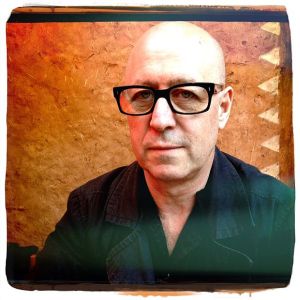 1:47 Music talk
Simon Grigg from Audio Culture talks about the Wellington Music scene in the early 1970s – including our very own Simon Morris' band Tamburlaine. 

2:05 The Laugh Track
Jesse Mulligan from the TVNZ programme Best Bits.
2:26 Dirt and Other Delicious Ingredients
"Everything comes from the dirt," says Artistic Director and Choreographer Sacha Copeland, of the inspiration behind her new show, Dirt and Other Delicious Ingredients.
The contemporary dance show will be launching the Capital E Arts Festival this month, and is a one-off performance. There are five multi-skilled performers who will embark on a journey of exploration through and around delectable mounds of dirt, that will infuse and excite the senses… and it is good enough to eat!
2:38 Author, Charity Norman
Imagine the person you've been married to for 30 years, has a secret. You think you know them better than anyone, that your life is near perfect, you both love your kids and grandkids, and that you'll go on to celebrate many more anniversaries to come. In her fourth novel, expat Brit, now Napier-based writer, Charity Norman creates just such a marriage. Then she throws a huge spanner in the works. The Secret Life of Luke Livingstone by Charity Norman is published by Allen and Unwin.
2:49 Francesco Ventriglia
The Italian Artistic Director of the Royal New Zealand ballet company Francesco Ventriglia reveals his hopes and dreams for his dancers, ahead of the first production for 2015, Don Quixote.
3:05 The Drama Hour
We premiere Out Of Frame, a winning play from out New Shorts Competition, written by Miranda Wilson. And we head to Venice with Scherzo by Stuart Hoar.