Standing Room Only for Sunday 2 November 2014
12:39 The No Town Project
Photographer Caroline McQuarrie shares her exhibition of photograph of abandoned West Coast townships, and accompanying embroidery to help Greymouth celebrate its 150th anniversary. No Town opens at the Hokikika Museum this Tuesday before heading to Reefton and Greymouth.
Gallery: Images from No Town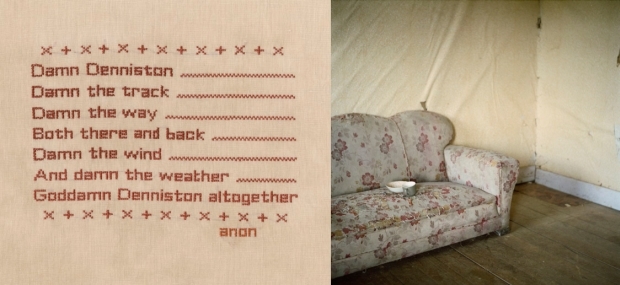 Images from No Town by Caroline McQuarrie.
12:47 Te Uru Waitakere Contemporary Gallery
It's taken two years to build but Te Uru Waitakere Contemporary Gallery is now open. Standing Room Only went to see the West Auckland gallery a year ago when it was just beginning to take shape and to hear about the ambitious plans director Andrew Clifford had for it. Justin Gregory met Andrew again recently to take a tour of the Te Uru Waitakere Contemporary Gallery and talk about whether those plans had become reality. They begin on the ground floor in gallery one.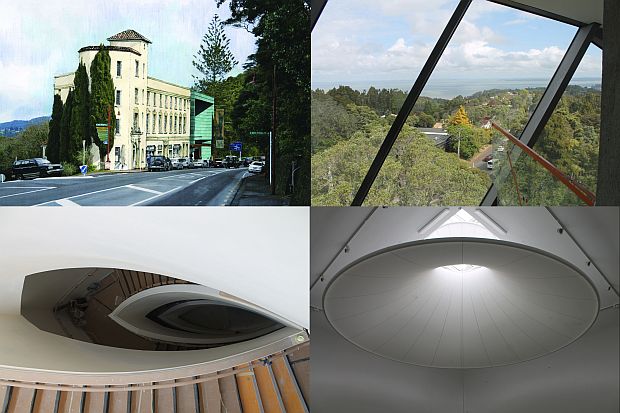 1:10 At the Movies with Simon Morris
An interview with Park Road Post's Sound Guru and multi-Oscar-winner, Mike Hedges.
1:34 Peter Bromhead
Cartoonist Peter Bromhead displays some of his early work which was rescued from the skip and is now safely on the walls of  the Exhibition Gallery in Wellington. When Ink Was King goes back to the 1970s and 80s when Peter was starting out – now in his 80s, he's still producing daily cartoon, but he believes cartoons may soon be a thing of the past.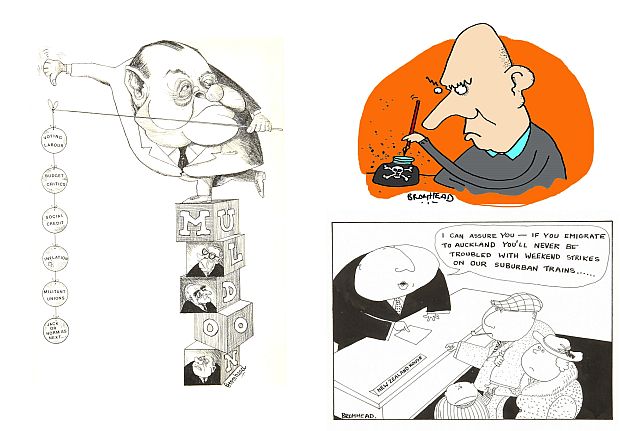 1:47 Christian Thompson
Australian photographer and performance artist Christian Thompson on his artist's residency for the School of Art and Massey University and Wellington City Council, and why he had to leave Australia after being branded an 'angry Aboriginal artist'. He says he's more playful than angry, though some of his images pack a punch. Christian made history by becoming the first Aboriginal accepted into Oxford University and is now based in London.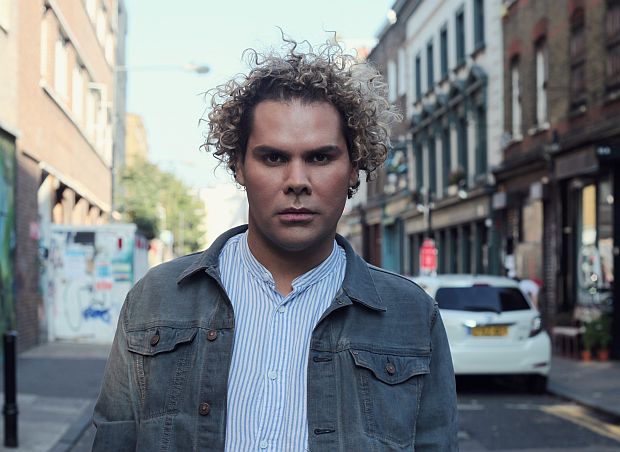 2:05 The Laugh Track
Natalie Medlock's graduated from Toi Whakaari in 2007 and since then she's written and acted in her own plays, appeared on TV shows including Shortland Street (nurse Jill Kingsbury), The Almighty Johnsons and Auckland Daze and recently got NZ on Air funding for a web series based on a character called Yeti. She's also currently working on a screenplay for a movie Shearing the Love. At the same time she's about to return to the stage in the improvised show The Blind Date Project, which starts on 4 November at the Silo Theatre in Auckland.
2:25 Centrepoint reflections
Alison Quigan, the former Artistic Director of Palmerston North's Centrepoint Theatre reflects on the theatre's 40th, which has been marked with the launch of a book about its history written by Peter Hawes: The History According to Peter Hawes.
2:36 The Rosie Project
The Rosie Project author Graeme Simsion, on the rise of his book, why he wrote the sequel The Rosie Effect having promised himself that he wouldn't, progress on a film deal and why so many people have fallen in love with his unlikely hero, Don Tillman.
2:49 NZ On Screen
Rock and roll is dominating the summer, with the likes of the Rolling Stones, Foo Fighters, Ed Sherran, Rod Stewart and Billy Idol coming to visit in the next six months. With that in mind Irene Gardner has chosen some vintage Radio with Pictures interviews recently added to NZ On Screen:
David Bowie
Lou Reed
Joni Mitchell
Mick Jagger
3:05 The Drama Hour
We continue to explore a sad chapter of New Zealand's history in Samoa. This two-part drama is based around the true story of the assassination of Chief Tamasese in Apia in 1929. It's the conclusion of Think Of A Garden by Samoan playwright John Knewbuhl.