Standing Room Only for Sunday 11 May 2014
12:43 A question of art ethics
Ethics are a potential minefield in the performing arts. Who should take credit for devised works? What to do when your mother's in the cast of your play? To pay your performers or not to pay your performers? A range of practitioners have been interviewed about their thoughts and experiences and they're available in a series of podcasts. 
 We hear from the co-ordinator Melissa Laing, and two interviewees Louise Tu'u and Tru Paraha.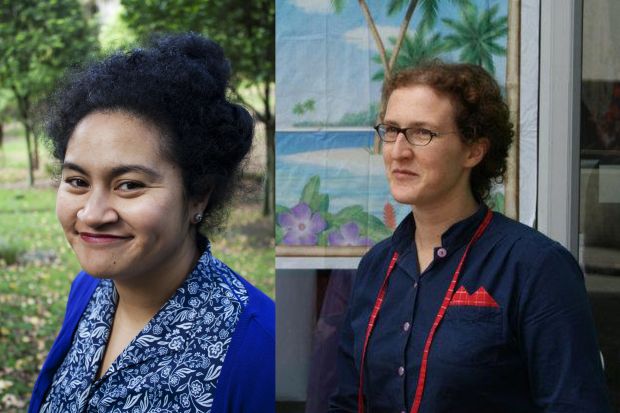 12:54 The Standing Room Only competition
The finalists and winners of the Star Wars competition are announced and the details of the next SRO competition are revealed.
1:10 At the Movies with Simon Morris
1:30 Sisters in Arms
Only a few women surgeons managed to fight their way to the Front Line in the First World War – and one of them was a New Zealander. Jessie Scott's story is being told in a theatre production that's being co-created by Dunedin group Ake Ake and a Serbian theatre company. Sisters in Arms received around 30-thousand dollars from Creative New Zealand, as part of its funding for First World War centenary events. Jessica Latton from Ake Ake first met Serbian director Sanja Krsmanovic Tasic  when her Serbian company performed in New Zealand back in 1999. Sisters in Arms will premiere in Belgrade in September before being performed in Dunedin, 10-13 October, then Nelson 18 and 19 October.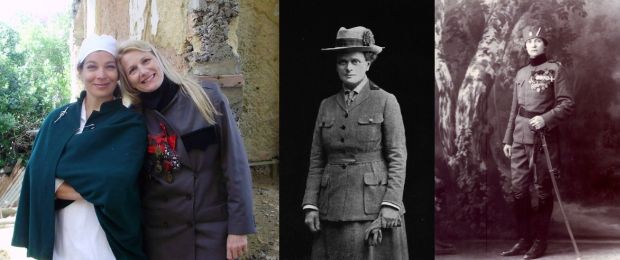 Left: Jessica and Sanja in the ruins, Middle: Elsie Inglis, famous and inspirational leader of Scottish Women's Hospitals, Right: Sofia Jovanovic in uniform
1:45 Plan B: "The Accursed Items"
Contemporary jewellers – Chloe Rose Taylor and Caroline Thomas take their accursed creations to exhibition at Toi Poneke Gallery.
Inspired by the short story Plan B 'The Accursed Items' by American author J. Robert Lennon, they've have been inspired to look at the journey of inanimate objects. Sonia Sly meets up with the pair at Chloe's Wellington workshop to discuss trends, drag queens, glitter, coke cans and other seemingly precious items that have been lost and sometimes found.
2:05 The Laugh Track
Irish comedian Michael Legge – please note he uses language some people might find offensive.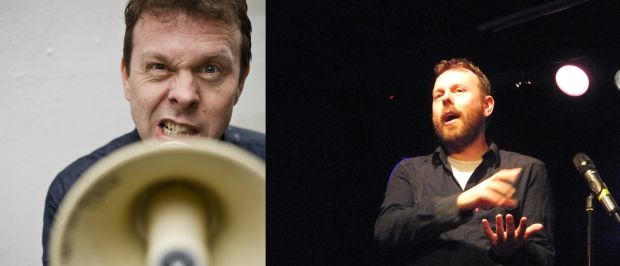 2:26 Today's typography
There's a bewildering and ever-expanding choice of typefaces available these days. Companies are prepared to spend a lot of money commissioning unique typefaces and logos – letters which will look good in print and, increasingly, on screen. At the forefront of type design is British graphic designer Paul Barnes, who's designed Guardian Egyptian for the Guardian newspaper, numbers for football players' jerseys and the logo for model Kate Moss. Paul was in New Zealand recently as a guest of The Designers Institute of New Zealand.
2:40 University of Otago Scottish Writers Fellow   
The first University of Otago Scottish Writers Fellow combines her love of music with her desire to write. Janice Galloway has collaborated with opera companies and artists, and written a much loved novel Clara about the life of composer Clara Schumann. She's also written award-winning memoirs, poems, short stories - and here in New Zealand, one of her planned projects involves learning more about our sheep. Janice is a guest at both the Auckland and Dunedin Writers and Readers Festivals this week.   
Janice Galloway, Photo by Kirsty Anderson
2:45 Empty Bones
Dunedin short-story writer Breton Dukes releases his second collection, Empty Bones, published by Victoria University Press.
3:04 The Drama Hour
Part 2 of Ophelia Thinks Harder by Jean Betts