Standing Room Only for Sunday 27 April 2014
12:43 Dancer/choreographer, Tupua Tigafua
Dancer/Choreographer, Tupua Tigafua, on persuading his Samoan family that he's made a good career choice, on how handball and labouring help his dancing, and why he's called his new dance work for the New Zealand Dance Company, Dreamy McFloat.
12:48 Edinburgh Festival
More from the Kiwi contingent heading to Edinburgh in a few weeks, this time we hear about the visual artists who've been handpicked to represent us in the Festival City, including Auckland multi-media artist Steve Carr and the curator who selected him, Aaron Kreisler.
Watch a clip from Burn Out.
1:10 At the Movies with Simon Morris
Simon interviews New Zealand Film Commission Chief Executive Dave Gibson.
1:35 On The Street: Four Eyes
When the Auckland-based street-style fashion blog Four Eyes was born, Chin Tay – (one of four photographers) had no idea how to use a camera. It was four friends who had an undeniable love for fashion, and the blog was a way for them to capture the kind of 'style(s)' that they found inspiring. These days their cameras are always at-the-ready in the hopes to spot some 'fashion talent.' The blog is clean-line and minimalist with a focus on imagery. Sonia Sly catches up with Danny Simmons and Chin Tay  to burn some calories on the streets of Ponsonby in Auckland to discuss fashion, photography, and the thrill of the chase!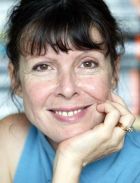 1:53 Translating the masterpieces
Why it took translator Julie Rose so many years to produce the first unabridged translation of Victor Hugo's masterpiece, Les Miserables – and why did she undertake such a mission? 
2:05 The Laugh Track
UK Comedienne Sara Pascoe.

2:26 Writing for the young adult market
Two award-winning writers for the tricky young adult market, Sherryl Jordan and Elizabeth Knox, swap stories in a panel discussion recorded at the Tauranga Arts Festival.
3:05 The Drama Hour
The darkly funny play, Karori Mauled by Roger O'Thornhill.