Standing Room Only for Sunday 16 February 2014
12:43 Crowd Funding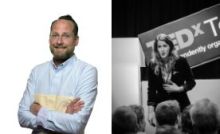 More and more artists are turning to crowd funding to get their creative endeavour funded without having to go cap in hand to the usual sources of money. Well, that's if yours is among the projects that catch the public's imagination. Many projects fail to reach their target, but for those that make it, it's worth all the hard work that goes into launching a successful campaign. We hear from two of New Zealand's foremost crowd-funding organisations, the Arts Council's Boosted (Mark Michel) and New Zealand's first crowd-funding platform PledgeMe (Anna Guenther).
Links:
Kickstarter
Joel Kefali's progress
1:10 At the Movies
Simon Morris looks back at a full holiday period chock-full of Oscar hopefuls.
1:31 The HEART Project
An exciting new app has just launched in Nelson. It effectively lets people lift historic photographs off the walls of the local museum and look at them where they were originally shot out, on the streets. It's called the HEART project.
1:45 Anne Pender on Political Satire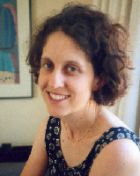 Aussie academic Anne Pender has been studying the particular genius of ex-Kiwi John Clarke and his partner in political satire, Bryan Dawe. She says they've had a huge impact on political satire in Australia, and further afield.
2:05 The Laugh Track
Musician Robbie Ellis and Tenor Andrew Grenon together turn political speeches into mini-operas.
Links:
View Robbie's mini-operas on YouTube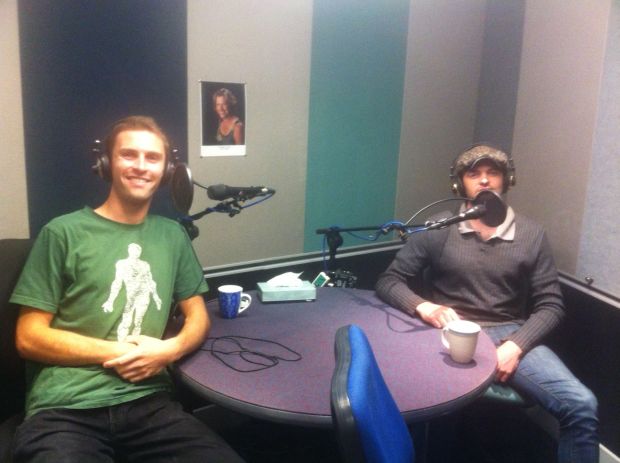 2:26 The Street Loves Nana
Auckland's Splore Festival is witnessing the re-emergence of one of our most interesting textile artists. When a fire damaged her home last year, Margaret Lewis lost not just a lot of her work and most of her enormous collection of materials, but she very nearly lost her drive to create too. A year later, mojo fully restored, she's back, mashing up street art with cross-stitch in a community art project called The Street Loves Nana. Just Gregory met her at her storage space in Auckland.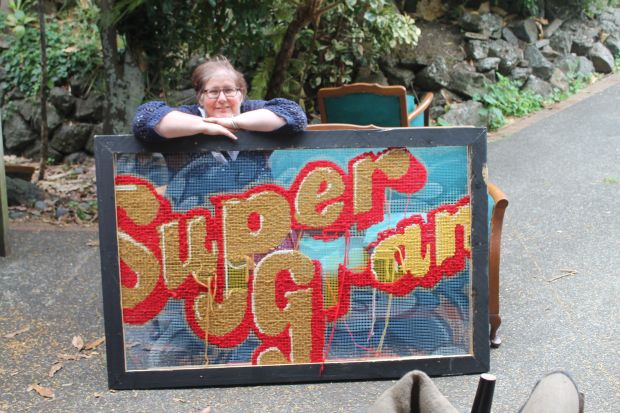 Textile artist Margaret Lewis poses with her unfinished work 'Super Gran'
2:38 National Conference for Creative Writing Tutors
The country's creative writing tutors have come together for their first national conference, as the popularity of their courses continues to grow – and that's before the flow-on effect of Eleanor Catton's Man Booker Prize win. We discuss the job prospects for the many creative writing graduates pouring out of the ever-growing number of tertiary courses, and find out that learning how to write storylines for the gaming industry is the new big trend.
LInks:
MIchelle Leggott
Kevin Brophy

Michelle Leggott and Kevin Brophy
2:50 Kora 
We chat to the multi-talented Fran Kora. He's the star of the film The Pa Boys, but for a long time before that he's been a musician. He's still in a band, Kora, with his siblings, formed and held together by the boys' father in the early years. 
3:05 The Drama Hour
The final part of the British serial Lost in Mexico, about two young English back-packers who find themselves charged with fraud and bribery. Plus a slice of sci-fi from the New Shorts programme.