Standing Room Only for Sunday 9 February 2014
12:43 Donor expectations
We ask what rights you have when you donate items to institutions like Te Papa, and find out if donor's expectations match the reality. Te Papa's Senior Curator Creative Industries, Claire Regnault (right), is tasked with choosing from the hundreds of items offered to the collection every year.
1:10 Movie reviews
Alexander Bisley reviews Blue is the Warmest Colour, Dallas Buyers Club and Labor Day.
1:31 The 'Loading Docs' initiative
A crowd-funding scheme will see 10 new innovative Kiwi documentary shorts hit our computer screens in May – well that's if the public is prepared to chip in too. It's part of the 'Loading Docs' initiative. One of the 10 is Joel Kefali, who directed the award-winning video for Lorde's Grammy winning song 'Royals'.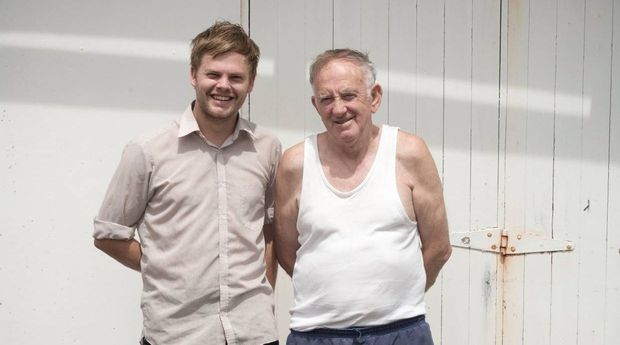 Joel Kefali with his grandfather Sol.
1:41 Lashings of Whipped Cream - A Session with a Teenage Dominatrix
Twenty years ago, Fiona Samuel dominated the stage in her play, Lashings of Whipped Cream – A Session with a Teenage Dominatrix. During an hour in her bondage and discipline dungeon, Mistress Dominique shared the secrets of her profession with the audience as prospective clients. Now, the show is back, but with a twist. Mistress Dominique is played by teenage drag diva Rhubarb Rouge, the creation of performer Ricky Beirao. Performance, drag, B&D – all use the fluidity of identity and reality to do their work; the theatre isn't really a dungeon; Mistress Dominique isn't really a teenager. The actor isn't really a dominatrix. Justin Gregory talks identity and illusion with both Fiona and Ricky.


Fiona and Ricky as Mistress Dominique.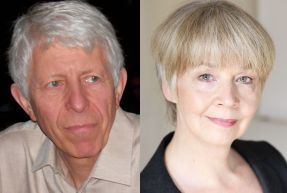 1:53 Giles Block
Giles Block, The Globe Theatre's associate in charge of text, and his actor wife, Penny Beaumont (left) are touring New Zealand at the moment, taking a break for the occasional workshop with Kiwi lovers of the Bard. They'll drop by to talk about unravelling some of the knottier Shakespearean passages.
Left: Giles Block and Penny Beaumont.
2:05 The Laugh Track
Touring British stand-up comedian, Neil Sinclair.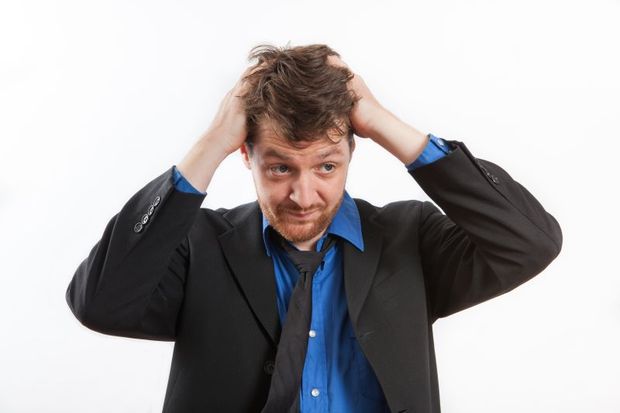 Neil Sinclair.
2:26 The Future of the Media
A round table discussion about the future of the media in this world of ever-changing technology. Broadcaster and writer Finlay Macdonald was the chair, while The Listener's Guy Somerset talked about print, the internet was represented by editor Stephen Stratford and Cathy Aronson from The Big Idea online arts site, and Lynn Freeman was there with radio's perspective.
3:05 The Drama Hour
Miss Penny by KJ Hamilton and Lost in Mexico - Part 1 by Ingeborg Topsøe.
Music played in this show
Artist: Sheena Easton
Song: For Your Eyes Only
Composer: Conti/Leeson
Album: The Best of James Bond
Label: EMI
Artist: Lorde
Song: Royals
Composer: O'Connor/Little
Album: Pure Heroine
Label: Universal
Artist: Sinatra- Basie
Song: I Only Have Eyes For You
Composer: Warren/Dubin
Album: Sinatra- Basie - An Historic Musical First
Label: Reprise
Artist: Dan Adams
Song: But Soft, What Light
Composer: Shakespeare
Album: This Love Will Undo Us All
Label: Gremsy Joan
Artist: Roy Orbison
Song: Only the Lonely
Composer: Orbison/Melson
Album: The Essential Roy Orbison
Label: Monument
Artist: Gin Wigmore
Song: If Only
Composer: Wigmore/Wilson
Album: Gravel and Wine
Label: Island
Artist: Yazoo
Song: Only You
Composer: Clarke
Album: Yazoo The Collection
Label:Music Club
Artist: Ellie Goulding
Song: Only You
Composer: Goulding/Eliot
Album: Halcyon
Label: Polydor
Artist: Bob Marley
Song: Get up Stand Up
Composer: MArley
Album: Africa Unite: The Singles Collectio
Label: Tuff Gong