Saturday Morning for Saturday 6 June 2015

8:15 Dave Goulson: bees and flowers
Dave Goulson is a professor of biology at the University of Sussex and the founder of the Bumblebee Conservation Trust. His first book, A Sting in the Tale (2013), looked at the decline of the short-haired bumblebee population in the UK. It has been followed by A Buzz in the Meadow (Jonathan Cape), which tells how Goulson transformed a rundown farm in France into a place where wild bees and other insects thrive.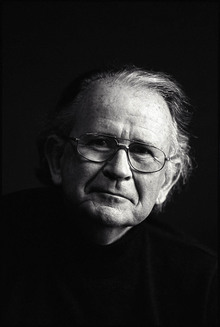 9:05 Vincent O'Sullivan: selected writings
Vincent O'Sullivan is a Dunedin novelist, biographer, playwright, short story writer, and New Zealand Poet Laureate. He is joint editor of the five-volume Letters of Katherine Mansfield (Oxford University Press), and has edited a number of anthologies. His new collection, Being Here: Selected Poems (VUP), covers the range of his poetry from 1973 to new work published for the first time. He is currently in the United Kingdom, as a guest writer at the 2015 Australia and New Zealand Festival of Literature & Arts. His new opera with composer Ross Harris, Brass Poppies, will debut at the New Zealand Festival in 2016.
10:05 Playing Favourites with Neil Ieremia
Neil Ieremia is the founder, CEO and artistic director of the dance company Black Grace, which celebrates its 20-year anniversary this year. He has choreographed and designed a new work, Passchendaele, performed to a score by New Zealand Army Band composer Dwayne Bloomfield by dancers of the Royal New Zealand Ballet. It is one of four dance works in Salute, a special Royal New Zealand Ballet programme remembering the First Word War, which is on a nationwide tour, and still to play at Hamilton Founder's Theatre (10 June), Takapuna Bruce Mason Centre (13-14 June), Auckland ASB Theatre (17 -20 June), and Napier Municipal Theatre (24-25 June).
Photo: Kristian Frires for Urbis
11:05 Margaret Sparrow: contraception history

Dame Margaret Sparrow is one of New Zealand's leading sexual health doctors and birth control advocates. She pioneered contraception and abortion services for students in Wellington, established a low-cost vasectomy clinic at Family Planning., and was one of the first doctors to prescribe the emergency contraceptive pill. Most of her collection of nearly 1000 contraceptive devices was donated to Te Papa Tongarewa in 2011, and selected items from the collection are on display in the exhibition Contraception: Uncovering the Collection of Dame Margaret Sparrow (at Te Papa to January 2016).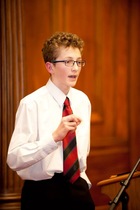 11:30 Peter McKenzie: debating
Peter McKenzie is a Year 12 student at Scots College in Wellington, and a member of the Wellington Black team that won last month's Russell McVeagh New Zealand Schools' Debating Championships. He and one of his two Wellington teammates will be part of the five-student team representing New Zealand at the 2015 World Schools Debating Championship in Singapore in July.
11:45 Art Crime with Arthur Tompkins: The Scream
Arthur Tompkins is a District Court Judge, and member of Interpol's DNA Monitoring Expert Group. He has a special interest in crimes involving artistic masterpieces, and will discuss the two thefts of two versions of Edvard Munch's The Scream from two different museums in Oslo.
This Saturday's team:
Producer: Mark Cubey
Associate producer: William Ray
Wellington engineer: Carol Jones
Auckland engineer: Tony Stamp
Research by Infofind
Music played in this show
Artist: Yo-Yo Ma and Bobby McFerrin
Song: Flight of the Bumblebee
Album: Hush
Label: Sony, 1992
Broadcast: 9:05
Artist: The New Zealand Army Band
Song: Passchendaele
Composer: Dwayne Bloomfield
Recorded by Radio New Zealand for the Royal New Zealand Ballet production of Salute, 2015
Broadcast: 10:20
Artist: Bill Withers
Song: Grandma's Hands
Album: Just As I Am
Label: Sussex, 1971
Broadcast: 10:30
Artist: The Estonian National Symphony Orchestra, conducted by Paavo Järvi
Song:  Cantus in memoriam Benjamin Britten
Composer: Arvo Pärt
Album: The Best of Arvo Pärt
Label: EMI, 2002
Broadcast: 10:45
Artist: D'Angelo
Song:  Devils Pie
Album: Voodoo
Label: EMI, 1999
Broadcast: 10:55
Artist: Ron Ragin and the Soweto Gospel Choir with the Royal Philharmonic Orchestra conducted by Lucas Richman
Song:  Baba Yetu
Album: Christopher Tin – Calling All Dawns: A Song Cycle
Label: Tin Works, 2009
Broadcast: 11:30