Saturday Morning for Saturday 20 December 2014
8:15 Michele Rowe
Michele Rowe does a huge range of community volunteer work in the Wellington suburb of Newlands, particularly with the elderly, low-risk offenders from the Corrections Department, and Kiwi Community Assistance.
8:45 Love-Ese Chile
Love-Ese Chile is a New Zealand graduate student working with Parisa Mehrkhodavandi in the Department of Chemistry at the University of British Columbia, Canada, where she is researching biodegradable plastics.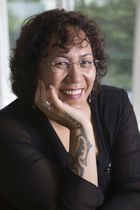 9:05 Aroha Harris
Aroha Harris (Ngāpuhi, Te Rarawa) is a member of the Waitangi Tribunal and a lecturer in history at the University of Auckland. She is the author of Hīkoi (2004), about political protest in the late twentieth century, and is co-author with Judith Binney and Atholl Anderson of Tangata Whenua: An Illustrated History (Bridget Williams Books, ISBN: 9781927131411). Selected images from the book can be viewed in this online gallery.
Photo: Neil Pardington
9:40 Art with Mary Kisler
Mary Kisler is the Senior Curator, Mackelvie Collection, International Art, at the Auckland Art Gallery Toi o Tamaki. She will discuss three recent exhibitions in London: Rembrandt: The Late Works at The National Gallery Late Turner: Painting Set Free at Tate Britain, and Anselm Kiefer at Royal Academy of Arts. Images from the exhibitions can be viewed in this online gallery..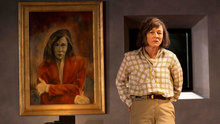 10:05 Playing Favourites with Sarah Peirse
Sarah Peirse is a New Zealand actor and director. She is currently appearing in the Sydney Theatre Company production of Switzerland, a new play by Joanna Murray-Smith about the writer Patricia Highsmith (to 20 December), and will appear in the Company's production of Samuel Beckett's Endgame in 2015 (31 March to 9 May).
Photo: Brett Boardman
11:05 Kate De Goldi and Laura Kroetsch
Laura Kroetsch is the director of Adelaide Writers' Week (28 February to 5 March 2015) at the Adelaide Festival (27 February to15 March 2015). Kate De Goldi is the author of a number of books, most recently The ACB with Honora Lee.
They discuss the year in publishing and their favourite reads of 2014, as detailed below (* = mentioned during interview).
Laura Kroetsch's list
Fiction
I Want To Show You More by Jamie Quatro (2013, Grove Press)*
Dept. of Speculation by Jenny Offill (2014, Granta)*
Em and the Big Hoom by Jerry Pinto (2012, Viking)*
Wolf in White Van by John Darnielle (2014, Scribe)*
Crime
The Ballad of a Small Player by Lawrence Osborne (2014, Random House)*
Chance by Kem Nunn (2014, Scribner)*
Tapping the Source by Kem Nunn (1984)*
Herbie's Game by Timothy Hallinan (2014, Soho Crime)
Nonfiction
To Have and To Hold: An Intimate History of Collectors and Collecting by Philipp Blom (2003, Penguin)*
100 Essays I Don't Have Time to Write by Sarah Ruhl (2014, Faber & Faber)*
On Immunity: An Inoculation by Eula Biss (2014, Graywolf Press)*
The Empathy Exams: Essays by Leslie Jamison (2014, Granta)*
Preparing the Ghost: An Essay Concerning the Giant Squid and Its First Photographer by Matthew Gavin Frank (2014, Norton)*
Children
My discovery this year was Australian writer, illustrator and artist Chris McKimmie. His books for children include Good Morning, Mr Pancakes (2012), Two Peas in a Pod (2010), Special Kev (2009), Maisie Moo and Invisible Lucy (2008), and Brian Banana Duck Sunshine Yellow (2007).
Summer Reading
Every year at Christmas, I reread a writer I love. This year it is Eudora Welty (1909-2001), an American author of short stories and novels about the American South.
Kate De Goldi's list
Fiction
Bobcat and Other Stories by Rebecca Lee (2012, Text Publishing)*
Lean on Pete by Willy Vlautin (2010, Harper Perennial)*
The Free by Willy Vlautin (2014, Harper Perennial)*
All My Puny Sorrows by Miriam Toews (2014, McSweeneys)*
A Complicated Kindness by Miriam Toews (2004, Knopf)*
Crime
No Regrets, Coyote by John Dufresne (2013, WW Norton)
Non-fiction
A History of the World in 100 Objects by Neil McGregor (2010, Allen Lane)*
Shady Characters; the Secret Life of Punctuation, Symbols & Other Typographical Marks by Keith Houston (2013, WW Norton)*
H is for Hawk by Helen Macdonald (2014, Jonathan Cape)*
The Old Ways: a Journey on Foot by Robert McFarlane (2012, Hamish Hamilton)*
Confronting the Classics: Traditions, Adventures and Innovations by Mary Beard (2013, Profile)
Graphic Fiction/Comic strip
Hark! A Vagrant by Kate Beaton (2011, Random House)
Jane, the Fox and Me by Fanny Britt, illustrated by Isabelle Arsenault (2014, House of Anansi Press)
Will & Whit by Laura Lee Gulledge (2014, Amulet)
Friends with Boys by Faith Erin Hicks (2012, First Second)
Children
Maggot Moon by Sally Gardner (2014, Hot Key Books, ISBN: 978-1-4714-0189-3)
Summer Reading
Germany: Memories of a Nation by Neil McGregor (2014, Allen Lane)*
Best American Sports Writing 2014 selected by Christopher McDougall, edited by Glenn Stout (2014, Houghton Mifflin Harcourt)*
Lullabies for Little Criminals by Heather O'Neill (2006, HarperCollins)
The Girl who was Saturday Night by Heather O'Neill (2014, HarperCollins)
The Murdstone Trilogy by Mal Peet (2014, David Fickling)
After the Fire, A Still Small Voice by Evie Wyld (2009, Jonathan Cape)
All the Birds, Singing by Evie Wyld (2014, Random House)
The Magic Pen by Dylan Horrocks (2014, Victoria University Press)
Kim's summer reading
The Matthew Shardlake series of historical thrillers (Dissolution, Dark Fire, Sovereign, Revelation, Heartstone, Lamentation) by C.J. Sansom (Pan)*
My Struggle (Min Kamp) by Karl Ove Knausgård (Random House)*
This Saturday's team:
Producer: Mark Cubey
Wellington engineer: Carol Jones
Auckland engineer: Tony Stamp
Research by Infofind
Music played in this show
Richmond Fontaine: We Used to Think the Freeway Sounded Like a River
From the 2009 album: We Used to Think the Freeway Sounded Like a River
(Decor)
Played at around 8:40
The Q-Tees: Silent Night
From the 2012 compilation: Pohutukawas and Pavlova: 60 Years of Kiwi Christmas Songs
(Ode)
Played at around 9:35
The Umbrellas: Amarcord
From the 2002 album: Bravo Nino Rota
(Mana)
Played at around 10:10
Richard Hawley:  The Sea Calls
From the 2007 album: Lady's Bridge
(Mute)
Played at around 10:20
Jacqueline du Pré (cello) with the London Symphony Orchestra conducted by John Barbirolli: Elgar Cello Concerto in E Minor (first movement)
From the 2005 album: The Very Best of Jacqueline du Pré
(EMI Classics)
Played at around 10:35
Antony and the Johnsons: Knockin' on Heaven's Door
From the 2007 original soundtrack album: I'm Not There
(Columbia)
Played at around 10:45
Glenn Gould: Aria da capo
From the 1981 album: J.S. Bach Goldberg Variations BWV 988
(Sony)
Played at around 10:55
Bob Dylan: Must Be Santa
From the 2009 album: Christmas in the Heart
(Columbia)
Played at around 11:57