Saturday Morning for Saturday 23 August 2014
Ian Gordon
Our Saturday Morning colleague, recording engineer Ian Gordon, who regularly looked after the Auckland end of our live programme, passed away unexpectedly this past week. You can read about him on this tribute page.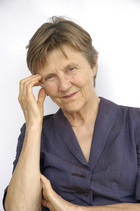 8:15 Helen Garner
Australian author, screenwriter and journalist Helen Garner is known for her novels (Monkey Grip, The Children's Bach, The Spare Room) and non-fiction works, the latest of which is This House of Grief: The Story of a Murder Trial (Text, ISBN: 9781922079206), in which she followed the case of murder accused Robert Farquharson for eight years through the courts. (Kim spoke to Helen Garner previously in 2008.)
9:05 Reed Kroloff
Architectural writer and commentator Reed Kroloff is a principal at jones | kroloff. He is a former editor-in-chief of Architecture magazine, and director of the Cranbrook Academy of Art in Detroit, and was Dean of Architecture at Tulane University in New Orleans when the city was struck by Hurricane Katrina. He will visit New Zealand for the WORD Christchurch Writers Festival (27-31 August) to appear at PechaKucha Night, and to give the talk, Lessons from Adversity: Life in New Orleans and Detroit (30 August)

9:45 Classical Music with Davinia Caddy
Dr Davinia Caddy is a senior lecturer at Auckland University's School of Music, a flautist, and the author of How to Hear Classical Music. She will give the talk Classical Notes at the WORD Christchurch Writers Festival on 29 August. Today she discusses symphonies.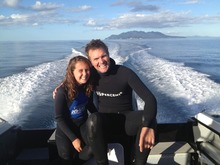 10:05 Playing Favourites with Steve and Riley Hathaway
Steve Hathaway is an underwater filmmaker based north of Auckland, whose passionate advocacy for New Zealand's oceans and sea life is expressed through his 93% initiative. Steve helped his daughter Riley create the Young Ocean Explorers television series, and they have just launched a Kickstarter appeal to raise money to put a DVD of the series and accompanying book into every school in New Zealand. (Kim spoke to Steve Hathaway earlier this year.)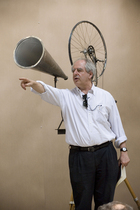 11:05 William Kentridge
South African artist William Kentridge has been acclaimed worldwide for his combinations of cinema, theatre, drawing, sculpture and music. His five-screen machine-powered installation, The Refusal of Time, will be exhibited at City Gallery, Wellington (6 September to 16 November). You can view images of this work in this gallery, or watch these videos:
11:45 Energy with David Haywood
David Haywood has a Ph.D. in engineering and lives in Dunsandel. He writes the Southerly blog for Public Address, and is the author of the collection of humorous essays My First Stabbing, the children's book The Hidden Talent of Albert Otter, and The New Zealand Reserve Bank Annual 2010 (all publicaddressbooks.com). He will discuss wave energy.
Music played during the programme
Details of tracks and artists will be listed on the Playlist section of this page shortly following broadcast.
This Saturday's team
Producer: Mark Cubey
Wellington engineer: Carol Jones
Auckland engineer: Alex Baron
Christchurch engineer: Andrew Collins
Research by Infofind
Music played in this show
Playlist
Scottish Chamber Orchestra, conducted by Sir Charles Mackerras: Mozart, Symphony No. 31 in D Major ('Paris'), 1st movement (excerpt)
From the album: Wolfgang Amadeus Mozart Symphonies
(Linn)
Played at around: 9:45
Failoni Orchestra, conducted by Hanspeter Gmur: Grand Overture in Bb Major (Op. 18 No. 2), 1st movement (excerpt)
From the album: Johann Christian Bach Sinfonias Vol. 4
(Naxos)
Played at around: 9:50
London Classical Players, conducted by Roger Norrington: Beethoven, Symphony No. 9 in D Minor (Op. 25), 1st movement (excerpt)
From the album: Essential Guide
(Classic CD)
Played at around: 9:55
Demi Lovato: Give Your Heart a Break
From the 2011 album: Unbroken
(Hollywood)
Played at around 10:20
Thompson Twins: King for a Day
From the 1985 album: Here's To Future Days
(Arista)
Played at around 10:30
Brooke Fraser: Saving the World
From the 2003 album: What To Do With Daylight
(Columbia)
Played at around 10:40
Stan Walker: Choose You
From the 2010 album: From the Inside Out
(Sony)
Played at around 10:50
U2: It's a Beautiful Day
From the 2000 album: All That You Can't Leave Behind
(Island)
Played at around 10:55