Saturday Morning for Saturday 9 August 2014
8:15 Arthur Baysting
Arthur Baysting represented NZ composers and songwriters on the board of APRA for 18 years. During that time he lobbied with Mike Chunn and many others for increased NZ content on radio and television and for his efforts he was given the Inaugural OnFilm/Spada Industry Champion award in 2001. He's known in Australia for his children's songs written with Peter Dasent and sung by Playschool star Justine Clarke (who won Best Children's Album at the 2013 ARIA music awards). Arthur now lobbies for children's rights, and will discuss the cultural changes around the world on the issue of marijuana and how New Zealand might benefit socially and economically from these changes.
8:40 Gideon Lewis-Kraus
Gideon Lewis-Kraus is an American journalist and author (A Sense of Direction, ONE, ISBN: 978-0957548824), who will speak about his recent article for WIRED: The Fasinatng … Frustrating … Fascinating History of Autocorrect.
9:05 Paul Roy
Producer, director, writer and cameraman Paul Roy is co-director of Iguana Film Productions, a New Zealand and Australia-based company which has been making award-winning television documentaries and documentary series for over 30 years in over 40 countries. His latest six-part observational series, The Slum, follows the lives of slum dwellers over six months in Manila's Tondo district and will screen on the Al Jazeera English network from 18 September.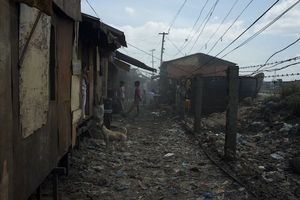 9:45 Charlotte Graham
Charlotte Graham is a producer and presenter at Radio New Zealand. She is in Edinburgh reporting on New Zealand's presence at the Edinburgh International Festival (8-31 August) and Edinburgh Festival Fringe (1-25 August). (Travel support provided by Creative New Zealand.)
10:05 Playing Favourites with Jyoshna La Trobe
Auckland-based ethnomusicologist and composer Dr Jyoshna La Trobe recently returned from India, where she has been collecting audio/visual documentation of indigenous music and ecstatic performance for the British Library World Music Archives, where she has her own collection. Her recent work in New Zealand includes founding the annual VoSE Festival at Kawai Purapura, working with Richard Nunns, founding a choir at West Hospice, and composing the soundtrack to the 2013 film Stars in Her Eyes.
11:05 Thom Conroy

Thom Conroy is Senior Lecturer in Creative Writing at Massey University, who also writes under the pen name Thomas Gough, and has had short stories published locally and internationally. His first novel, The Naturalist (Vintage, ISBN: 978-1-77553-648-2), is based on the life of Dr Ernst Dieffenbach, the German naturalist who voyaged to New Zealand in 1839 on the expedition to buy land from Maori.
11:45 Poetry with Gregory O'Brien
Painter, poet, curator and writer Gregory O'Brien is the author of a number of books, most recently Beauties of the Octagonal Pool (AUP, 2012). He will discuss "difficult" poetry, with reference to the recent collection, Heartland by Michele Leggott (AUP, ISBN 978-1-86940-808-4), a finalist in the Poetry category of the New Zealand Book Awards.
Music played during the programme
Details of tracks and artists will be listed on the Playlist section of this page shortly following broadcast.
This Saturday's team
Producer: Mark Cubey
Wellington engineer: Shaun Wilson
Auckland engineer: Jeremy Ansell
Research by Anne Buchanan, Julie Daly, Clare Gleeson, Infofind
Music played in this show
Playlist
Tama Waipara: Sunshine on the Water
From the 2013 album: Fill Up the Silence
(Tama)
Played at around 9:05
Turiiya: Thread of Gold
From the 1986 album: Waiting
(Jayrem)
Played at around 10:10
Shiva Gajan, Loton ceremony
Field recording (1997) by Jyoshna La Trobe
Played at around 10:20
Purulia Chhau dance
Field recording (1997) by Jyoshna La Trobe
Played at around 10:30
Maharai Kiirtan
Field recording (2014) by Jyoshna La Trobe
Played at around 10:40
Tatttvavedanada: Prabhat Samgiita
Field recording (2000) by Jyoshna La Trobe
Played at around 10:45
Jyoshna La Trobe: Magnificence
From the 2000 album: Magnificence
(Private)
Played at around 10:55
Tiny Ruins: Me At The Museum, You In The Wintergardens
From the 2014 album: Brightly Painted One
(Spunk)
Played at around 11:40