Saturday Morning for Saturday 2 August 2014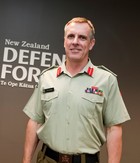 8:15 Tim Keating
Lieutenant General Tim Keating MNZM was appointed to a three-year term as Chief of the New Zealand Defence Force on 1 February 2014, following his tenure as Vice Chief of the New Zealand Defence Force, and Chief of Army. He will talk about the Defence Force's participation in Monday's Centenary Day commemoration and other WW100 events. The book mentioned during the interview is Berry Boys: Portraits of First World War Soldiers and Families by Michael Fitzgerald and Claire Regnaul (Te Papa Press).
8:45 Louise Ramsay
Louise and Paul Ramsay run the Bamff Estate in Perthshire, Scotland. They brought beavers to large enclosures on their estate in 2002, and also campaigned for a population of wild beavers that has been establishing in the catchment of the River Tay since 2001.
9:05 Claire Hall
New Plymouth writer and historian Claire Hall managed the Vietnam War oral history and digital archiving project for the Ministry for Culture and Heritage, curating five exhibitions over the project's life. She has also produced numerous multimedia features and a documentary film about the Vietnam War, and her first book is No Front Line: Inside Stories of New Zealand's Vietnam War (Penguin, ISBN: 978014357188).
10:05 Playing Favourites with Kristin Hersh
American songwriter and guitarist Kristin Hersh founded indie art-punk group Throwing Muses at the age of 14. She has since released eleven albums with the band (most recently 2013's Purgatory / Paradise), as well as nine solo records and a number of other collaborations. She writes about her life in the 2010 memoir Paradoxical Undressing (Atlantic Books, ISBN: 9781848872394; known as Rat Girl in the United States), and will be a guest at the 2014 WORD Christchurch Writers and Readers Festival (27-31 August), speaking at the opening gala (29 August), and the sessions Rock & Roll Lives, Read it Again! (both 30 August), and Lyrical Writing (31 August), and performing a song and spoken word solo concert at the Transitional Cathedral (Words + Music, 30 August). She will also perform the solo show, An Evening with Kristin Hersh, in Wellington (Bodega, 28 August) and Auckland (Q Theatre, 31 August). In 2007, Kristin Hersh recorded four songs for a Music 101 session in Auckland. You can listen to that from this page.
11:05 Hinemoana Baker

Hinemoana Baker is a published poet, a singer-songwriter, recording artist, teacher of creative writing and occasional broadcaster. She is currently writer-in-residence at Victoria University, where she is researching a book about the years her father and his brothers spent at Sunnybank, a Catholic boys' home in Nelson. Her new poetry collection, Waha / Mouth (VUP, ISBN: 978-0-864739704), has just been published, and she will be a guest at the 2014 WORD Christchurch Writers and Readers Festival (27-31 August).
Photograph: Robert Cross
11:45 Kate's Klassic: Storm of Steel
Kate Camp has published five collections of poems, most recently Snow White's Coffin (Victoria University Press, ISBN: 978-0-86473-888-2). Kate will discuss Storm of Steel (Penguin Modern Classics, ISBN: 978-014118691), the memoir of German officer Ernst Jünger's experiences on the Western Front during the First World War, originally printed privately in 1920. Kate will join Harry Ricketts, Jane Stafford and a series of special guests for World War One Book Club, exploring and debating the legacy of First World War literature at three panel discussions at the City Gallery, Wellington (from 6pm on 26, 2 and 9 September).
Music played during the programme
Details of tracks and artists will be listed on the Playlist section of this page shortly following broadcast.
This Saturday's team
Producer: Mark Cubey
Wellington engineer: Carol Jones
Research by Anne Buchanan, Julie Daly, Infofind
Music played in this show
Playlist
The Players: He'll Be Back
The 1966 recording from the compilation album: A Soldier's Sad Story – Vietnam through the Eyes of Black America 1966-1973
(Kent)
Played at around 9:05
R.E.M.: 7 Chinese Brothers
From the 1984 album: Reckoning
(IRS)
Played at around 10:15
The Flaming Lips: The Spiderbite Song
From the 1999 album: The Soft Bulletin
(Warner Bros.)
Played at around 10:30
The Moore Brothers: Spidergirl
From the 2013 album: California Sister
(Unavailable Records)
Played at around 10:45
Grant Lee Buffalo: Lone Star Song
From the 1994 album: Mighty Joe Moon
(Slash)
Played at around 10:50
Kristin Hersh: Your Ghost
From the 1994 album: Hips and Makers
(Sire)
Played at around 11:05
Vic Chesnutt: Thailand
From the 1995 album: Is the Actor Happy?
(New West Records)
Played at around 11:40