Saturday Morning for Saturday 26 July 2014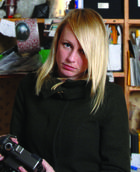 8:15 Kitty Green
Kitty Green is an Australian filmmaker whose new documentary, Ukraine is Not a Brothel, is about FEMEN, the Ukrainian feminist group run for years by a man. She is a guest of the New Zealand International Film Festivals for screenings of her film in Auckland (23 and 24 July) and Wellington (25 and 27 July).
9:05 Philip Hensher
Philip Hensher is Professor of Creative Writing at University of Bath Spa, and writes for The Independent, The Spectator and Mail on Sunday. He is the author of a collection of short stories, an opera libretto, the non-fiction title The Missing Ink: the Lost Art of Handwriting and Why It Still Matters (Macmillan, ISBN: 978-0-230-76712-6), and seven novels, most recently The Emperor Waltz (Fourth Estate, ISBN: 978-0-00-745957-5).
9:45 Phil Seddon
Phil Seddon is Professor of Zoology at the University of Otago. He is a specialist in reintroducing endangered species in protected areas, and leads an international team exploring the issues around bringing extinct creatures back to life for the International Union for the Conservation of Nature.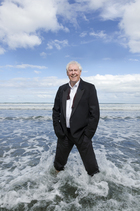 10:05 Playing Favourites with Bob Harvey
Sir Robert Anster "Bob" Harvey KNZM QSO, is a former advertising agency owner, political strategist, environmental campaigner, television producer, and mayor, and currently sits on a number of boards of directors. His biography, Wild Westie: the Incredible Life of Bob Harvey by Hazel Phillips (Penguin, ISBN: 978-014356977-0) has just been published.
Photo: Tony Nyberg
11:05 Rolf de Heer
Director, writer and producer Rolf de Heer has been involved with the creation of many independent Australian films, including Bad Boy Bubby (1994), Dance Me to My Song (1998), The Tracker (2002), and Ten Canoes (2006), which generated the interactive internet project Twelve Canoes. His latest film, Charlie's Country was selected for competition in Un Certain Regard at the 2014 Cannes Film Festival, where David Gulpilil won the award for Best Actor. Charlie's Country will screen during the 2014 New Zealand International Film Festivals, and Rolf de Heer will present and talk about his film at screenings in Auckland (27 July) and Wellington (29 July).
11:45 Energy with David Haywood
David Haywood has a Ph.D. in engineering and lives in Dunsandel. He writes the Southerly blog for Public Address, and is the author of the collection of humorous essays My First Stabbing, the children's book The Hidden Talent of Albert Otter, and The New Zealand Reserve Bank Annual 2010 (all publicaddressbooks.com). He will discuss tidal and wave energy.
Music played during the programme
Details of tracks and artists will be listed on the Playlist section of this page shortly following broadcast.
This Saturday's team
Producer: Mark Cubey
Wellington engineer: Damon Taylor
Auckland engineer: Ian Gordon
Research by Anne Buchanan, Infofind
Music played in this show
Playlist
Wiener Philharmoniker, conducted by Lorin Maazel: Emperor Waltz (Strauss)
From the 1983 album: Walzer
(Deutsche Grammaphon)
Played at around 9:05
Ebony: Big Norm (extract)
The 1973 single
(Polydor)
Played at around 10:20
Munich Philharmonic conducted by Michael Nyman: The Heart Asks Pleasure First
From the 1993 film soundtrack album: The Piano
(Venture)
Played at around 10:30
Boston Pops Orchestra conducted by John Williams: Raider's March
From the 1981 film soundtrack album: Raiders of the Lost Ark
(Sony)
Played at around 10:40
Johnny Johnson and his Bandwagon: (Blame it on) The Pony Express
The 1970 single from the album: Soul Survivor
(Bell)
Played at around 10:50
Ella Fitzgerald: But Not For Me
From the 1959 album: Ella Fitzgerald Sings the George and Ira Gershwin Songbook
(Verve)
Played at around 10:55