Saturday Morning for Saturday 29 March 2014
8:15 Elizabeth Kolbert
American journalist and author Elizabeth Kolbert has been a staff writer for The New Yorker since 1999, and has written for the New York Times, Vogue and Mother Jones. She is best known for her 2006 book Field Notes from a Catastrophe, and as an observer and commentator on environmentalism. Her new book is The Sixth Extinction: An Unnatural History (Bloomsbury, ISBN: 9781408851210).
9:05 Nick Agar
Dr Nick Agar is Reader in Philosophy at the School of History, Philosophy, Political Science & International Relations, Victoria University of Wellington. His main research interests are in the ethics of the new genetics and biotechnology, and he has written two books on the subject: Humanity's End: Why We Should Reject Radical Enhancement (2010, The MIT Press, ISBN: 978-0-262-52517-6), and Truly Human Enhancement: A Philosophical Defense of Limits (2014, The MIT Press, ISBN: 978-0-262-02663-5).
9:40 Art with Mary Kisler
Mary Kisler is the Senior Curator, Mackelvie Collection, International Art, at the Auckland Art Gallery Toi o Tamaki. She will discuss three exhibitions at the Gallery: My Country: Contemporary Art from Black Australia (to 20 July); Jonathan Jones Untitled [sum of the parts] 2010 (to 31 January 2015); and Five Māori Painters, curated by Ngahiraka Mason (to 15 June). A gallery of images from the three exhibitions is here.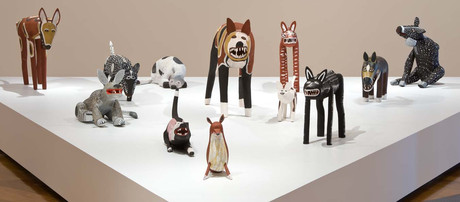 Selection of Camp Dogs (2010), from My Country: Contemporary Art from Black Australia
10:05 Playing Favourites with Tami Neilson
Canadian-born singer Tami Neilson was brought up in the Neilson Family Band, opening for the likes of Kitty Wells and Johnny Cash. She tours extensively in Australia and North America, and is currently on tour in New Zealand in support of her new album, Dynamite!, with concerts in Lyttelton (21-22 March), Wellington (27 March), Paekakariki (28 March), Auckland (5 April) and Leigh (6 April).
11:05 Richard Roxburgh
Richard Roxburgh has starred in many Australian stage and screen productions, as well as taking supporting roles in a number of Hollywood movies. He can be currently seen in the second series of the television drama series Rake (from Sunday 30 March on ONE) in the lead role he co-created: iconoclastic and self-destructive defense barrister Cleaver Greene.
11:45 Energy with David Haywood
David Haywood has a Ph.D. in engineering and lives in Dunsandel. He writes the Southerly blog for Public Address, and is the author of the collection of humorous essays My First Stabbing, the children's book The Hidden Talent of Albert Otter, and The New Zealand Reserve Bank Annual 2010 (all publicaddressbooks.com). He will discuss exergy and anergy.
Music played in this show
Playlist
Playing Favourites with Tami Neilson
Tami Nieilson: Dynamite!
From the 2014 album: Dynamite!
(Neilson)
Played at around 10:05
Loretta Lynn: You Ain't Woman Enough (To Take My Man)
The 1966 single from the album: You Ain't Woman Enough
(MCA)
Played at around 10:20
Big Mama Thornton: Hound Dog
The 1952 recording from the 1982 compilation album: Hound Dog, The Peacock Recordings
(MCA)
Played at around 10:35
Patsy Cline: She's Got You
The 1962 recording from the 1994 compilation album: Patsy Cline's Greatest Hits
(MCA)
Played at around 10:50
Tami Nieilson: Cry Over You
Live in the Wellington studio of Radio New Zealand
Broadcast Time: 10:55
Other music played
The Balkanistas: Geljan Dade
From the 2014 album: Party-Zani
(Tasman Records)
Played at around 11:40