Saturday Morning for Saturday 11 February 2012
Guest details for Saturday Morning 11 February 2012
8:15 Robert Glennon
Robert Glennon is the Morris K. Udall Professor of Law and Public Policy in the Rogers College of Law at the University of Arizona. He is the author of Water Follies: Groundwater Pumping and the Fate of America's Fresh Waters (2002), and Unquenchable: America's Water Crisis and What To Do About It (2009, Island Press, ISBN: 978-1-59726-436-5). Professor Glennon is visiting New Zealand as a guest of the Agricultural and Marketing Research and Development Trust, supported by Plant & Food Research, the Royal Society of New Zealand, and Water New Zealand.
9:05 Alan Hollinghurst
British novelist Alan Hollinghurst won the Man Booker Prize in 2004 for The Line of Beauty. His latest book, The Stranger's Child (Pan Macmillan, ISBN: 9780330513968), was long-listed for the 2011 award. He is a guest speaker at Writers and Readers Week (9-14 March) during the 2012 New Zealand International Arts Festival (24 February to 14 March).
9:45 Jon Shenk
Film director Jon Shenk is set to release 'The Island President', a documentary profiling Mohamed Nasheed, the recently ousted President of the Maldives. Nasheed was a former political prisoner and the first democratically-elected President of the country until earlier this week.
10:05 Playing Favourites with Bob Norman
Bob Norman, QSO, is a former civil engineer, State Services commissioner, and commissioner of works for the Ministry of Works and Development. He is a patron of the Antarctic Heritage Trust, and author of the 1997 memoir You Can't Win 'Em All (Slide Rule Press, ISBN: 0-473-04659-8), and new book, To Get to the Other Side: a Personal Encounter with Some Bridges Around the World (Slide Rule Press, ISBN: 978-047-319363-8).
11:05 Sam Hunt and Dick Frizzell
Sam Hunt has worked for over forty years as a full-time poet. Dick Frizzell is one of New Zealand's most recognised artists. They collaborated on a new exhibition, Painting the Hunt, featuring Frizzell word paintings of some of Hunt's most famous works, at Page Blackie Gallery in Wellington (to 4 March).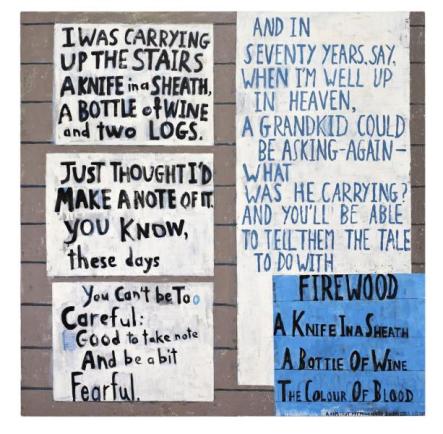 Chord 1 by Dick Frizzell.
11:35 Patrick and Patsy McGrath
Patrick and Patsy McGrath are about to publish their memoir, Galway to Downunder: a Lifetime Journey from Tuam, Ireland, to Nelson, New Zealand. For nearly 18 years their Bali Aid programme has been supporting communities with a range of different projects.
Music played during the programme
Carl Doy: Bring Him Home (from 'Les Miserables')
From the 1995 album: Night and Day
(Sony)
Played at around 10.20
Giuseppe di Stefano: Che Gelida Manina (from Puccini's 'Boheme')
The 1952 recording, from the 1988 compilation album: Recital
(Starlite)
Played at around 10.30
Louis Armstrong: When It's Sleepy Time Down South
The 1945 recording, from the 2006 album: Louis Armstrong Gold
(Hip-O)
Played at around 10.55
The Saw Doctors: N17
From the 1991 album: If This Is Rock 'n' Roll, I Want My Old Job Back
(Pinnacle)
Played at around 11.35
Studio operators
Line producer: Sean McKenna
Wellington engineer: Carol Jones
Auckland engineer: Jeremy Ansell