Saturday Morning for Saturday 4 February 2012
Guest details for Saturday Morning 4 February 2012
8:15 Wael Ghonim
Wael Ghonim is an Egyptian activist and computer engineer with an interest in social entrepreneurship. In his memoir, Revolution 2.0 (Fourth Estate, ISBN: 978-0-00-745436), he explains how his use of social media helped generate the Arab Spring.
8:45 Fredrik Heffermehl
Fredrik Heffermehl is a Norwegian lawyer, peace researcher, and author of the books Nobel's Will (2008, ISBN: 978-82-7990-074-0), and The Nobel Peace Prize: What Nobel Really Wanted (2010, Praeger, ISBN: 978-0-313-38744-9). He claims that the Nobel committee has violated the terms of Alfred Nobel's will, ignoring the prize's original purpose to diminish the role of military power in international relations.
9:05 Anthony McCarten
Anthony McCarten has created a number of novels, plays and films, including Ladies Night, Via Satellite, Weed, and Show of Hands. Late last year, the film adaptation of his 2005 novel Death of a Superhero (Vintage, ISBN: 978-1-86941-696-1) won the Prize of the Public and the Prize of the Youth Public at the Les Arcs European Film Festival. His new novel, In the Absence of Heroes (Vintage, ISBN: 978-1-86979-723-2), is a sequel to that book. Anthony lives in London, but will return to New Zealand for the 2012 Auckland Writers & Readers Festival (9-13 May).
9:40 Richie Meyer
Dr Richard J Meyer teaches film studies at Seattle University, Washington, and is President Emeritus of the San Francisco Silent Film Festival. He has published widely in film and journalism periodicals, and worked in all phases of film and educational television production, and is the author of two books about Chinese actors of the 1920s and 1930s: Ruan Ling-Yu: The Goddess of Shanghai (Hong Kong University Press, ISBN: 978-9622093959), and Jin Yan: The Rudolph Valentino of Shanghai (Hong Kong University Press, ISBN: 9789622095861). Richie is a visiting scholar at the New Zealand Film Archive, where he is researching First World War propaganda.
10:05 Playing Favourites with Megan Salole
Megan Salole is "a bloody dreamer" and proud of it. She likes to imagine better ways of doing things, and finding ways to bring it about. Once a designer, she is now considered a social entrepreneur, and has had a hand in creating initiatives such as the international Frocksonbikes movement and Intersect. She was the National Campaign Manager for the Green Party in the 2011 election, and is a member of the Wellington International Ukulele Orchestra, who are about to embark on a nationwide tour.
11:05 Atelier Ted Noten
Atelier Ted Noten is the Dutch Artist of the Year 2012, and "tries to stamp out the spoof of society with objects of shifting meanings". He will be a keynote speaker at JEMposium: Jewellery or What, the international jewellery symposium in Wellington from 10-13 February. His video installation, Gold, Sweat and Pearls, will be exhibited at Objectspace in Auckland (7 February to 10 March) alongside the work of fellow internationally renowned jewellers Manon van Kouswijk and Fabrizio Tridenti, who will also be speaking at JEMposium. The  Wanna Swap Your Ring? exhibition is currently showing at the Gilberd Marriott Gallery in Wellington, where members of the public can exchange a ring for an Atelier Ted Noten "Miss Piggy" ring (to 14 February).
Gallery: work by Atelier Ted Noten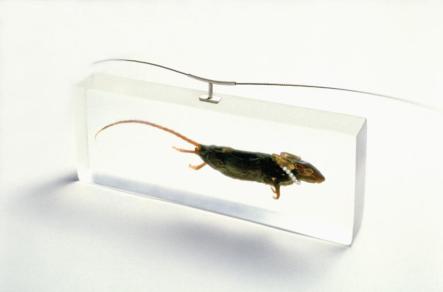 Atelier Ted Noten / Turbo Princess / Amsterdam/ The Netherlands / 1995 Mouse, pearl necklace cast in acrylic, whitened silver, steel wire.
Photograph courtesy of Atelier Ted Noten
11:45 Children's Books with Kate de Goldi
New Zealand writer Kate De Goldi is the author of a number of books, including the multi-award winning novel, The 10pm Question. She will discuss four books from the New York Review Children's Collection:
The Sorely Trying Day, by Russell and Lillian Hoban (NYRB; ISBN: 978-159017-343-5);
The Mousewife, by Rumer Godden, illustrated by William Pene du Bois (NYRB; ISBN 978-1-59017-310-7);
D'Aulaires' Book of Animals, by Ingri and Edgar Parin D'Aulaire (NYRB; ISBN 978-1-59017-226-1); and
Ounce, Dice, Trice, by Alastair Reid, illustrated by Ben Shahn (NYRB; ISBN 978-1-59017-320-6).
Music played during the programme
The Wellington International Ukulele Orchestra: Jolene
From the 2011 EP: I Love You
(www.ukulele.co.nz)
Played at around 10:05
Playing Favourites with Megan Salole
Marlo Thomas and Mel Brooks: Boy Meets Girl
From the 1972 album: Free to Be… You and Me
(Arista)
Played at around 10:20
Cowsills: Indian Lake 
The 1968 single from the 1988 album: The Best of the Cowsills
(Polydor)
Played at around 10:30
Reb Fountain: Set Sail
Unreleased single
(www.rebfountain.co.nz)
Played at around 10:40
Age Pryor: Leave It All Behind
From the 2003 album: City Chorus
(Pryor)
Played at around 10:57
Studio operators
Wellington engineer: Carol Jones
Waitangi Day Morning
On 6 February between 8:00 and 12:00, Kim Hill and Paul Diamond (Curator, Māori, at the Turnbull Library) will be broadcasting from Puke Ariki in New Plymouth. Full details on our Waitangi Day Morning page.