Saturday Morning for Saturday 22 October 2011
Guest details for Saturday Morning 22 October 2011
8:15 Thomas Friedman
Thomas L. Friedman writes for the New York Times and has three Pulitzer Prizes. His new book is That Used to Be Us: How America Fell Behind in the World It Invented and How We Can Come Back, written with Michael Mandelbaum (Farrar Straus Giroux, ISBN: 978-0-37-428890-7). He is a guest speaker at the 2012 Writers and Readers Week (9-14 March) during the 2012 New Zealand International Arts Festival (24 February to 14 March), taking part in a panel discussion (Embassy Theatre, 13 March) and providing the closing keynote address (Wellington Town Hall, 14 March).
9:05 Sir Paul Callaghan
Professor Sir Paul Callaghan is the 2011 New Zealander of the Year, Alan MacDiarmid Professor of Physical Sciences at Victoria University of Wellington, founder of Magritek, and leader of the five-person Magnetic Resonance Innovation team awarded the 2010 Prime Minister's Science Prize. Last month he was elected an Honorary Fellow of Corpus Christi College Cambridge in the UK, and his new book, Translational Dynamics and Magnetic Resonance (OUP, ISBN: 978-0-19-955698-4) has just been published. Next year, Sir Paul and partners are staging the 2012 Transit of Venus Forum – Lifting our Horizon in Gisborne, (5-8 June), to inspire thinking about New Zealand's future prospects, based on a realistic, science-based appraisal of our current situation.
9:40 Simon Wallace
Simon Wallace is a director and general manager of Leitissimo, a New Zealand-owned company that runs the largest pastoral dairy farm in Brazil.
10:05 Playing Favourites with Garth Cartwright
Garth Cartwright is a London-based New Zealand writer. His new travelogue memoir is Sweet As: Journeys in a New Zealand Summer (Allen & Unwin, ISBN: 978-1-877-50508-9). Garth has written on music and arts for most UK newspapers and magazines, His previous books include More Miles Than Money: Journeys Through American Music (Serpents Tail 2009), and Princes Among Men: Journeys with Gypsy Musicians (Serpents Tail 2005).
11:05 Dame Kate Harcourt
Dame Kate Harcourt is appearing in the new play, Sex Drive, at Circa Theatre in Wellington (to 12 November). She won her first acting award this year at the Rhode Island Film Festival for her role in the short film Pacific Dreams, though her professional career goes back to the 1960s, and the pre-school radio programme Listen with Mother. Since then she has had many roles in film, radio and television, and on stage, and in 1996 she was made DMNZ in the newly formed New Zealand Order of Merit, for her contribution to theatre.
11:45 Bruce Ansley
After a long career in journalism, Bruce Ansley became a canal voyager in France and a full-time writer of books. His latest publication is Christchurch Heritage: a Celebration of Lost Buildings and Streetscapes (Random House, ISBN: 978-186979-863-5).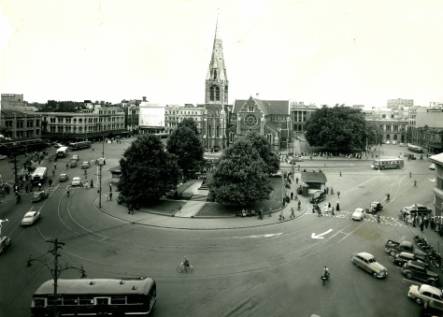 Cathedral Square, Christchurch, 1954. (Photo: The Press)
Music played during the programme
The Bats:  It's Not the Same
From the 2011 album: Free All ther Monsters
(Flying Nun)
Played at around 11:35
Playing Favourites with Garth Cartwright
Fanfare Ciocarlia: Caravan
From the 2008 album: Gili Garabdi
(Ashphalt)
Played at around 10:15
Townes Van Zandt:  Waitin' Around To Die
The 1970 recording from the compilation album: Legend – the Very Best of Townes Van Zandt
(Snapper)
Played at around 10:30
The Windy City Strugglers: Snow on the Desert Road
From the 2001 album: Snow on the Desert Road
(Red Rocks Records)
Played at around  10:45
OMC: Right On
The 1996 single from the album: How Bizarre
(Huh!)
Played at around 10:55
Lydia Mendoza:  Mi Problema
The 1979 recording from the compilation album: More Miles Than Money: The Soundtrack to Garth Cartwright's Book
(Ace)
Played at around 11:05
Studio operators
Wellington engineer: Shaun Wilson
Auckland engineer: Ian Gordon
Christchurch engineer: Andrew Collins