Saturday Morning for Saturday 29 October 2011
(Kim Hill is on leave)
Guest details for 29 October
8:15 Fintan O'Toole
Fintan O'Toole is a columnist, assistant editor and drama critic for The Irish Times, and has written for the paper since 1988. He is a literary critic, historical writer and political commentator, and a critic of corruption in Irish politics. He has written over a dozen books, most recently, Enough is Enough: How to Build a New Republic (Faber, ISBN: 9780571270095).
8:40 Brian Calhoun
Brian Calhoun is a new Kiwi with an American accent who is trying to recreate the best parts of San Francisco in Wellington. With Sibylle Schwarz, he co-founded Retake the Net, which aims to help keep the Internet free and open, and they have organised the Retake the Net barcamp, a free all-day "unconference" on 29 October.
9:05 Kevin Prime
Kevin Prime is of Ngatihine, Ngati Whatua, Tainui and Welsh descent and has been working as an Environment Commissioner with the Environment Court since 2003. He has been a farmer and forester in Motatau, Northland, for the last 40 years. During the last 20 years he has been involved in community matters with marae committees, Māori committees, runanga, Māori development, school boards of trustees, charitable trusts, health trusts, community trusts, forest trusts, forest companies, health companies, health boards, conservation boards at local, regional and national levels, and has also served on Ministerial Advisory groups pertaining to health, forestry, conservation, Māori affairs, environment, crown research institutes, lands, and sport.
9:30 Paul Hamer
Paul Hamer is a Senior Associate of the Institute of Policy Studies at Victoria University, and works for the Waitangi Tribunal. His specialist area of knowledge is the migration of Māori to Australia, and he is also involved with the issue of post-Treaty settlements.
10:05 Playing Favourites with Jenny McLeod
Composer Jenny McLeod has been working on the libretto and music of her new opera, Hohepa, since the late 1990s. Based on the true story of the friendship between a Māori chief and a Pakeha settler during the New Zealand Wars, Hohepa will receive its world premiere with the New Zealand Opera staging at the 2012 New Zealand International Arts Festival (24 February to 14 March). Jenny McLeod.is a former Professor of Music at Victoria University of Wellington, and was awarded the New Zealand Order of Merit in 1997. She is the Composer of the Week on Radio New Zealand Concert from 6-11 November.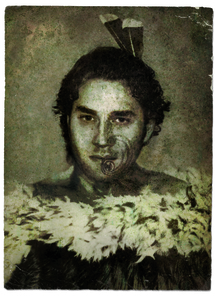 Philip Rhodes in the title role of the new Jenny McLeod opera, Hohepa.
11:05 Fiona Farrell
Fiona Farrell is a writer of novels, short stories, plays, poems and non-fiction. She is the Robert Burns Fellow 2011 at the University of Otago, and her new travel book, The Broken Book (AUP, ISBN 978-1-86940-576-2), contains four essays about life and walking, and 21 poems about the Christchurch earthquakes and their aftermath. Next month, Fiona will be a guest speaker at the ScienceTeller Festival, centered around University of Otago's Castle Lecture Theatre complex (15-19 November), and at the 2012 Writers and Readers Week (9-14 March) during the 2012 New Zealand International Arts Festival (24 February to 14 March).
11:45 Edward Meyer
Edward Meyer is Vice President of Exhibits & Archives for Ripley Entertainment, Inc., the company that operates more than 80 attractions, in 11 countries worldwide, ranging from its famous Believe It Or Not! museums to aquariums and sight-seeing adventures. The company has just published the 2011 edition of its Ripley's Believe It or Not! annual, Strikingly True (Icewater Press, ISBN: 978-1-60991-000-6), and Edward is visiting Auckland for signings on the afternoon of Sunday 30 October at The Warehouse, Riccarton Mall (12:30-1:00), and Paper Plus, Northlands (1:30-2:00).
Music played during the programme
Florence and the Machine: Shake It Out
From the 2011 album: Ceremonials
(Island)
Played at around 8:30
Playing Favourites with Jenny McLeod
The Muttonbirds: Anchor Me
From the 1994 album: Salty
(Virgin)
Played at around 10:15
Hirini Melbourne: Purerehua
From the 1998 album: Te Kuraroa
(Kia Ata Mai)
Played at around 10:25
Lucien Johnson: The Masque of Red Death
From the 2008 album: The Night's Plutonian Shore
(Explorers)
Played at around 10:30
Yvonne Loriod (piano), Christoph Poppen (violin), Manuel Fischer-Dieskau (violincello), Wolfgang Meyer (clarinet):
Liturgie de Cristal, from Messiaen Quatuor Pour La Fin Du Temps
From the 1991 album: Quatuor pour la fin du temps, Theme et variations
(EMI Classics)
Played at around 10:40
Jenny McLeod: Song of Joy
Rehearsal backing track from the upcoming production of Hohepa
Played at around 10:55
Ryuichi Sakamoto: Merry Christmas, Mister Lawrence
From the 1983 soundtrack album: Merry Christmas, Mister Lawrence
(Virgin)
Played at around 10:55
Studio operators
Wellington engineer: Steve Burridge
Auckland engineer: Jeremy Ansell