Our Changing World for Thursday 25 August 2011
9:34 PM.Kermadec Islands fishes are an intriguing mix of tropical, sub-tropical and temperate species Read more Audio

9:20 PM.GNS Science and NIWA scientists explain their plans to drill offshore Gisborne to study silent earthquakes. Audio

9:06 PM.Kent Kirshenbaum is tapping into the public's love of food to present chemistry in a way that is fun and accessible Audio
On This Programme
Kitchen Chemistry
Kent Kirschenbaum making liquid smoke (image: Jeff Potter)
New York University's Kent Kirshenbaum is tapping into the public's love of food to present chemistry in a way that is both fun and accessible. He's the co-founder of the Experimental Cuisine Collective, and with director Anne McBride, he gave two chemical gastronomy shows in Wellington as part of the culinary festival Wellington on a Plate.
The talks covered foods like saponins, soap-like molecules which he demonstrated can be used instead of egg whites to make meringue for vegans. He also spoke about stretchy icecream, or salep dondurma, the functional component of which is salep, a flour derived from the orchids like Orchis mascula or Orchis militaris which are becoming increasingly endangered. Research conducted by Kent Kirshenbaum's students has found that an alternative product, konjac, made from the plant Amorphophallus konjac, can be used instead, demonstrating the positive role that chemists can play in cuisine.
Kent Kirshenbaum's own research focuses on polymers, and in particular, creating new antibiotics that are inspired by nature. His recent tour of New Zealand was funded in part by the New Zealand Institute of Chemistry.
Close-up View of Silent Earthquakes
Workshop participants visited several fieldsites, including this area of uplifted coastal terraces at Mahia Peninsula in northern Hawke's Bay. (image: Julia Morgan, Rice University)
New Zealand straddles the boundary between the Pacific and Australian tectonic plates. The Alpine Fault is the dominant fault in the South Island where it accounts for about two thirds of the total tectonic motion. In the North Island, the Hikurangi Subduction Interface is the biggest fault, with a potential for generating very large earthquakes. However, it is along this northern fault that geophysicists first discovered that the phenomenon of silent or slow-slip earthquakes occurs in New Zealand. Silent earthquakes were first documented at subduction zones (where one tectonic plate slides beneath another) in western Canada and Japan about 15 years ago.
Silent earthquakes can be similar in magnitude to normal earthquakes, except that they go on for weeks or months rather than releasing all energy in a few seconds. They were first detected near Gisborne in 2002, and have since been observed in Hawke's Bay, the Manawatu and the Kapiti Coast. Their discovery was only possible through the availability of continuous GPS measurements, such as at this station, at right, near Gisborne, which recorded the first slow slip in New Zealand. Despite the observations, it remains a puzzle why silent earthquakes occur and whether they are linked to other seismic events.
At a recent workshop in Gisborne, 70 scientists from 10 countries gathered to discuss how they could use ocean-drilling technology to study the phenomenon in detail. An international team of scientists, including geologists and geophysicists from GNS Science and NIWA, are putting together a proposal under the Integrated Ocean Drilling Program to drill a transect offshore Gisborne to get a close-up view of the plate boundary where such slowly creeping earthquakes occur.
Fish Collecting in the Kermadec Islands – Kermadec Series
By Alison Ballance

In the final episode of the Kermadec series, Alison Ballance spends time with the 'fish team' on board the Kermadec Biodiscovery expedition ship, the Braveheart. The purpose of the expedition was to find out more about the biodiversity of these little-known islands, and especially to put a significant effort into collecting fish specimens. The Kermadecs Island Marine Reserve is the largest marine reserve in New Zealand, and collecting was strictly controlled by permits issued by the Department of Conservation.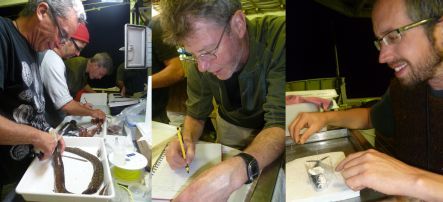 The fish team comprised Tom Trnski (above left, and top centre), Ged Wiren (above right) and Stephen Ullrich from Auckland Museum; Carl Struthers, Vincent Zintzen and Charles Bedford from Te Papa; and Mark McGrouther (above centre) from the Australian Museum. The fish team dived twice each day, using rotenone to stun fish so they could be collected (rotenone was explained in the first episode of the Kermadec series when the fish team were collecting in rock pools). The rest of the day was spent identifying and cataloguing the finds.
Clinton Duffy (below) from the Department of Conservation focused on counting large fish, especially spotted black groupers and Galapagos sharks, and using other collection techniques such as line fishing to sample fish in deeper water.
The 2011 Kermadec Marine Biodiscovery Expedition was organised by Auckland Museum. Here is a complete list of all the stories from that expedition, and other Kermadec-related stories from Our Changing World:
Insect Collecting on Raoul Island
Weeds and Vegetation Plots on Raoul Island
Macauley, Cheeseman and L'Esperance Islands
Kermadec Whales and Dolphins 2012
Supergiant Amphipods from the Kermadec Trench 2012
Deep-sea snailfish from the Kermadec Trench 2012