By Alison Ballance

In the final episode of the Kermadec series, Alison Ballance spends time with the 'fish team' on board the Kermadec Biodiscovery expedition ship, the Braveheart. The purpose of the expedition was to find out more about the biodiversity of these little-known islands, and especially to put a significant effort into collecting fish specimens. The Kermadecs Island Marine Reserve is the largest marine reserve in New Zealand, and collecting was strictly controlled by permits issued by the Department of Conservation.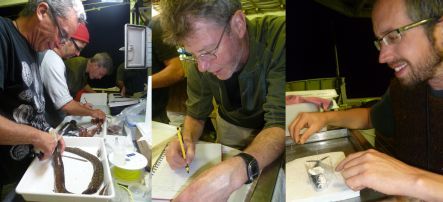 The fish team comprised Tom Trnski (above left, and top centre), Ged Wiren (above right) and Stephen Ullrich from Auckland Museum; Carl Struthers, Vincent Zintzen and Charles Bedford from Te Papa; and Mark McGrouther (above centre) from the Australian Museum. The fish team dived twice each day, using rotenone to stun fish so they could be collected (rotenone was explained in the first episode of the Kermadec series when the fish team were collecting in rock pools). The rest of the day was spent identifying and cataloguing the finds.
Clinton Duffy (below) from the Department of Conservation focused on counting large fish, especially spotted black groupers and Galapagos sharks, and using other collection techniques such as line fishing to sample fish in deeper water.
The 2011 Kermadec Marine Biodiscovery Expedition was organised by Auckland Museum. Here is a complete list of all the stories from that expedition, and other Kermadec-related stories from Our Changing World:
Insect Collecting on Raoul Island
Weeds and Vegetation Plots on Raoul Island
Macauley, Cheeseman and L'Esperance Islands
Kermadec Whales and Dolphins 2012
Supergiant Amphipods from the Kermadec Trench 2012
Deep-sea snailfish from the Kermadec Trench 2012