Our Changing World for Thursday 21 July 2011
A Scientific Approach to Planting a Wetland Forest

Bridget Johnson holding plants ready for planting, and the local school helping out on the planting day (images: S. Hartley, left, and T. Silbury, right)
The Wairio wetland on the eastern shores of Lake Wairarapa was once a thriving wetland, part of the largest complex of wetlands in the southern North Island, but it has been drained and grazed for many years and has lost its natural values. In 2005 Ducks Unlimited agreed to manage and restore the wetland, in partnership with its owner, the Department of Conservation. This year the project has enlisted the help of restoration ecologist Stephen Hartley and Masters student Bridget Johnson, both from the Centre for Biodiversity and Restoration Ecology at Victoria University, to bring some science to the project and hopefully come up with a 'recipe' for successfully and cost-effectively creating a wetland forest.
Alison Ballance joined the group at the Wairio Wetland to hear about the experimental approach to restoration planting just prior to a mid-winter planting day.
The Wairio wetland is part of a larger Wairarapa Moana Wetlands park.

Two of the experimental treatments, spot spraying (left) and topsoil removal (centre) prior to planting, and planting in a flooded plot, right (images: S. Hartley)
Heart Attack and Flight or Fight Response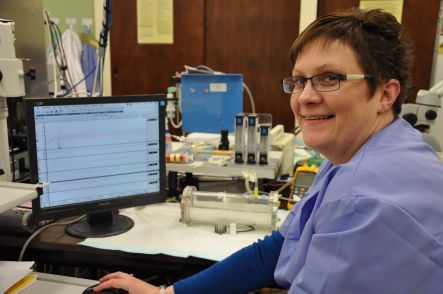 Zoe Ashley in the lab with a perspex plethysmograph and the breathing pattern recorded on the screen (image: Kieran Garbutt)
Heart attacks are one of the major causes of death in industrialised societies, leading to over 38% of deaths in New Zealand annually. Also known as a myocardial infarction, a heart attack occurs when a coronary artery supplying blood and oxygen to the heart is blocked and the heart stops pumping blood effectively.
When a person suffers a heart attack, the body's fight or flight response is pushed into overdrive, and can lead to benefits like a faster heart rate, and stronger contractions, but can also lead to fibrillation of the heart, and sudden death. The 'flight or fight' response usually occurs when there is a threat, and the sympathetic nervous system is primed to either flee or attack.
University of Otago's Zoe Ashley, is studying the correlation between heart attacks and the flight or fight response, as well as the fact that despite the body having adequate levels of oxygen in the blood after a heart attack, there tends to be an increase in lung activity. A better understanding of how these two processes operate, may lead to better survival rates for people after a heart attack.
Collecting Raoul Island Insects – Kermadecs Series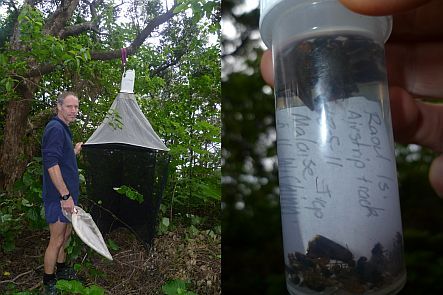 Warren Chinn standing next to his portable malaise trap (above left), the insects collected in the trap (above right), and various Kermadec Islands moth specimens (below left) (images: A. Ballance)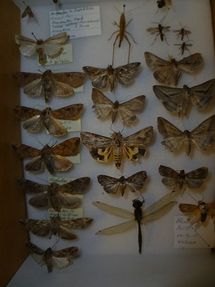 In another story from the Kermadecs Biodiscovery expedition, Alison Ballance joins Department of Conservation entomologist Warren Chinn as he collects terrestrial invertebrates on Raoul Island. The invertebrates of the island group are poorly studied, and although he could make only brief visits ashore on most islands, Warren used as many methods as he could to collect the widest possible range of species. Back on the boat Braveheart, Warren sorted specimens into RTUs (Recognisable Taxonomic Units) which would later be sent to the relevant experts to describe. Ants, jumping spiders and geometrid moths were among the more common creatures collected. You can read Warren's impression of the expedition here.
Warren Chinn collecting insects from yellow pan traps (left), and sweep netting in long grass on Raoul Island (images: A. Ballance)
Fire Organ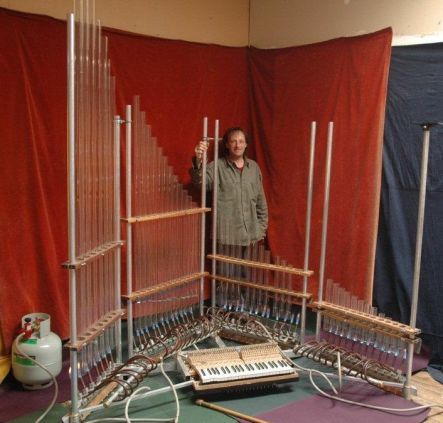 Alastair Galbraith and the fire organ (image: Alister Reid)
By heating metal gauze inside 44 open-ended glass tubes with individual Bunsen burners, each mechanically linked to an antique piano keyboard, Alistair Galbraith and a team of glassblowers, physicists, and engineers have created a fire organ. The glass Rijke tubes of the fire organ make musical notes that at times sound like a trombone, at others like a conch shell, or even a strange type of singing, but only after the heat from the Bunsen burners is removed from the red hot gauze sitting inside each of the tubes. Invented by Petrus Leonardus Rijke in 1859, the Rijke tube and it's cousin the Sondhauss tube (with one or both ends closed), translate heat-differential into sound waves, using thermoacoustics. For a previous Our Changing World story where thermoacoustics is being used in a cryocooler to refrigerate superconductors to liquid nitrogen level, click here.
The fire organ was funded by Smash Palace, a collaboration between Creative New Zealand and the former Ministry of Science, Research and Technology, and the fragile instrument is based in the sleep town of Taeiri Mouth, an hour out of Dunedin. Ruth Beran visits 'sound artist' Alastair Galbraith's home to hear the fire organ's eerie music and to discover how it led him on a journey into the world of science and physics. To watch a video of the fire organ being played, click here.