Our Changing World for Thursday 4 November 2010
9:46 PM.Andrew Clarkson explains how he is testing a new compound as a potential treatment for recovery after stroke Read more Audio

9:34 PM.University of Auckland scientists are tweaking the chemistry of small, highly-coloured, ring-shaped molecules called porphyrins Audio

9:06 PM.With less than 1% of its natural vegetation remaining, Hamilton city is working hard to restore urban biodiversity Audio
Urban Restoration in Hamilton

Waiwhakareke Natural Heritage Park in Hamilton - restoration began here in 2004 (image: A. Ballance)
Biodiversity has been in the global spotlight recently, with more than 190 nations meeting in Nagoya, Japan in late October to discuss progress on the 1992 Convention on Biological Diversity. Having significantly failed to meet targets set to stem the loss of biodiversity by 2010, and after many days of deadlocked negotiations, the meeting nevertheless ended on 30 October with the adoption of the Nagoya Protocol, aimed at protecting biodiversity and sharing the benefits of natural genetic resources.
Conserving biodiversity is not just about remote islands and national parks. There's a growing awareness of the value of restoring and maintaining urban biodiversity, which has been the focus of a large collaborative FoRST-funded project in Hamilton.
Alison joins team leader Bruce Clarkson, from the University of Waikato's Centre for Biodiversity and Ecology Research, technician Toni Cornes and some graduate students on a tour of three varied urban restoration sites, to look at the challenges and successes of restoring biodiversity in a city that has less than 1% of its natural ecosystems remaining.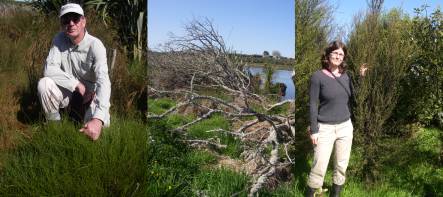 Bruce Clarkson with replanted Empodisma minor, a key component in a raised bog; grey willow killed to allow natural lakeside regeneration, and Toni Cornes with thriving native plantings (images: A. Ballance)
Their tour kicks off at the Waiwhakareke Natural Heritage Park, which until 7 years ago was grazed pasture but is now undergoing a remarkable transformation back to native wetland and forest, in a joint project between the university, the Hamilton City Council, Wintec, Tui2000 and the Friends of Waiwhakareke. There is a draft management plan for the park currently under consideration - submissions close on 17 December 2010.
Totara Park is a 1.6 hectare bush remnant in the suburb of St Andrews, and Emma Coleman has been researching the introduced grey willow and regenerating kahikatea to find out of willow control is required.
At the A.J. Seeley Gully Reserve, Catherine Bryan and Kieran Miller explain how they have been comparing inner city reserves such as this, with more natural reserves outside the city, to see how the epiphyte and understorey communities compare.
Catherine Bryan with a climbing fern; Kieran Miller with an understorey seedling planted as a trial in the A.J. Seeley Reserve; and Emma Coleman with a kahikatea seedling (images: A. Ballance)
Porphyrins

Penny Brothers (left) and Anna Mlodzianowska (right); and three glass vials of tetraphenylporphyrin, in acidic solution (left), solid (centre) and purple solution (right) (left image: Godfrey Boehnke)
Porphyrins are small, highly-coloured molecules found in haemoglobin, chlorophyll and vitamin B12. The molecules are ring-shaped, like a donut, with a single atom at the core, an atom which is usually a non-metal.
However, University of Auckland'sPenny Brothers and Anna Mlodzianowska are tweaking the chemistry of porphryins, by changing this core atom, in particular, they are using the non-metal boron. Boron is a small element, so while all other porphyrins carry a single atom at their core, the scientists have found that two boron atoms can be squeezed into one porphryin. These porphyrins have specific characteristics which can be exploited by chemists, with the potential to create cancer treatments and sugar sensors.
Potential Drug for Stroke Recovery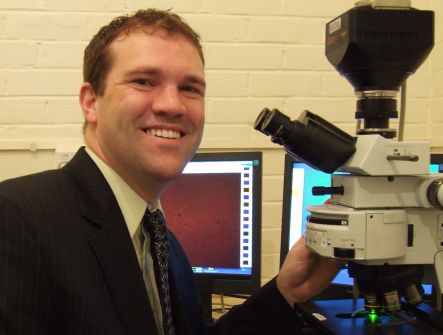 Andrew Clarkson (image: Kathryn McClea)
Every day, about seventeen New Zealanders have a stroke - where blood flow to a part of the brain is suddenly interrupted. The major cause of adult disability in this country, a stroke often causes paralysed arms or legs.
Andrew Clarkson from the University of Otago and colleagues from the University of California, Los Angeles have been testing a new class of drugs on mice with the potential to restore mobility after a stroke by up to half. Called "cognition enhancers", the drugs are currently in human trials for memory and learning to help people with conditions like Alzheimer's disease. Their role in reactivating dormant neurons in the brain after a stroke was unexpected, and the results of their two and a half year study were published on 4 November in Nature.
As Ruth Beran finds out, the compound has so far only been tested for stroke recovery in mice, but human trials of an improved compound (which doesn't have the unwanted side effect of crystalising in the kidneys) could be as close as two years away.