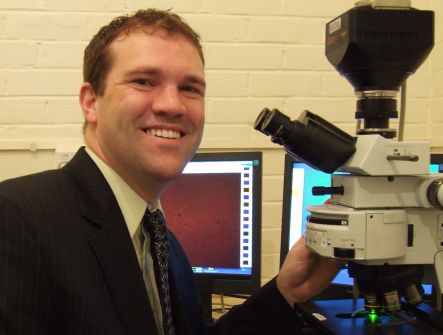 Andrew Clarkson (image: Kathryn McClea)
Every day, about seventeen New Zealanders have a stroke - where blood flow to a part of the brain is suddenly interrupted. The major cause of adult disability in this country, a stroke often causes paralysed arms or legs.
Andrew Clarkson from the University of Otago and colleagues from the University of California, Los Angeles have been testing a new class of drugs on mice with the potential to restore mobility after a stroke by up to half. Called "cognition enhancers", the drugs are currently in human trials for memory and learning to help people with conditions like Alzheimer's disease. Their role in reactivating dormant neurons in the brain after a stroke was unexpected, and the results of their two and a half year study were published on 4 November in Nature.
As Ruth Beran finds out, the compound has so far only been tested for stroke recovery in mice, but human trials of an improved compound (which doesn't have the unwanted side effect of crystalising in the kidneys) could be as close as two years away.