She's been in hell but Bridget Chamberlain has enjoyed every moment. The Christchurch woman has just undertaken a six-week training programme run by Hell Pizza and IHC. The scheme, Active in Hell, offers young people with intellectual disabilities a chance to develop job skills and to enjoy the camaraderie of a workplace.
For Bridget, it has proved a great opportunity. "I'm absolutely loving it. It's amazing. It's a fantastic place to be." She says part of the attraction has been learning to work quickly in a fast-paced environment. "At first it was challenging for me but now I just find it really fun."


Extracting the dough can be a sticky, tricky job
Bridget was already a keen baker with an award-winning chocolate devil's cake and a host of other goodies to her name. And she realised that the kitchen skills involved in this programme could prove useful in her baking career. But she's also enjoyed the friendliness of the staff and she says her mother has noticed a difference in her as well. "Between going to work and coming home from work I'm always on a real buzz. I'm just really super excited and super happy." And she says it's also improved her confidence and self esteem in other areas.
The Manager of Hell Pizza in Riccarton, Chris Bullion, says he and the branch owner jumped at the chance to be involved in the scheme. He took responsibility for Bridget's training and found her to be a quick learner. "She's picked up the techniques rather quickly and the last sessions [ ] she just been faster and faster as well so we think we've done something right."
Chris Bullion says she's has been a pleasure to work with and he would be very open to taking another Active in Hell trainee. And, whilst each placement is for a six week fixed period, he is looking into the possibility of further employment for Bridget, should shifts become available.
"Just Sitting Around"
Rawdon Wallace has been able to take it easy for the last few sessions of Bridget's training period. And he says that was both his and Bridget's goal from the start. As her support worker at Idea Services (a branch of IHC), he was initially involved in helping her adapt to the new workplace, clarifying the tasks for her and helping her to complete them. But as the placement went on, he found he was able to take a step back. "It's got to the point now where Bridget's perfectly competent in all the roles she has and all the tasks she's given."
And Bridget feels the same way. "It's his job to just sit around and not do anything now because I feel like I've become independent enough to be working on my own."
Rawdon Wallace runs a Learning and Life Skills service for young people with intellectual disabilities and part of that involves providing supported employment opportunities. He says Bridget's interest in baking and her inter-personal skills made her a good fit for the Hell Pizza placement. "She's very social, very chatty, which is really good in a banter-orientated workplace such as this one." And he says a performance review, halfway through the six week training period, showed everyone was happy with the process.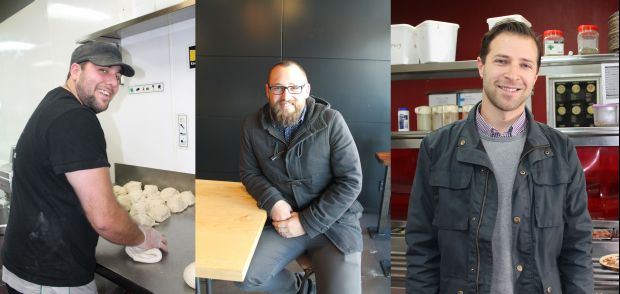 Left: Riccarton Branch Manager, Chris Bullion, has been responsible for training Bridget. Middle: Rawdon Wallace, Bridget's support worker from Idea Services. Right: Hell Pizza's General Manager, Ben Cumming
Mr Wallace said another positive to the placement is that it is a paid work opportunity. He says, while unpaid work experience has its place, IDEA Services require that their users get no less than minimum wage for any supported work placement. "We think it's very, very important both for our employers to see our young people as valued employees and also for the young people to value themselves."
Rolling Out the Dough Nationwide
Active in Hell began as a pilot scheme when Hell Pizza catered for a party run by Active, a group that is part of Idea Services in Wellington. The General Manager of Hell Pizza, Ben Cumming, says the company got talking about other ways to help the organisation and the first trainees were taken on. The idea gained momentum after the company shot a series of on-line films.
He says Hell Pizza initially planned to take 64 trainees, one for each store, but he now believes it might be an ongoing project. He believes its a good way for branches to support their local communities and he's hopeful that other companies might follow their lead. "Initially people are probably quite sceptical and think, 'Well, how much time is it going to take up and how's it going to hinder the performance of my business'." "But that hasn't really been as big an issue as what we thought it would be."
Ben Cumming says that, with the support of Idea Services and their staff, Hell employees have been able to keep the quality of the training high and roll the programme out to more centres. "So I think, the more that people hear about that, the more those barriers will be broken down."