It was a brisk, wintry afternoon at Christchurch Park and the crowd was roaring. There were stirring cries of "C'mon boys" and indignant shouts of "Knock on!"
But, while the crowd may have been vocal, the team members were taking their cues from hand gestures. These were the top deaf rugby teams from New Zealand and Australia, battling it out for the Cochlear Cup. New Zealand's Deaf Blacks were defending their title but ultimately it was Australia's Silent Knights who triumphed, winning the bout 15-13.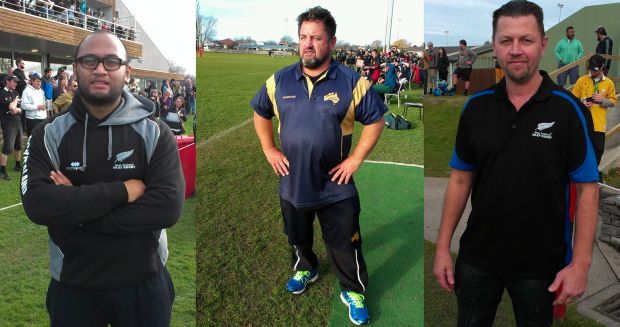 Kenneth Tafai, Michael Conroy and Tony Kuklinski
The President of the New Zealand Deaf Rugby Football Union, Tony Kuklinsky, said the Trans-Tasman competition, which usually happens every two years, was a "pretty big event" for the sport. New Zealand Deaf Rugby players are drawn from three regions, Northern, Central and Southern following their Easter tournament each year. The sport follows the same rules as conventional rugby but referees use hand signals, including a three gesture sequence within the scrum to make it clear when the scrummaging is to begin.
The President of Deaf Rugby in Australia, Michael Conroy, said he had expected New Zealand to come out on top, as the Australian team recently lost to Samoa. "We played a test match against Samoa in 32 degree heat and then we [...] flew down to Christchurch and it was minus one [degree]." "So the contrast between there and here is huge." But, in the end, he said the Trans-Tasman match was a close contest with 50/50 contact.
The Australian triumph was a fitting farewell for the Silent Knights Captain, Paul Young, who announced his retirement at the end of the match. "It's my last test today and it's unbelievable." He said the game had been hard as the Australian team had had to come together from clubs all over the country to play.
The Deaf Blacks Captain, Phillip King, said it was a thrilling game and he congratulated the Australians for their tenacity and ultimate win. "Australia didn't give up. They were very, very determined so [I'm} very impressed by their spirit and all their hard work." But he said he was proud of the Deaf Blacks and he was sure they would be eager to win the Cochlear Cup back in the future.
A Wonderful World
Watching the match anxiously from the side lines was Phillip King's mother, Meg King. She said the sport had taken Phillip all over the world and she was proud of what he had achieved. Mrs King said she had long been involved in the deaf community as two of her three sons could not hear. "So this has been our world and it's a wonderful world to be in."
Phillip said there had been a strong turnout for the game, with plenty of family and friends and this made it a more emotional game. He said the after-match dinner would be a good opportunity to catch up with the team's "Australian mates" and the bonding was also an important part of the contest. "Once the boots are off, we are all friends."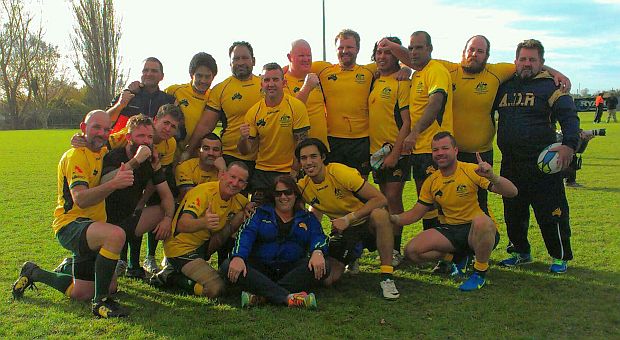 The Silent Knights winners of the Cochlear Cup
The Australian Captain, Paul Young, said he was also looking forward to the social function. "We're all deaf and so we all have that common experience, no matter where we're from." "It's been like that for the last few games and they're good blokes"
Getting the Message Out
Several hundred people turned out to the match at Christchurch Park on Sunday 14 June. But the President of the Deaf Rugby Football Union, Tony Kuklinski, said he would still like to see better awareness of the sport. "I'd love for all New Zealand to know that there is a deaf rugby team and that hearing-impaired and deaf people can come along and play in our competition and then, in the future, become a part of New Zealand Deaf Rugby."
Mr Kuklinski said the union received some sponsorship and funding from the New Zealand Rugby Football Union but also fundraised through local community trusts.
Meanwhile Michael Conroy said the challenge for the sport in Australia was finding enough players and, for that reason, he only recently retired himself after the Samoan test. "I've been playing a long time - I turned 52 this month." Mr Conroy said Deaf Rugby received no assistance from the Australian Football Union and all the players paid their own way to New Zealand. He said small sponsorships helped but believed that, if there was more resourcing available, the team would attract more players.  
Among the supporters at the match was Liz Kay who works as a New Zealand Sign Language Interpreter. Her husband, Barry, and the couple's two children are deaf. Mrs Kay said the Cochlear Cup was a big event for the local deaf community and, while she had enjoyed socialising, it was also a unique opportunity for her children to see deaf rugby in action. She said Barry had previously played for the national team and it was likely their son would want to follow suit. "He very much loves doing everything that Dad loves to do so I'm sure that he'll be quite keen on playing rugby." She said her son had cochlear implants but could still manage to play rugby using headgear.
He husband, Barry, agreed the Trans-Tasman test would be a good inspiration for future players. "We're all watching, getting into it, young and old, to encourage rugby."
The Deaf Blacks next international fixture is in November when they will play two tests in Japan.