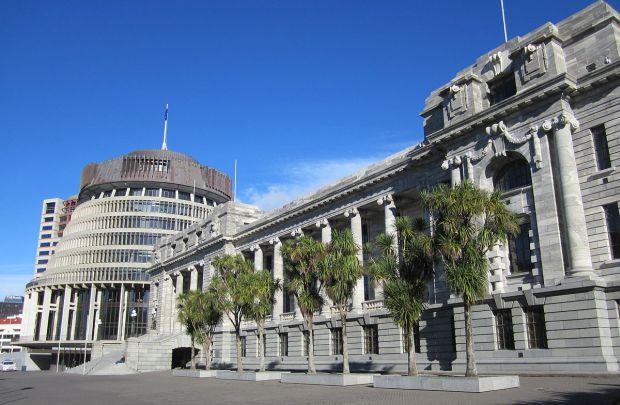 Photo: Nick-D CC BA SA 3.0
Parliament is about to become more accessible.
By the end June this year a number of enhancements will be made to parliament's buildings and grounds to make them easier for people to get around. The improvements come after an inquiry into the accessibility of parliament found it wanting. The inquiry was initiated by the Government Administration Committee.
Committee Chair, Labour's Ruth Dyson says many of the people who made submissions felt there were barriers to their participation in New Zealand's democracy. "Parliament's inaccessible actually, in terms of access to information on the website, in terms of the process for people putting in submissions, in terms of physical access, in terms of participation in the public gallery. It's wrong."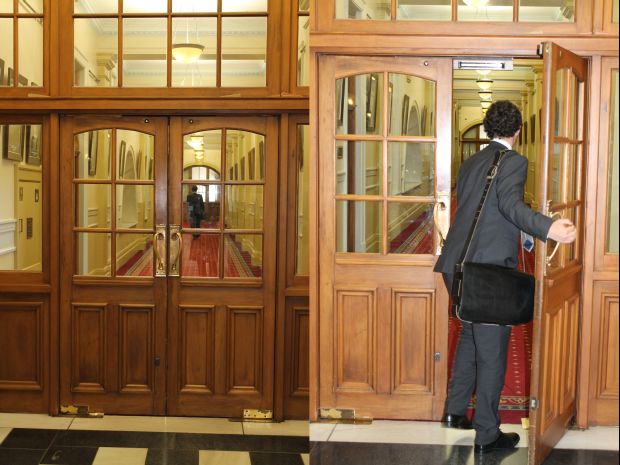 Automatic openers will be installed on heavy doors
She says the committee heard powerful submissions from people who felt they would never go to parliament because it was just too difficult even though they were very interested in the political process and debate.
Parliamentary Services is responsible for parliament's buildings and grounds. Its group manager of precinct services Jim Robb says work is progressing on the installation of automatic door openers for some of parliament's heavy wooden doors.
Tactile indicators will show where a change in floor surface is imminent, talking lift technology will be installed in lifts in the Beehive and a stair-climbing wheelchair will provide another way for people with impaired mobility to get from the main entrance of parliament up the eight steps to Parliament House.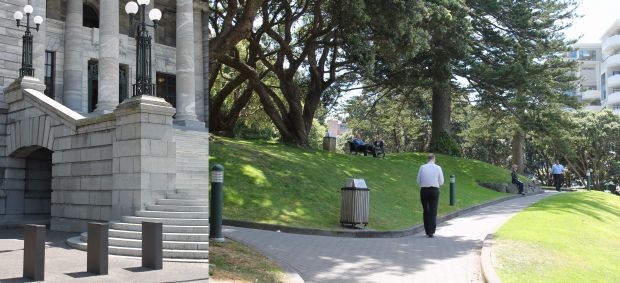 Left: The copper bollards outside parliament will become more visible in the up-grade. Right: Resting pads will be built alongside the path up to parliament so people in wheelchairs and those pushing them can have a breather.
Jim Robb says concrete landing pads will also be built beside parliament's driveway so people using or pushing wheelchairs can stop for a breather. A handrail is to be installed on the ramped corridor leading to the parliamentary library.
Attention will also be paid to parliament's website. During the inquiry process the  Government Administration Committee heard from visually impaired people who said they are prevented from making submissions on-line because they cannot decipher the fuzzy 'capture code' that must be typed in in order for them to submit their comments.
Ruth Dyson says eventually she would like to see legislation available in a format that can be downloaded on software used by blind people and also information from parliament translated into easy to understand English.