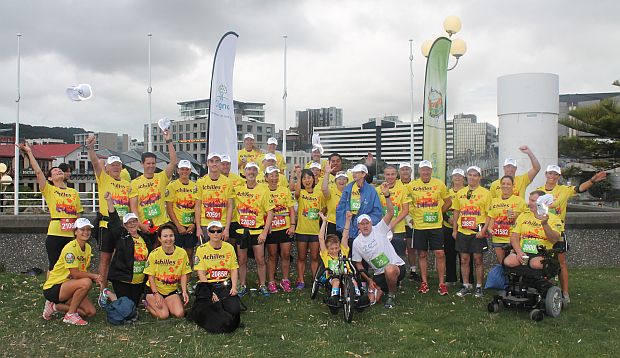 The Achilles Team.
Richard Warwick plans to run the New York marathon in November. Not a bad effort for a man who hasn't run for 35 years. Richard had a brain bleed when he was 16 which left him with paralysis on his left hand side.
However, a few months ago he met Peter Loft. Peter established Achilles in New Zealand in 1994. Achilles is a world-wide organisation that aims to get people with disabilities participating in main-stream sporting events.
On the morning the two men first got together, Peter told Richard he'd like him to travel with Achilles to take part in the New York marathon
"I sat there a little bit stunned and said, 'Well Peter there's only one problem… I don't run.' And he just looked at me and said 'Well why don't you run?' I suddenly realised that up until this stage of my life I hadn't had a reason to run and suddenly Peter was handing me that reason."
Recently Richard ran with the Achilles team in Wellington's Round the Bays event.
"My kids are pretty proud which is nice. You know you get to be proud of your kids but when your kids get to be proud of you that's pretty cool too."
Gallery: Achilles - A Reason to Run