The Pallet Kingdom creators Adriana Avendano Christie (middle) and Gabriel Acuna Carvajal (right) with their friend and business collaborator Caitlyn (left)
"It was a beautiful accident… we looked at each other and thought we have a business opportunity here, let's work it out."
Not many people can claim that by breaking a table, it leads them to a unique social and business opportunity. However, that's exactly what happened when Gabriel Acuna-Carvajal sat on a table in a flat he shared with his partner Adriana Avendano Christie. But instead of allowing him to go out and buy another one, Adriana purchased a circular saw and got to work fashioning a new table out of pallets from a construction site. And when a friend asked to purchase it, the seed for a new project - The Pallet Kingdom - was planted.
The social enterprise business was established in 2014 with the couple fashioning disused wooden pallets destined for the landfill, into pieces of functional furniture. From chairs to bookcases and even greenhouse trestle tables for a South Auckland school project, the couple's furniture is making an impression. Pieces have been used at Auckland Council events, a TEDx talk, and walk into any number of café's around the city and chances are you'll wind up sipping your flat white whilst sitting on a Pallet Kingdom stool.
But the project isn't about making a quick buck. Rather, it's about giving back to the community. The Colombian-born couple invite young people suffering from mental health issues, or migrants struggling to find work, to help build the furniture with them in their Mt Roskill workshop on a contract-by-contract basis. "We designed a business model where we can have a significant social impact… not just preventing those pallets from going to landfill but also involving vulnerable communities; refugees, people going through depression or international students in hardship… and at the same time promote sustainable practices," says Gabriel.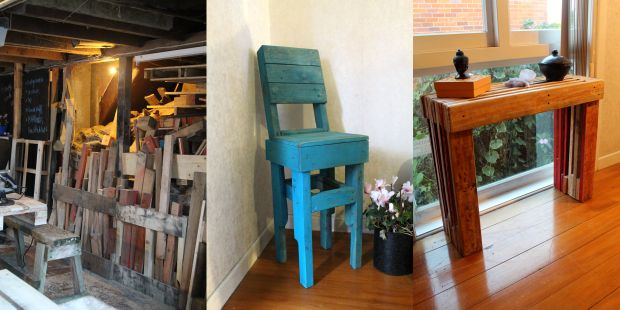 According to a recent Slate magazine article, for such an invisible object nearly 2 billion are used every day in the United States alone. But Adriana says this workhorse that helps move the world, does have lifespan of between 5 to 7 years. But one man's trash is another's treasure and while they can't save them all, Gabriel and Adriana estimate they've so far stopped 1,800 pallets from heading to Auckland landfills. And businesses wanting to dispose unwanted pallets are now calling the couple on a daily basis.
Adriana credits her strong work ethic and social enterprise skills in part to her grandparents Lindsay and Denise Christie, a pair of New Zealand missionaries who moved to Colombia in the mid-1960s and devoted their lives to helping others there. Both Adrianna and Gabriel say the establishment of the Pallet Kingdom is their way of saying thank you to them for their work.
And while Gabriel has not been able to readily swing a hammer over the past few months due to a back injury, he has been taking care of growing the business while every morning Adrianna heads down to the workshop under their house to tackle the growing number of pallets that need pulling apart and crafting into furniture.
The next step for the couple is to extend the workshop into their backyard to increase production and to help even more people who need a hand to get back on their feet. And they also want to share their intellectual property by showing people how to build their own pallet furniture via a YouTube channel. "This is our kingdom and we're reigning it," says Adriana. "But we're wanting to get a lot of people on board, impact youth and help the environment as well."

The couple's living room also acts as their showroom