Paul Charman back where loves to be best!
"I'd just love to see the place opened up for a bit more examination by the public."
– Paul Charman      
An Auckland journalist, just back from the Auckland Islands thinks heavily restricted visitor numbers there could be  raised to allow more people to go. Numbers to the sub-Antarctic islands of New Zealand are kept deliberately low to reduce the impact on the islands' famed bird and plant life.
Paul Charman is an education and features writer for the New Zealand Herald. He's also a self-proclaimed 'nutter' about the sub-Antarctic isles, those five groups of islands that are now UNESCO world heritage sites. They lie in the Great Southern ocean, south east of New Zealand and are home to unique plant life and remarkable animal and bird populations.
Paul Charman has already visited many of the islands in the 2013/14 summer. This time with the help of our Navy, he's been accompanying a group of builders and DOC workers to Auckland Island, helping to get rid of predators and to preserve aging huts that were built to house coast watchers sent there during the Second World War. Once on land the builders quickly found that the main hut at the Ranui encampment was in better condition than first thought. But they wasted no time in replacing the roof, and also the piles.

The volunteer building team. Note new roof on the hut behind.
John Stuart Jones is now ninety-one and lives in Te Awamutu. He's also the last survivor of the fifty-six southern coast watchers sent to the sub-Antarctic islands during the Second World War. He was just eighteen at the time. They had to look for Japanese or German war ships that may be using the good deep harbours on Auckland Island  to hide in, before attacking New Zealand vessels through the so-called "back door".
John Jones says he'd had a terribly rough journey down to Auckland Island and the weather there was bad 90 percent of the time. But in the huts, hunkered down in the bush, life was OK. "We were comfortable. We were well-fed, and we had nice comfortable beds." No ships were ever sighted.
Paul Charman says more people should be able to visit the sub-Antarctic islands with their abundant and fearless wildlife, and amazing flora.

John Stuart Jones today, at home in Te Awamutu
In 1943 John Jones wrote this poem about Auckland Island.
Fifty South
– by John Stuart Jones aged 18
This is our isle of solemn repose,
Our isle of blessed retreat,
Where the bitterly cold sou'wester blows,
And mud slops up round our feet.
Where the rata blooms in the autumn breeze,
And the bell birds serenade,
Where the pippets flit beneath the trees,
And the orchid flowers are in the glades.
Where tui chant from morn' till night,
And tom tits play in the trees,
Where albatross roam so grand in flight,
Living a life so free.
There is a Sooty!
What a picture it makes as it reels across the bay,
While a shag swiftly passes and leaves in its wake,
A tern flitting on its way.
Shy little penguins hop over the rocks,
Sea lions are numerous here,
Mutton birds twist and turn, in their flocks,
And sea leopards sometimes appear.
The ascophyllum grows almost anywhere,
Snow grass flourishes in the peat,
While fuscia trees are here and there
Defying the wind and the sleet.
How innocent it seems, this isle of ours,
This isle of unkempt glory,
With its animals, birds, and lovely flowers,
Which seals an appropriate story,
A story which one cannot praise,
T'is a sad and a tragic tale,
Of torture and hardships in by-gone days,
In the perilous days of sail.
Many a wreck this place has known,
Many a life has been taken,
Where, up on the rocks a ship has been blown,
Her pride and honour, forsaken.
An unfriendly island it is indeed,
For those who come unprepared,
For those who have to hunt for a feed,
Have many a grim day ahead,
With us, it is different, you see,
We haven't a chance to grow thin,
With vitamins all from A to E,
Neatly done up in a tin!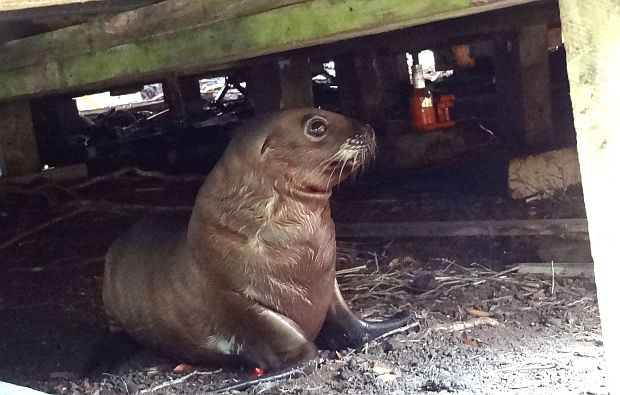 Auckland Island seal finds shelter under one of the huts at Ranui Base.
All photos by Paul Charman