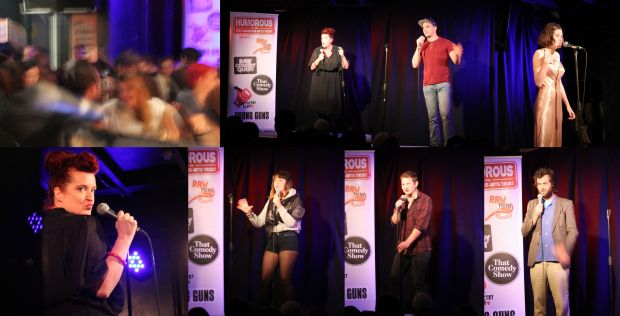 Photos: Jesse Easton.
It was a packed crowd a couple weeks ago for the Wellington Raw comedy Quest Finals. The MC was Billy T Award winner Justine Smith and the judges were Benjamin Crellin, Dean Hewison and Brad Zimmerman. Amelia Nurse went along to hear the ten finalists battle it out for two places in the upcoming National Grand Final.
This story contains adult themes.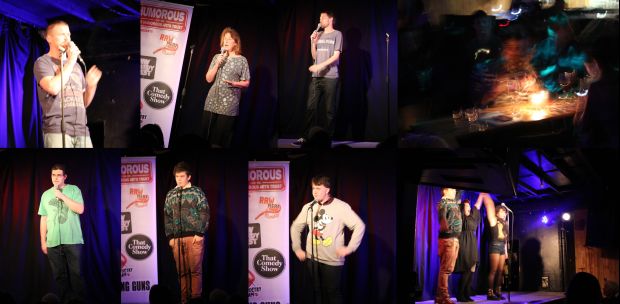 Q and A with the contestants:
I asked each contestant a couple of questions. Here are some of their answers.
How/why did you get into comedy?
I had my first gig while I was living in Edinburgh. I'd been keen to have a crack and got bullied into it by some mates. Besides, it's a natural progression from my accountancy career. – Craig Savage
What would be your dream comedy venue?
"I just want to be on TV one day because then my mum will have to watch me." – Lucy Roche
What's the best/worst thing about standup as opposed to other sorts of comedy?
"You know immediately if your material works or not, which is a good thing and a bad thing." – Louis Tait
Any triumphs or disasters you're willing to share?
"I was speaking to an English migrant once who said 'Stand-up comedy.  That must be so difficult.  What happens if you fail?'  As he'd worked in the British army, mine clearing in Afghanistan, I thought the same thing applied to his previous job, and I'd much rather bomb my way than his." – Lorraine Ward
"Every laugh is a triumph." – Louis Tait
An interview with judge Brad Zimmerman
When you're judging the contestants, are you applying a certain set of criteria or going with instinct? Is there a scoring system? 
For me, personally, there are a couple of criteria I'm keeping an eye out for, the biggest of which is control. If a comic looks like they're in control and know how to own the stage, that's huge. Another big one is originality. If someone steals material, I instantly consider them disqualified. 
Sometimes my opinion does not match the audience on that night. I'll see an act who the crowd didn't enjoy very much, but when analysing their jokes, their stage presence, and their overall demeanour, they come out on top from a comedy-nerd technical standpoint.
What did you think about the range of subject matter?
I think this year, the competitors showed a pretty open range (in the shows I judged). A lot of them talked about the staples (sex, race, the internet, etc.) but I also heard a lot of things I was not expecting. I was really happy with what the acts were able to bring to the table.
Is there anything that you think sets Wellington comedians apart?
I'm not sure about "setting them apart" but I do think there's a different vibe between Wellington and Auckland comedy. A lot of it comes down to what our respective audiences want. From what I've witnessed, Auckland comics are a lot more polished and punchy, whereas Wellington comics seem to go a little deeper don't always settle for the easy/quick joke.
Although I could be completely wrong.
What was it about the winners that lifted them above the others?
This year's winners (Joel Hansby and Savanna Calton) showed a level of control that the others simply couldn't compete with. It was obvious right from the offset that they both know exactly what they're doing. Combine that with their originality (both having a very unique style and varying subject matter) and you get two standout acts that I was very happy to send to the national finals in Auckland.
And any favourite moments from this year?
I don't know if it's a "favourite" so to speak, but a memorable moment was an act in one of the heats who managed to be racist, misogynistic, and homophobic in such a short space of time that the crowd had absolutely no idea how to take it. They simply couldn't believe what they were seeing.
Although I don't condone the things he was saying, it was really funny (from a comedian's point of view) to watch an entire crowd try to come to terms with it.