Raewyn Theobald can barely contain her excitement at the mention of the natural disaster that ended up providing her with a windfall of surplus porcelain: "An earthquake is a mosaic artist's dream, because you get bins and bins, and I did."
In her Gisborne studio at the time of the 6.7 magnitude earthquake (2007), she was subsequently delivered a lifetime supply of porcelain – more than enough to create a large artwork.
"It was just on dark, and there was a lot of crashing, but it sounded worse than what it was."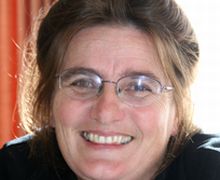 Raewyn has been creating mosaic art for more than a decade, and was also one of the instigators behind a co-operative, River End Creations which was established the same year, the city was struck by the quake.
The idea behind the co-operative was to provide an avenue to show and sell local work. Theobald reinforces that in a city like Gisborne the only way for an artist or crafts person to survive is through joining forces with others to cover the cost of rent and power, with the end result of providing high quality, locally produced hand-made items for tourists  who come through the city during the summer months.
" You need so many artists [and] all voluntary service... you also need a certain base that can give time or that will commit to those three-months rent."
Gisborne – the 'river city' – has an inclusive, thriving and supportive arts community where the education facilities, the local museum and arts groups, including River End Creations, all intersect to produce a high standard of work and level  of productivity. Theobald attributes this partially to geographical isolation which gives people time and space to focus on crafts, but she also puts it down to the generosity of the people who live in the area: "The people who settle in Gisborne and love the city… they want to give back to the community," she says.
Q & A with Raewyn Theobald
Where are you from and how long have you been in Gisborne?
I was born in Gisborne, I have lived here all my life, my family still live here. Gisborne is my home.
Tell us a quirky fact about yourself
I love to collect perfume bottles and their boxes. I find it hard to throw away the used perfume bottles and boxes. They are so elegant, velvety, feminine. They remind me of expense, pampering and they smell so beautiful. It seems a waste to just throw them out when they are empty. These perfume bottles represent a way of valuing myself by buying and using expensive perfume.
How much time do you spend on your mosaic craft?
My time is limited because of a change to my family circumstances, (I now care for my 4-year-old niece full time) but I average about 15 hours per week on my art making and my art study. I work as a preschool teacher full time as well.
What has been the most challenging aspect of your craft?
The craft of mosaic is so broad, from using pebbles, crockery, beads to using glass or tiles. I have found it a challenge to stick to one or two mediums within the mosaic art field. After experimenting for a few years I now work mostly with beads, coins, glass, mirror and tiles.
Do people still provide you with porcelain/crockery?
Yes, crockery gets dropped off to my place every few months. I no longer accept white tiles or crockery because I have so much of it!
You also teach mosaic art. What have you learned about your craft in the process?
I have found that children work quicker at mosaics than adults generally. I have found that you need simple examples to best explain the mosaic process and techniques. It works well to have simple patterns or stencils available for students to choose from if needed. I have become skilled at good time keeping during the workshops to keep to the allocated time. I have become skilled at gently motivating and moving people along if they are stuck, or having trouble with a decision. It is good to offer breaks frequently through the workshop, like a walk in my garden to keep people fresh, creative and productive.
Describe the first thing you ever made and whether you loved it or were too embarrassed to show anyone.
One of the first things that I made was a jungle pot in my first weekend mosaic workshop. I came up with the idea of having eyes of a wild animals peeping through grass leaves around the pot. I went on to perfect the idea with more jungle pots. This first pot was not very well grouted as I was just learning the craft. It is still in pride and place on my deck. I love it because it is so simple in design, but even right back then, I had simple effective creative ideas.
What do you love about Gisborne, and why people should visit?
Gisborne is a quiet peaceful restful place. We represent the Bi-cultural heritage of our country as Maori and European living side by side. Some of our unique features are the friendly locals, a busy local CBD, beautiful harbour and beaches. We have a wonderful mural trail done by local artists. A drive up the coast is worth a go to catch more of our beautiful coastline and beaches. We have our newly opened Maori Battalion C Company house alongside  the Tairawhiti museum. Gisborne has lots of lively cafes to enjoy a great coffee where you can take in the local atmosphere.
What is it that inspires your art, the images and use of colour?
I am continuing inspired by the mosaic master Antonio Gaudi. I visited Barcelona in 2010 and was not disappointed by his large scale funky mosaic artworks. I love the quirkiness of his designs and the large scale curving works. I have been intrigued by the curved mosaic bench in Park Guell which has inspired me for years before I visited Barcelona. I enjoy using the colours of Yellow, red, orange and purple. They remind me of sunsets which are warm and tranquil. I love to use tiling designs with flowing lines of tiles contrasting with more brick, restricting patterns. I have done several works recently exploring with the concept of restraint and freedom in my tiling designs on lamp shades, on a straw bale chair and cushion.