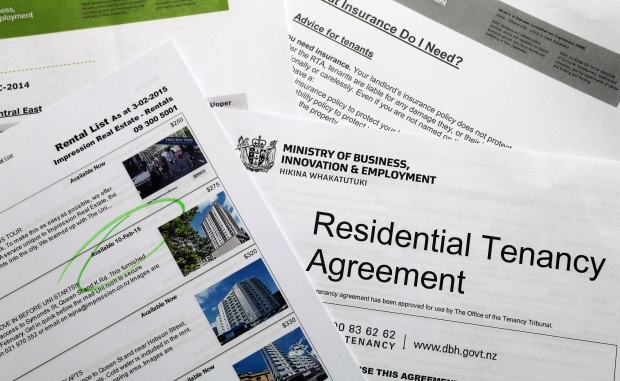 "If somebody says they're living overseas, they have the keys overseas, but please pay them a deposit to hold a room or flat, don't do it run a mile!" - Dianne Perry, an Accommodation Advisor for The University of Auckland
Having been involved in real estate for over two decades, Dianne Perry has seen her fair share of property scams.
Now an accommodation advisor at The University of Auckland, Dianne's determined not to see desperate flat-hunting students part with their money and have no room or house to show for it.
She says she has had at least half a dozen cases across her desk in the past fortnight, where students have been asked to send at least $1,800 to a landlord advertising a bogus property.
Luckily she stopped them before they did.
Dianne says the stories students are being fed are simple and go along the lines of this: Send me the money and I'll hold the room for you.  However, I'm currently overseas due to a family bereavement and I have the keys with me, so you won't be able to view the property until I get back.  But it is yours… I promise…
"Many are international students… thinking oh my goodness we want a property now…I'd better go ahead and do that," she says.
And with over 40,000 new and returning University of Auckland students due to start a new semester in a few weeks' time, the pressure is on for those still looking for a place to live.
But Dianne and her colleagues have come up with a novel way to try and help them – speed flatting.
The half hour sessions introduce potential flatmates to each other, as well as allowing Dianne to trace the pitfalls and potentials of the Auckland rental market.
After the session, students are taken on a short tour with a central city real estate agent to view potential abodes.
Rental agent Sam Zoweir who takes the tours says the rental market in the central city is the busiest he's seen it, with many flats being snapped up the same day their advertised.
He estimates his firm, Impression Real Estate, is currently renting between five and ten apartments a day.
"You should see our office during the day, it's really busy…perhaps because we're short on supply…you just need to be quick," he says.
The average rental price in Auckland rose 4.7 percent from December 2013 to December 2014 according to real estate agency Barfoot & Thompson, with a one bedroom apartment in the central city averaging $358 per week.
And with New Zealand experiencing a record net migration gain of over 50,000 last year, up from 22,000 in 2013 according to Statistics New Zealand, housing analysts says Auckland tenants should expect further rent rises as pressure on the city's housing stock continues.
While Sam Zoweir says while it is pandemonium at the moment, he's advising students to have references and bank accounts already organised so if they see a property they like, they can move quickly.
And it is advice being echoed by Dianne Perry and colleague Tara Brewer.
Their message to students currently undertaking the grand flat hunt is simple; get organised and be realistic about expectations.
"With flatting in Auckland there's that concept of the dream flat…but it's really about compromising and accepting you're not going to get a million dollar apartment for $150 a week," says Tara.
"It's always going to be important to consider outer suburbs, that potential's there; you just have to be open to it."
Related stories
The Great Flat Hunt: Finding a place to call home