Nine To Noon for Thursday 18 June 2015
09:05 Emergency doctor says MDMA should be legalised
Emergency medicine specialist, Dr Paul Quigley, says the purest form of ecstasy, MDMA should be legalised as it is much safer than the new synthetic substances flooding the market.
He says emergency staff are struggling to deal with people who have taken synthetic drugs like N Bomb, which causes psychosis, hallucinations and damages internal organs.
09:20 Human water use is sucking aquifers dry: study
A new study shows a third of the biggest aquifers in the world are being depleted as more water is being drawn, than is being replenished.  The research from NASA satellites shows that 21 of the world's 37 largest aquifers are at risk of drying up.
Sasha Richey from NASA's Jet Propulsion Laboratory is one of the authors of the study.
Listen to our interview from last month with author Mark Hertsgaard on the drought gripping California, where there has been no significant rainfall in four years and underground reservoirs are being sucked dry.
09:30 Nepal two months on - Nelson charity helps
Durga Aran is the Founding Director of First Steps Himalaya who was in Nepal distributing uniforms to three schools and sets of exercise books to over 4,000 children in 29 schools.

Pictures courtesy First Steps Himalaya
09:45 UK correspondent Dame Ann Leslie
Dame Ann Leslie reports on Labour's leadership woes, who will be the next James Bond?
10:05 Citizens rising up against the cartels
For his film Cartel Land, Matthew Heineman embedded himself with a citizen-led paramilitary group in the Mexican state Michoacán, lead by former California physician Dr Jose Mireles. The group was set up in 2013 to counter the violence of the local drug cartel, The Knights Templar, which provides methamphetamine to the US and have been responsible for kidnappings and massacres in the state. Matthew Heineman also spent time with another armed vigilante group, this time on the other side of the Rio Grande. Arizona Border Recon patrols the state's Altar Valley, which is known as Cocaine Alley. He says making the film was a terrifying experience and talks to Kathryn Ryan about the film and how the lines between good and evil are blurred in the dangerous world of cartels on the Mexican border.
Cartel Land screens at the New Zealand International Film Festival which starts in July. You can view the trailer on YouTube.
10:30 Book review: 'The Kamikaze Hunters' by Will Iredale
Published by Macmillan, RRP$34.99. Reviewed by Quentin Johnson.
10:45 The Reading: 'Undercover Mumbai', by Ayeesha Menon
Inspector Alia Khan, a young detective in the Mumbai Police Force, faces many obstacles as she attempts to solve a series of crimes, make sense of her troubled past and cope with being a woman in a chauvinistic, male-dominated police force (9 of 9, Goldhawk) Note: audio is not available for this programme.
11:05 New technology with Sarah Putt
Sarah Putt discusses Vodafone buying WorldxChange; mobile first for the New York Times; and times are tough for dating apps.
11:20 Hat's Lessons on Life
Harriet "Hat" Rowland is the author of the bestselling The Book of Hat, a finalist in this year's NZ Book Awards for Children and Young Adults. Hat died last year, aged 20, two years after she was diagnosed with osteosarcoma – a rare form of bone cancer. The Book of Hat is a collection of her blog posts, written after her diagnosis, throughout her grueling treatment, brief remission, then devastating relapse.
Book Awards judging panel convenor Bob Docherty says, "It's funny at times, it's melancholic at times, there's nothing pretentious about it. It's just raw living from someone who is on the edge, and it's not a tragedy. This is life."
For Hat's parents, Jan Kelly and John Rowland, the book's shortlisting for the book awards is bitter sweet. John talks to Kathryn about what his daughter still has to teach others.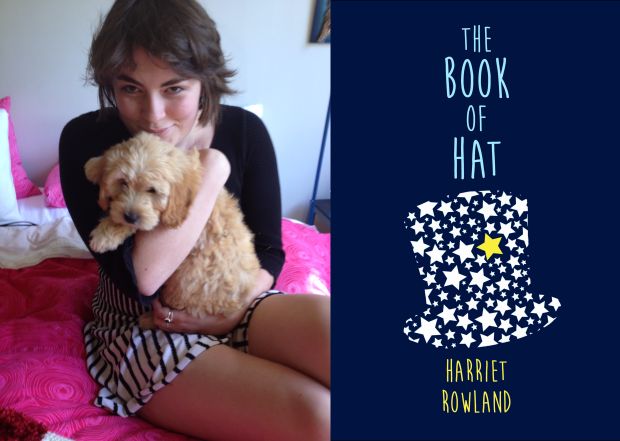 11:45 Film review, Dan Slevin
Dan Slevin reviews new releases Jurassic World, Marshland and San Andreas.
Music played in this show
Artist: Ladi 6
Song: Like Water
Composer: Tamati
Album: The Liberation Of…
Label: Ladi6
Time: 09:36
Artist: The Staves
Song: Steady
Composer: Staves
Album: If I was
Label: Warner Music
Time: 09:36
Artist: Chuck Berry
Song: You Never Can Tell
Composer: Berry
Album:
Label: Geffen
Time: 10:36
Artist: Bombino
Song: Imidiwan  
Composer: Moctar
Album: Nomad
Label: Nonesuch
Time: 11:22
Artist: Nick Cave & The Bad Seeds
Song: Into My Arms
Composer: Cave
Album: The Boatman's Call
Label: Mute
Time: 11:43