Nine To Noon for Friday 19 June 2015
09:05 Jetstar expansion - boon for provinces?
The Qantas-owned budget airline plans to fly to at least four new regional centres, using 50-seater planes. But some regional leaders are sounding a note of caution. Mayor of Napier Bill Dalton, and Mayor of Nelson, Rachel Reese.
09:25 Wild weather update
Heavy rain has caused widespread flooding throughout the West Coast and sent water through about 30 properties in Hokitika. The rain is continuing and moving north. John Law is a Met Service meteologist.
09:30 Robin Chase on how collaborative business is reinventing capitalism
One of the pioneers of the car sharing movement, Robin Chase believes peer to peer businesses like Air BNB are helping reinvent capitalism. In her book Peers Inc, the co-founder of Zipcar looks into the collaborative economy, and how businesses like AirBNB and Uber, as well as new web enabled platforms and apps are redefining how businesses work.
09:45 Pacific correspondent Mike Field
Pacific correspondent Mike Field reports on the worsening crisis in Nauru over its Australian detention system, a new book on devastating Cyclone Martin which hit the Cook Islands in 1997 and the gagging of criticism in Fiji over its proposed new flags.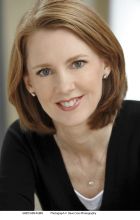 10:05 Gretchen Rubin on happiness and good habits
Gretchen Rubin is the best-selling author of the Happiness Project. Her latest book is Better than Before. Mastering the Habits of Our Everyday Lives. Her thesis is that habits make change easier as they are the invisible architecture of daily life and remove the need for decision making and using self control to make changes. But she says before we try to form new habits, we have to know ourselves, and know what will work, and what won't.
Photo: Dave Cross Photography
10:35 Children's book review with John McIntyre
Keys by Sacha Cotter and Josh Morgan. Published by Huia, ISBN 978-1-77550-161-9 
I Am No A Worm by Scott Tulloch. Published by Schloastic, ISBN 978-1-77543-251-7
Little Red Riding Hood... Not Quite by Yvonne Morrison, illustrated by Donovan Bixley. Published by Scholastic, ISBN 978-177543-263-0
10:45 The Reading: 'A Bit of Goss', by Wendy O'Malley
Grayson is seven months pregnant and after listening to gossip comes to believe that her husband Dylan is having an affair. So, she and her best buddy set out to catch him red-handed (RNZ)
11:05 Music review with Grant Smithies
Grant Smithies rounds up re-issues of classic Flying Nun releases from Able Tasmans and The Stones and gets an earful of the new album from veteran Wellington band, The Warratahs.
11:30 Sports commentator Brendan Telfer
Brendan Telfer discusses New Zealand's horror netball season; the refusal by New Zealand Women's football coach, Tony Readings, to shake hands with his Chinese counterpart after a FIFA World Cup match; and how the Black Caps are being hammered by the English batting line-up.
11:45 The week that was with comedians Te Radar and Michele A'Court
Music played in this show
Artist: Scissor Sisters
Song: I don't feel like dancing
Composer:
Album: Ta-dah
Label:
Time: 9:23
Artist: Roisin Murphy
Song: Footprints
Composer:
Album: Overpowered
Label:
Time: 9:35
Artist: Nancy Sinatra
Song: These Boots
Composer:
Album:
Label:
Time: 9:45
Artist: Janet Jackson
Song: Whoops Now
Composer:
Album: Janet The Best
Label: Universal
Time: 11:06
Artist: Blondie
Song: Heart of Glass
Composer:
Album:
Label:
Time: 11:43
Grant Smithies music selection:
Artist: Able Tasmans
Song: What Was That Thing
Comp: Humphreys/Benniston/Able Tasmans
Album: A Cuppa Tea and A Lie Down
Label: Flying Nun
Artist: Able Tasmans
Song: And We Swam The Magic Bay
Comp: Humphreys/Benniston/Able Tasmans
Album: A Cuppa Tea and A Lie Down
Label: Flying Nun
Artist: The Stones
Song: Something New
Comp: Batts/Elsey/Anderson
Album: Three Blind Mice
Label: Flying Nun
Artist: The Warratahs
Song: Up With The People
Comp: Barry Saunders
Album: Runaway Days
Label: Native Tongue Masters/Southbound