Nine To Noon for Wednesday 17 June 2015
09:05 John Hattie: Education policy, the politics of distraction
A new report by world renowned education researcher, John Hattie suggests policies are increasingly about appeasing parents and have little impact on student outcomes. Professor Hattie's meta-analysis of 60,000 studies, published yesterday, finds that many popular policies such as smaller class sizes, performance pay and even the numbers of teacher aides in classrooms, have little effect. John Hattie is the director of the Melbourne Education Research Institute at the University of Melbourne
09:20 HOBITSS in undersea study to investigate 'silent earthquakes'
A group of seismologist from the United States, Japan, and New Zealand, are measuring slow-slip earthquake activity in Poverty Bay, in the biggest experiment of its kind. It is part of a staged process  to understand slow-slip or 'silent quakes'. The multi-million dollar project will eventually culminate in scientists drilling into the offshore fault. Laura Wallace from the University of Texas is the project leader and has designed some of the sensors.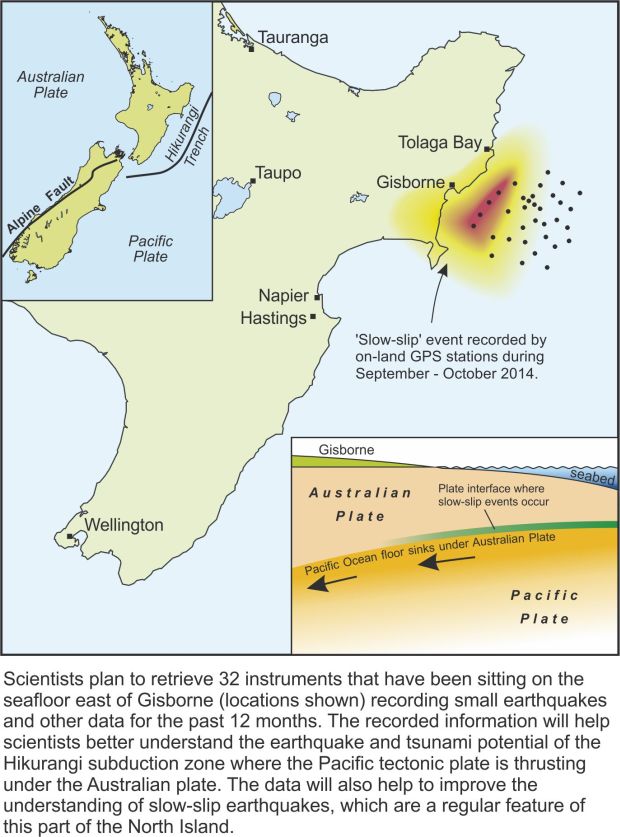 Image courtesy GNS Science
09:45 Australia correspondent Peter Munro
Peter Munro reports on the Government being dogged by claims it paid people smugglers; and unrest over government plans to strip citizenship.
10:05 John Forman - Founder and Executive Director of NZ Rare Disorders Organisation steps down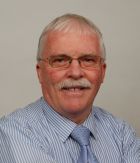 John Forman is the founder and executive director of the Organisation for Rare Disorders, a not-for-profit group set up to help rare disease families through the health and disability system and to promote research into rare diseases. He founded the organisation 14 years ago, but his journey in the world of rare disorders began over 40 years ago, when he and his wife Judith had twins - Tim and Hollie, who were born with the rare lysosomal storage disease alpha mannosidosis. It was a lonely time for the couple - there was a lack of knowledge of the disease for many years - in fact the twins were 17 when they were finally diagnosed with the disorder which affects just one in a million.
Over the years, John Forman, has been a tireless advocate for families of patients with so-called orphan illnesses- for drugs to be funded, for better research, and for better funding for carers.
10:35 Book review: 'Versions of Us' by Laura Barnett
Published by Hachette, RRP$37.99. Reviewed by Elisabeth Easther.
10:45 The Reading: 'Undercover Mumbai', by Ayeesha Menon
Inspector Alia Khan, a young detective in the Mumbai Police Force, faces many obstacles as she attempts to solve a series of crimes, make sense of her troubled past and cope with being a woman in a chauvinistic, male-dominated police force (8 of 9, Goldhawk) Note: audio is not available for this programme.
11:05 Marty Duda's artist of the week: Muse
Hailing from England at the end of the 20th century, Muse immediately drew comparisons to Radiohead, thanks to the similarity between Muse vocalist/guitarist Matthew Bellamy's voice and that of Thom Yorke. But the comparisons dead away as Muse began making a name for themselves thanks to albums like 2001's "Origin Of Symmetry" and 2003's "Absolution". By the middle of the 2000's they had become a huge stadium-filling act, with a sound to match… now the comparisons are with Freddie Mercury and Queen. The band has just released an ambitious concept album titled Drones… a commentary on modern warfare. As usual there's nothing subtle about Muse… they know how to get their message across both lyrically and musically.
Tracks:
1. Plug In Baby – Muse taken from 2001 album, "Origin Of Symmetry" (Mushroom)
2. Starlight – Muse taken from 2006 album "Black Holes And Revelations"  (Warners)
3. Survival – Muse taken from 2012 album "The 2nd Law" (Warners)
4. Dead Inside – Muse taken from the 2015 album, "Drones" (Warners)
11:30 Employment law with Andrew Scott Howman
Andrew Scott Howman discusses wearable technology and its potential legal implications in the workplace.
11:45 Arts commentator Courtney Johnston
Courtney Johnston, director of The Dowse, discusses Matariki festival in Wellington, an artist on the 20 pound note, and five years of talking about art on this show.
Links:
Matariki Wellington festival
Art Night: Po Whakaatu Toi, 2 July 
Ngataiharuru Taepa - 'Te Tini a Pitau: 12 years of kowhaiwhai', Pataka, Porirua 
Bank of England calls on public to think of visual artist to grace new £20 note - The Guardian
Works by Ngataiharuru Taepa, courtesy of Page Blackie Gallery Wellington.
Music played in this show
Artist: George Ezra
Song: Budapest
Composer: Barnett/Pott
Album: Wanted on Voyage
Label: Columbia
Time: 09:31
Artist: Chrissie Hynde
Song: Dark Sunglasses
Composer:  
Album: Stockholm
Label:
Time: 10:05
Artist: Yumi Zouma
Song: Alena
Composer:
Album: EP
Label:
Time: 10:38