Nine To Noon for Friday 5 June 2015
09:05 Campaigning lawyer Lecretia Seales dies
The Wellington lawyer who took a landmark case to the High Court over assisted dying, had died just hours after receiving the judgement. Lecretia Seales was 42. She was a highly experienced public lawyer, who worked until very recently at the Law Commission. Former Prime Minister Sir Geoffrey Palmer is a friend and former colleague.
09:20 Bryan Stevenson on tackling racism in the US justice system 
More than two people a day are shot and killed by police in the US, yet the government doesn't keep its own record. Top lawyer and founder of the Equal Justice Initiative Bryan Stevenson, who Desmond Tutu calls 'America's Mandela', has spent decades challenging discrimination.
09:30 Woodville's Kevin McIntyre on reviving interest in the works of the artist Gottfried Lindauer
A labour of love has turned into a European adventure with a couple devoted to celebrating the works of the former Woodville artist Gottfried Lindauer, invited to his homeland in the Czech Republic. Kevin McIntyre and his wife Joan set up a studio in Woodville in the Tararua District to show copies of the Bohemian portrait artist's work in 2001. Lindauer was a prolific portrait artist who specialised in portraits of Maori.
09:45 Pacific correspondent Mike Field
Pacific correspondent Mike Field with news from the Pacific including the American plan to turn a chain of islands into a bombing range - despite the locals being strongly opposed.
10:05 Lydia Bradey the first New Zealand woman to climb Mt Everest and her life story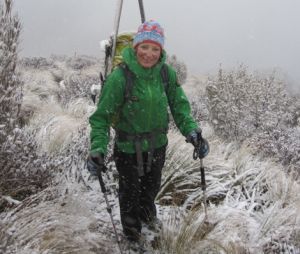 New Zealander Lydia Bradey is the first woman to get to the top of Mt Everest without oxygen, but her solo feat in 1988 was surrounded in controversy.
Lydia was 27 and part of an international expedition, along with fellow New Zealanders, the late Rob Hall and Gary Ball on Everest. Split into different teams, she eventually made the ascent to the top of the world on her own, only to return to a storm of doubt cast over whether she'd made it to summit.
A keen climber since her teenage years, having grown up as the only child of a solo Mother, much of Lydia's life has been devoted to being in the mountains. Her story is told in a new book, Going Up is Easy written with her friend Laurence Fearnley.
10:25 John McIntyre from The Children's Bookshop in Wellington
Nanotech by Denis Wright. Published by Submarine, ISBN 978-0-9941069-5-7
Lullaby by Bernard Beckett. Published by Text Publishing, ISBN 9781 99218275-3
10:45 The Reading: 'Reverse Living' by Catherine Chidgey
Read by Miranda Manasiadis. Livvy has isolated herself among the hubbub of online cultures in the new home she and Michael built, an example of 'reverse living'. (2 of 2, RNZ)
11:05 Music with Grant Smithies
Grant Smithies jumps the ditch to get an earful of Australian music new and old.
11:30 Sports commentator Brendan Telfer
Brendan Telfer discusses Sepp Blatter; and who's tipped to replace FIFA's boss?
11:45 The week that was with Te Radar and Gemma Gracewood
Twitter: @JamesElliott8 / @gemmagracewood
Music played in this show
Artist: Broods
Song: Bridges
Composer:
Album:
Label:
Time: 9.37
Artist: Eleanor Frieedberger
Song: Stare at the Sun
Composer:
Album:
Label:
Grant Smithies music selection:
Artist: Twerps
Song: I Don't Mind
Comp: Twerps
Album: Range Anxiety
Label: Flying Nun/Chapter/Merge
Artist: Twerps
Song: Back To You
Comp: Twerps
Album: Range Anxiety
Label: Flying Nun/ Chapter/Merge
Artist: The Go Betweens
Song: Five Words
Comp: Grant McLennan/ Robert Forster
Album: Spring Hill Fair
Label: Beggar's Banquet
Artist: The Go Betweens
Song: Streets Of Your Town
Comp: Grant McLennan
Album: 16 Lovers Lane
Label: Beggar's Banquet.