Nine To Noon for Friday 15 May 2015
09:05 Legal high crackdown leads to fewer mental health patients: study
A new study from Otago University shows that getting synthetic cannabis off the shelves has virtually stopped the flow of users needing mental health care. Lead reseracher, Dr Paul Glue, is the Otago University Chair of Psychiatry & Head of Department, and consultant psychiatrist at the Southern District Health Board.
09:20 Renowned astronomer fights to save Tekapo's Mt John observatory
Professor Gerry Gilmore of the Institute of Astronomy, University of Cambridge. He is the principal investigator on Gaia project, a space observatory launched by the European Space Agency in 2013. Professor Gilmore is currently in New Zealand on a lecture tour for the Royal Astronomical Society, and has written to the Science and Innovation Minister urging him to find new ways to fund Mt John, which he says is a precious resource.

Pictures: Fraser Gunn
09:30 Why New Zealand co-founder of Tesla Motors believes electrifying trucks is more important than getting commuters into electric cars.
Ian Wright is a New Zealander engineer who co-founded Tesla Motors with Elon Musk in 2003. But he left after a year to focus on creating a super-fast electric car, which he did, and in recent years has turned his attention to electrifying trucks. His company Wrightspeed, based in Califorina has coverted medium to heavy trucks for Fed Ex and is now applying its technology to heavy-duty rubbish trucks. Ian Wright believes that cleaning up commercial and industrial fleets will make a bigger difference to pollution and fossil fuel problems, than getting commuters into electric vehicles.
09:45 Asia correspondent Jamil Anderlini
News from the Asian region with our correspondent Financial Times Beijing Bureau chief, Jamil Anderlini.
10:05 Profitting off climate change: Investigative Journalist and author McKenzie Funk
McKenzie Funk is an author and journalist who has been investigating the ways people are responding to the effects of climate change. His latest book, The Wreck of the Kulluk details how Royal Dutch Shell tried and failed to begin drilling for oil in the Beaufort sea in the Arctic in 2012. Melting sea ice has made the area more accessible, but the exploratory drilling rig, the Kulluk, was battered by storms and its crew had to be rescued. Shell however, is planning to return to the remote Chukchi sea off Northwestern Alaska, and has been granted conditional approval by the US government to begin exploratory drilling.
McKenzie Funk earlier book Windfall looks at how different companies and countries are profitting off climate change.
Gallery: Pictures from Windfall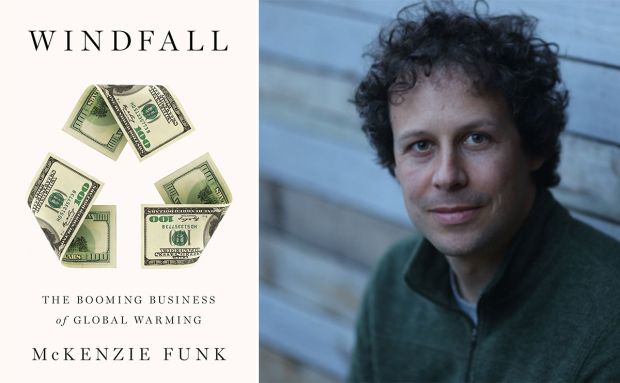 10:35 Book review: 'Men Explain Things to Me & Other Essays' by Rebecca Solnit
Reviewed by Kiran Dass from Unity Books bookstore  
10:45 The Reading: 'The Global Gardener' by Michael Scott
A Gardening Travelogue that moves from vegetables in Scotland, to grass in California, and a trans-Tasman garden in Wellington, meeting quirky characters along the way. Told by a botanist who describes himself as having 'a dynamic and romantic relationship with flora and fauna'. Michael Scott was born in New Zealand and lives in Gloucestershire, England where he strives to formulate practical action plans to preserve and revere the natural world. (5 of 10, RNZ)
11:05 Music review with Jeremy Taylor
Jeremy Taylor lends an ear to former Muttonbird Don McGlashan's third solo offering, a collection of local artists offering their take on the Beatles, plus a reissue from John Peel faves The Wedding Present.
11:30 Sports commentator Brendan Telfer
11:45 The week that was with comedians Te Radar and Elizabeth Easther
Music played in this show
Jeremy Taylor's music selection:
Artist: Don McGlashan
Song: Girl, Make Your Own Mind Up, Track 1
Comp: Don McGlashan
Album: Lucky Stars
Label: Border Music
Song: For Your Touch, Track 6
Comp: Don McGlashan
Album: Lucky Stars
Label: Border Music
Artist: Peter Posa
Song: She's A Woman, Track 17
Comp: Lennon/ McCartney
Album: Let Me Take You Down… Under
Label: Frenzy Music
Artist: Eliza Keil
Song: Something, Track 20
Comp: George Harrison
Album: Let Me Take You Down… Under
Label: Frenzy Music
Artist: The Wedding Present
Song: I'm From Further North Than You, Track 4
Comp: Gedge/ Cleave
Album: Take Fountain
Label: Scopitones