Nine To Noon for Thursday 23 April 2015
09:05 Targetting of offshore investors to buy property in Auckland
An advertising campaign has been running in Singapore, encouraging investors to buy apartments or houses in auckland, because they will get high rent returns - which it says is around half a weeks paypacket for most people. Yi Wei Lowndes is an Auckland real estate agent with Barfoot and Thompson who advertises properties directly to Chinese buyers online. Mark Graham, of the NZ Building Guide, Design Guide, Bob the Builder and now Yiju magazine targetted at Chinese investors. Bernard Hickey, Financial Commentator, interest.co.nz, and the editor of Hive News.
09:30 Nigeria's new president's pledge to combat Boko Haram
Nigeria's Presidential Elect, Muhammudu Buhari's op ed on defeating Boko Haram.
09:40 Anzac parade for Wellington
A major parade is planned for Wellington tomorrow as part of Anzac day commemorations. Military personnel will join veterans and their descendants, will join the procession which has been eight months in the planning. It will feature vintage vehicles, a biplane flyover, a horse-drawn gun carriage and one hundred extras wearing World War One military uniforms. The vehicles and uniforms come from the collection of Sir Peter Jackson. The event organiser is Jamie Wilson.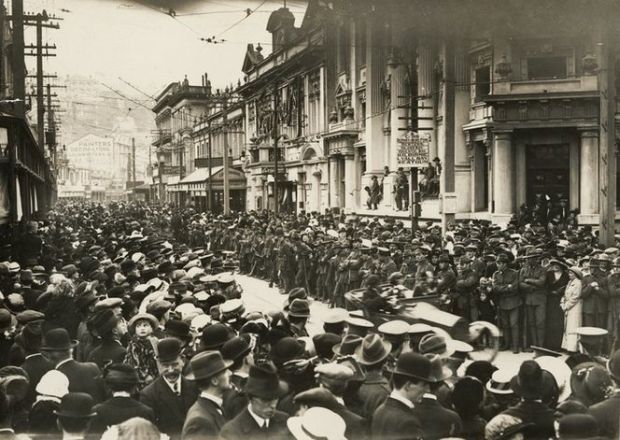 Crowd at a farewell procession for World War 1 troops, Manners Street, Wellington, 1915. Image: City Archives, Wellington City Council
09:45 UK Correspondent Jon Dennis
General election campaign: Tories warn of Scottish Nationalists threat, Lord Janner 'unable to stand trial' over paedophile allegations, Iraq war inquiry report delayed until 2016.
10:05 Why more NZ women, particularly Maori are being jailed
Dr Tracey McIntosh is an Associate Professor of Sociology at the University of Auckland. She has been looking at the experience of young Maori girls and women in prison and says greater investment in the social needs of young New Zealanders needs to be a priority in order to help to reduce our prison populations. She has done extensive research on the incarceration of both male and female prisoners (particularly of indigenous peoples), and has found many common threads including the state as a parent morphing into the state as a prison warden. Dr McIntosh who is of Tūhoe descent is also the Director of New Zealand's Māori Centre of Research Excellence. In 2012 she was the co-chair of the Children's Commissioner's Expert Advisory Group on Solutions to Child Poverty and she sits on a number of governance boards particularly in the area of social harm reduction, Dr McIntosh also teaches a creative writing course in Auckland Women's Prison.
Links:
Maramatanga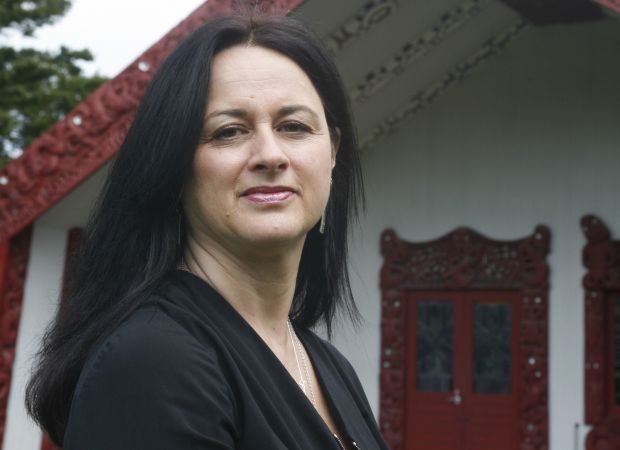 10:30 Book review: 'A Reunion of Ghosts' by Judith Claire Mitchell
Published by Fourth Estate. Reviewed by Elisabeth Easther. 
10:45 The Reading: The Godley Letters
Correspondence between Major General Godley and Lady Louisa Godley May to August 1915. Edited and arranged by Jane Tolerton. Read by Ginette McDonald and Sam Neill (9 of 10, RNZ).
11:05 New technology with Sarah Putt
Mobilegeddon, social media cleansing app, farewell to CallPllus founders who did a lot for competition.
11:30 Parenting with Joseph Driessen
Joseph Driessen is an education consultant and parenting commentator.
11:45 Film review with Dan Slevin
Dan reviews Samba, Avengers: Age of Ultron.   
Music played in this show
Artist: Melody Gardot
Song: Preacherman
Composer: Gardot
Album: Currency Of Man
Label: Universal
Broadcast time: 10:05am
Artist: SJD
Song: Unplugged
Composer: Donnelly
Album: Saint John Divine
Label: Roundtripmars
Broadcast time: 11:19am
Artist: The The
Song: The Beat(en) Generation
Composer: Johnson
Album: Mind Bomb
Label: Inhouse
Broadcast time: 11:49am