Nine To Noon for Monday 2 February 2015
09:05 Al Jazeera journalist, Australian Peter Greste freed from Egyptian jail
Australian journalist Peter Greste hass been released overnight. Greste, and his Al Jazeera colleagues, Mohammed Fahmy and Baher Mohammed were sentenced to 7 to 10 years in prison over their coverage of a violent crackdown on protesters following the military overthrow of President Mohammed Morsi.
Mr Greste was released following presidential "approval", under a new law passed last year allowing imprisoned foreigners to be deported to complete their sentence in their home countries.
His colleagues remain in prison in Egypt. Peter Greste,  had spent 400 days in prison, was put on a plane to Cyprus early this morning.
New Zealand journalist Wayne Hay was an Al Jazeera correspondent in south East Asia when he was arrested by the Egyptian military while reporting  in Cairo in August 2013.
Mr Hay and three colleagues were detained for a week after they'd been  filming a protest by supporters of the Muslim Brotherhood.
Wayne Hay is now working in New Zealand (for 60 Minutes on Prime) and freelancing back to Al Jazeera.
09:15 University considers applications from students who failed to get UE
Waikato University says it's trying to find alternative pathways into university for as many as 350 students who have failed University Entrance - but would have made the grade a year ago, before standards changed. The government revealed last week that only 58% of Year 13 students got UE last year, down from 70% in 2013.Waikato University's Acting Vice-Chancellor Professor Alister Jones explains.
09:30 Staff and bosses have to be more flexible as workforce ages
A recruitment firm says how staff and bosses will have to radically adapt to different ways of being employed as the New Zealand workforce ages. Simon Bennett is the chief executive of Madison Recruitment.
09:45 Africa correspondent Deborah Patta
The Nigerian elections.
10:05 Hope in a Ballet Shoe - Michaela de Prince
Michaela de Prince is an international ballerina, performing with the Dutch National Ballet, based in Amsterdam. But for the 19-year-old, getting to the top of her profession was even harder than for most. She was born Mabinty Bangura, in Sierra Leone, and aged four, was orphaned by the civil war there. Sent to an orphanage, she was mistreated and abused partly because of a condition, vitiligo, in which part of her skin lacks pigment and is blotchy. One day, a magazine cover picturing a ballerina blew through the gates of the orphanage, and Mabinty was captivated. Adopted by an American family, along with her best friend from the orphanage, she began to dance in the US, and has never stopped. Her book Hope in a Ballet Shoe, tells her story.

Michaela de Prince, on toes Photo: Jade Young
10:35 Book review: Chase Your Shadow - the trials of Oscar Pistorius by John Carlin    
Reviewed by Leah McFall. Published by Atlantic Books.
10:45 The Reading: 'This Way of Life', by Sumner Burstyn
In an isolated and rural New Zealand, Peter and Colleen raise their kids on the thin edge between freedom and disaster. Told by Miriama McDowell (6 of 7, RNZ)
11:05 Political commentators Mike Williams and Matthew Hooton
Mike Williams and Matthew Hooton discuss who might step up to fill Russel Norman's shoes at the helm of the Green Party, and the resignation of National MP Mike Sabin - sparking a by-election in Northland.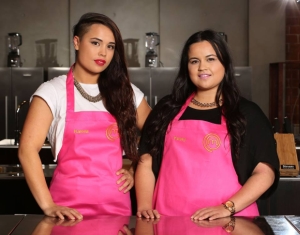 11:20 Kasey and Karena Bird on cooking using Maori and Pacific ingredients
Kasey and Karena Bird, the winners of last year's Masterchef competition, are the new food editors of Mana magazine, where their recipes will focus on Maori and Pacific flavours. The sisters, from Maketu in the Bay of Plenty were popular winners of Masterchef, maintaining a sense of humour despite the gruelling competition. The judges were impressed by their advanced cooking skills at such a young age. Their prize included a cookbook deal, which is due out in April. They talk about their hectic life since their win, and their passion for Maori cuisine.
They'll share a recipe for Horopito pork belly with smoked mash and Cavolo nero Pork.
11:45 Urbanist Tommy Honey
Coming to a city near you in 2015… issues affecting city dwellers, the good, the bad and the ugly. Tommy Honey rounds up the best and worst apps for city life.
Links:
The Stealth Suit
Should we be concerned about Placemeter – an app which monitors street views from apartment windows? The Guardian
The most cringeworthy apps of 2014, CityLab