Nine To Noon for Monday 30 June 2014
09:05 Court lawyers say system under strain without digitisation
Seven months after the government announced it would postpone it's plans for paperless courts – the Criminal Bar Association and court staff say the system is under severe stress.
The 18 million dollar e-bench project to modernise the court system was put on hold last November by the Minister for Courts Chester Borrows.
He joins us along with The President of the Criminal Bar Association, Tony Bouchier and PSA National Secreatry, Richard Wagstaff
09:30 Otago neuroscientists progressing towards a new treatment for Parkinson's
Otago University's Associate Professor John Reynolds is leading a team of neuroscientists developing a new treatment for Parkinson's disease. Professor Reynolds has fought to keep the project in New Zealand, and  says advancing the treatment to clinical trials is dependent on continued funding.
09:45 Africa Correspondent Deborah Patta
10:05 Medical pioneer Sir Patrick Eisdell Moore aged 96, on getting So Old, So Quick.
Sir Patrick Eisdell Moore is a New Zealand medical pioneer and So Old So Quick is his memoir. He is 96. Sir Pat graduated in medicine from Otago University in 1941, and then went on to serve as a medical officer in World War Two. He was the only Pakeha in the 28th Maori Battalion. Upon returning home his medical career kicked into high gear as an Ear, Nose and Throat specialist – and a trailblazer in research and treatment of the deaf.
Sir Pat was pro-active in many community health initiatives and for a time he travelled annually to the East Cape area to run clinics for local children and their families with ear problems, he was a pioneer of cochlear implants and established Auckland's Hearing House.
And he was the first person in the world to perform an eardrum transplant. Sir Pat is married to Beth who is 94 - they have four sons – two successful in the medical field and two lawyers – Anthony is a pathologist, Tim a radiologist and University professor in the US, Simon  was recently sworn in as a High Court Judge, and Chris is the President of the New Zealand Law Society.
So Old So Quick – The memoirs of a NZ medical pioneer, published by Castle under the Rampart imprint, RRP $34.95
10:35 Book review: Sand by Hugh Howey
Reviewed by Lisa Finucane, published by Century, RRP$36.99
10:45 The Reading: How to Hear Classical Music, written and told by Davinia Caddy
Musicologist, historian and writer Davinia Caddy offers a guide to assist a listener to understand, interpret and appreciate classical music and an overview of the history and social mores of the genre. (Part 6 of 10).
11:05 Political commentators Matthew Hooton and Mike Williams
11:30 Jake Dell from Katz's Delicatessen in New York
Jake Dell is a fifth generation owner of Katz's Delicatessen in New York, the Jewish deli which had 'that scene' from the movie, When Harry met Sally. The Deli which was established in 1888 is a Manhattan landmark, on the lower east side. It serves a range of traditional Jewish fare such as Matzo Ball Soup, Chopped Liver, and Reuben Sandwiches.
11:45 Off the Beaten Track with Kennedy Warne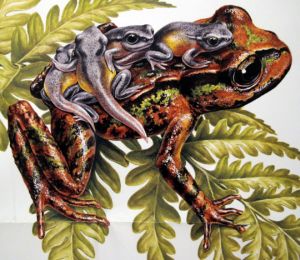 With the news last week that 44 critically endangered Archey's frogs were found near Whangamata during a survey carried out by an ecological consultancy firm for a gold-mining company, Kennedy talks about the weird and wonderful world of New Zealand's endemic frogs.
Picture: Archey's frog and froglets. Courtesy Simone End, New Zealand Geographic