Nine To Noon for Friday 26 November 2010
09:05 News and feature interviews
09:45 Pacific correspondent Mike Field
10:05 Mary McIntyre - NZ Painter
The farmer's wife and mother of six started painting as a hobby in the 1960s, attending an Elam art school summer course, where she was taught by Colin McCahon. Now 82, she is regarded as one of New Zealand's foremost figurative painters.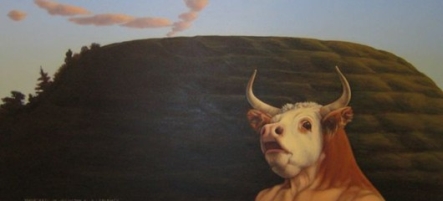 Mary McIntyre - Maungarei Mt Wellington as a Labyrinth.
10:30 Book Review with John McIntyre
Boys Don't Cry by Malorie Blackman
Published by Doubleday
ISBN 978-0385-61930-1
The Magician's Elephant by Kate De Camillo
Published by Walker
ISBN 978-1-4063-2251-1
The Haystack by Jack Lasenby
Published by Harper Collins
ISBN 978-1-86950-852-4
10:45 Reading: The Argyle, the last in our series of short stories by Paula Morris from her collection Forbidden Cities
Kelly and Jason spend an illicit night together at the Argyle hotel.
11:05 New Music with Sean McKenna
Artist: Bruce Springsteen
Album: The Promise
Song: Because The Night
Videos: Making of the album
Ed Norton interviews Bruce
Artist: Pikachunes
Album: Pikachunes
Song: Just A Boy
Video: Nervous
Artist: The Secret Sisters
Album: The Secret Sisters
Song: I've Got A Feeling
Videos: I've Got A Feeling
Secret Sisters and Jack White covering 'Big River' by Johnny Cash
Kurt Wagner and Cortney Tidwell present KORT - Invariable Heartache -listen to the entire album
The World's Largest Disco in Buffalo, New York this weekend. Last year, the special guests were Lou Ferrigno and Jimmy 'Superfly' Snuka.
Free download - Princess Chelsea cover of The Beatles And I Love Her.
11:30 Sports commentator Joseph Romanos
11:45 Week That Was with Radar and Irene Pink