Nights for Thursday 16 August 2012
7:10 Sailing Straight On Straits
NIWA oceanographer Craig Stevens explains how half a million dollars worth of equipment just recovered from Cook Strait is providing more information about ocean flows than ever before.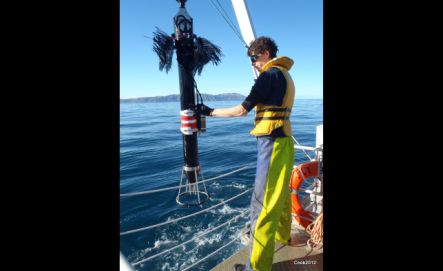 Brett Grant deploys a turbulence profiler in Cook Strait.  The turbulent mixing controls how waters travelling through the strait are re-distributed.  This mixing affects the ocean circulation throughout the Central NZ region so that water originally say off Westport might find its way into the Marlborough Sounds, or pushed up past Castle Point or maybe even down into one of the canyons falling east from the Strait.
7:30 At the Movies
Films and movie business with Simon Morris.
8 pm News & Weather
8:15 Windows on the World
International public radio documentaries - visit the Windows on the World web page to find links to these documentaries.
8:40 Science: Geology
Erosion to earthquakes with geologist and paleontologist Dr Hamish Campbell from GNS Sciences... measuring geological time with precision, also the volcanoes of White Island and Mt Tongariro have started rumbling.
9 pm News & Weather
9:06 Our Changing World
Science and environment news from New Zealand and the world.
10 pm News & Weather
10:17 Late Edition
A review of the leading news from Morning Report, Nine to Noon, Afternoons and Checkpoint. Also hear the latest news from around the Pacific on Radio New Zealand International's Dateline Pacific.
11 pm News & Weather
11:06 The Music Mix
Nick Atkinson presents a contemporary music magazine with interviews and music from New Zealand and overseas artists, coverage of new releases, tours, live sessions, music festivals and events.