Nights for Friday 17 August 2012
8:06 PM.A yurt is a supposedly portable circular tent which has been used for centuries by nomadic Mongolians. Its incarnation as a gig venue at The Free House pub is a much more recent development - as… Read more Audio

8:59 PM.This week's Conundrum answer. Audio
7:06 Sonic Tonic
8 pm News and Weather
8:06 Free House
A yurt is a supposedly portable circular tent which has been used for centuries by nomadic Mongolians. Its incarnation as a gig venue at The Free House pub is a much more recent development - as Amelia Nurse discovered on a trip to Nelson.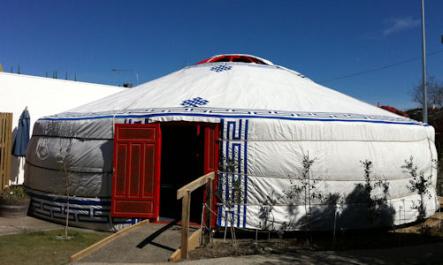 The yurt at The Free House.
8:35 Musical Chair featuring Ray Woolf
Ray Woolf, his friends and collaborators discuss their journey through the swingin' sixties and the music they made along the way.
9 pm News and Weather
9:06 Country Life
Rural news and features.
10 pm News and Weather
10:17 Late Edition
A review of the leading news from Morning Report, Nine to Noon, Afternoons and Checkpoint. Also hear the latest news from around the Pacific on Radio New Zealand International's Dateline Pacific.
11 pm News and Weather
11:06 Friday Finale - Extended Play
A series focusing on some of the "classic" EPs of the 1980s released by Flying Nun