Nights for Monday 15 August 2011
7:15 Following On: Erebus Glacier Tongue
NIWA Marine Physicist Craig Stevens reports on his latest oceanographic research - what is a glacier tongue and can it tell us if the ocean is warming around Antarctica.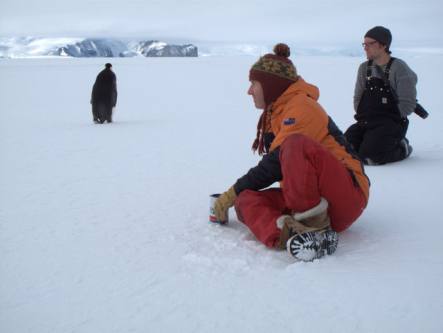 Craig Stevens and friends. Photo by Martin Doble.
8:15 Windows on the World
International public radio documentaries - visit the Windows on the World web page to find links to these documentaries.
8:40 Thinkers: Politically Left
Political historian from the University of Otago, Brian Roper explores what underpins our political institutions... Global Economic Crisis and the London Riots: If Marx was alive today how would he interpret these events?
9 pm News and weather
9:06 Insight
9:40 Sport: United Kingdom
Keeping an eye on the goal from behind the net is british sports journalist Richard Fleming... England's 'All Blacks' debut; the season kicks off for the English Premier League; and the number one world ranked English cricket team.
10 pm Late Edition
A review of the news from Morning Report, Nine to Noon, Afternoons and Checkpoint. Also hear the latest news from around the Pacific on Radio New Zealand International's Dateline Pacific.
11 pm News and weather
11:06 Beale Street Caravan
The best in blues from the Blues Foundation in Memphis.