Nights for Tuesday 16 August 2011
7:10 Our Own Odysseys: Unicyclist in China
Tony Melton is travelling through the Orient with others, each on one wheel.
Yunnanuni: Unicycling in China.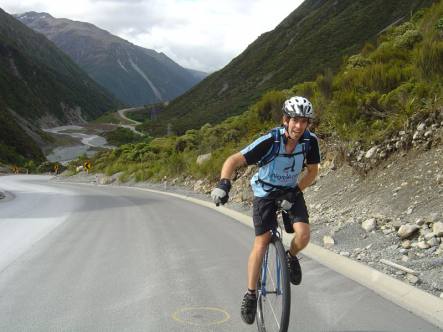 Tony Melton.
7:30 The Sampler
A weekly review and analysis of new CD releases.
8:15 Windows on the World
International public radio documentaries - visit the Windows on the World web page to find links to these documentaries.
8:40 The World At Night - Uganda
Managing editor of The Monitor newspaper Daniel Kalinaki on Uganda and other nations in Southern Africa... how the current economic woes in the US and Europe are affecting Africa.
9:00 News and Weather
9:06 The Tuesday Feature: The Promised Land
Pioneering researcher and "queen of the forest canopy" Dr. Nalini Nadkarni shows Majora Carter the wonders of the Olympic rain forest — from the treetops! The two also visit a correctional facility where Nalini's innovative Moss Project employs a team of prisoners turned botanists. (APM)
10:00 News and Weather
10:17 Late Edition
A review of the leading news from Morning Report, Nine to Noon, Afternoons and Checkpoint. Also hear the latest news from around the Pacific on Radio New Zealand International's Dateline Pacific.
11:06 Hidden Treasures