Music 101 for Saturday 4 April 2015
3:00 PM.The construction and deconstruction of Surf City, Faith No More preview new material, Bolivian national treasure Luzmila Carpio and Seth Frightening in session. Read more Audio
2–3pm
Surf City
Celebrating 10 years as a band, Surf City release their third album, Jekyll Island. They talk with Emma Smith about the fans, practice spaces and internal logic that keeps them together.

The Sampler: Kendrick Lamar – To Pimp A Butterfly
Nick Bollinger reviews a confrontational and complex new album from rapper, Kendrick Lamar.
Bombino
We sit in on a master class with Tuareg blues guitarist, Bombino.



3–4pm
Seth Frightening in Session
Following the release of his third album, But We Love Our Brothers and Sisters, Seth Frightening brings his brand of New Zealand gothic to the Radio New Zealand studios, performing three songs and talking to Zac Arnold about death, the void, and the music of Neil Young.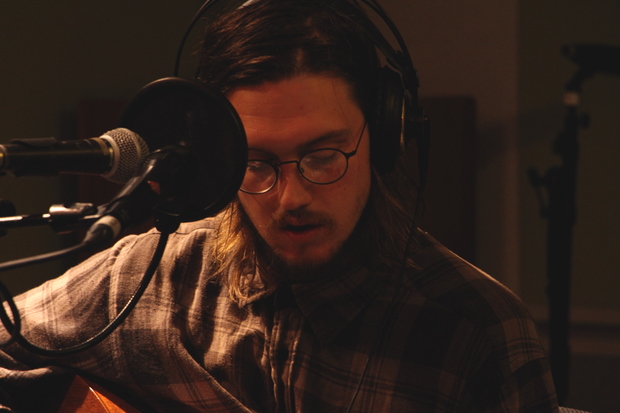 Seth Frightening / Photo by Zac Arnold.

The Sampler: Jake Xerxes Fussell – Jake Xerxes Fussell
Nick Bollinger reviews a set of folk songs from Jake Xerxes Fussell.

Luzmila Carpio
Bolivian songstress Luzmila Carpio joins us to talk about her home in the mountains of Bolivia, her deep connection with nature, and how the birds, wind and waterfalls taught her to sing.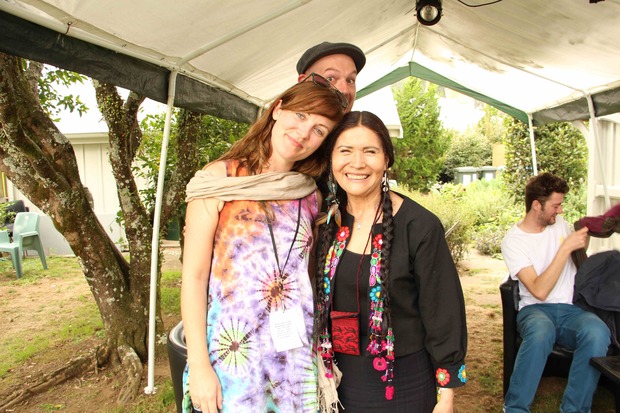 Emma Smith and Luzmila Carpio, photobombed by Martyn Pepperell/ Photo by Nick Bollinger at WOMAD  Taranaki 2015

Introducing: Sun Blood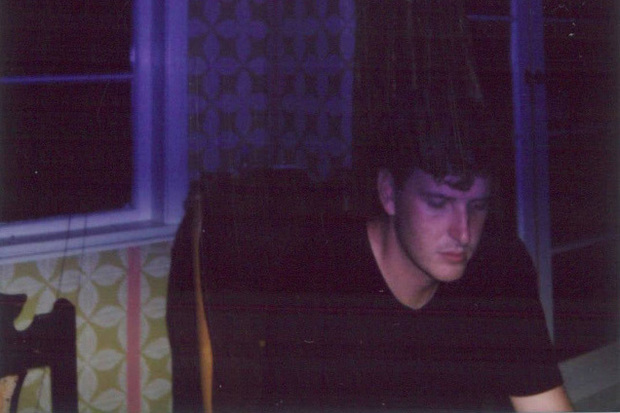 Gig Guide

4–5pm

Greil Marcus
Greil Marcus is an American cultural commentator best known for his writing about rock'n'roll. In his latest book, though, he uses 10 songs as a set-list to reconsider rock history – Elvis, Bob Dylan and the Beatles go almost unmentioned. He talks to Chris Bourke about his alternative take on the rock'n'roll canon.
Greil Marcus / Photo CC 4.0 Sno

Dawn of Azazel
Auckland death metal trio Dawn of Azazel were right there in the thick of it during New Zealand extreme metal's earliest years. The band returns this month with their new album, The Tides of Damocles – their first recording in six long years. Craig Hayes talks to Dawn of Azazel frontman Rigel Walsh his path back to extreme metal.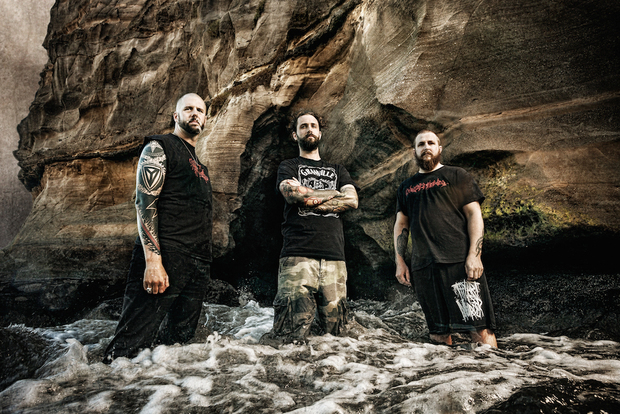 Dawn of Azazel.
Music played in this show
2-3pm
Artist: Can
Song: Tape Kebab
Composer: Can
Album: The Peel Sessions
Label: Strange Fruit
Surf City
Artist: Surf City
Song: Beat The Summer Heat, Hollow Veins, Spec City, Leave Your Worries
Composer: Surf City
Album: Jekyll Island
Label: Fire Records
Artist: Thundercat
Song: Lotus and the Jondy
Composer: Stephen Bruner
Album:Apocalypse
Label: Brainfeeder
The Sampler: Kendrick Lamar
Artist: Kendrick Lamar
Song: Wesley's Theory
Composer: Duckworth/Clinton/Ellison/Colson/Bruner/Gardiner
Song: For Free
Composer: Duckworth/Martin/McKinney
Song: King Kunta
Composer: Duckworth/Spears/Burns/Blake/Jackson/Lewis/Gordy
Song: Complexion
Composer: Duckworth/Bruner/Spears/Evans
Song: Mortal Man
Composer: Duckworth/Spears/Bruner/Anikulapo
Album: To Pimp A Butterfly
Label: Universal
Artist: Parliament
Song: Give Up The Funk (Tear the Roof off the Sucker)
Composer: Jerome Brailey, George Clinton, Bootsy Collins
Album: Mothership Connection
Label: Casablanca
Session: Bombino
Artist: Bombino
Song: tbc
Composer: Bombino
Album: Unreleased
Label: RNZ Recording
Artist: Tinariwen
Song: Chaghaybou
Composer: Tinariwen
Album: Emmarr
Label:
3-4pm
Session: Seth Frightening
Artist: Seth Frightening
Song: Hospital Beach, Laughter
Composer: S. Kelly
Album: RNZN Recording
Label: RNZN Recording
Artist: Anthonie Tonnon
Song: The Songs Of Your Youth
Composer: A. Tonnon
Album: Successor
Label: Canape King Recordings
The Sampler: Jake Xerxes Fussell
Artist: Jake Xerxes Fussell
Songs: All In Down and Out, Let Me Lose, Raggy Levy, Rabbit On A Log, Pork and Beans
Composer: Trad. Arr. Fussell
Album: Jake Xerxes Fussell
Label: Paradise Of Bachelors
Artist: Yma Sumac
Song: Malambo No. 1
Composer:
Album: Mambo
Label: Capitol
Interview: Luzmila Carpio
Artist: Luzmila Carpio
Song: Ch'uwa Yaku Kawsaypuni, Pachamamata T'ikanchasun, Arawi, Warmip Kawysayin
Composer: Carpio
Album: Yuyay Jap'ina Tapes
Label: Almost Musique
Introducing: Sun Blood
Artist: Sun Blood
Song: Nothing New
Composer: B. Leonard
Album: Careless EP
Label: Self Released
Gig Guide Bed
Artist: Fleetwood Mac
Song: Dreams
Composer: S. Nicks
Album: Rumours
Label: Self Released

Artist: Pumice
Song: Spike / Spear
Composer: Pumice
Album: Pebbles
Label: Soft Abuse
4-5pm
Feature: Greil Marcus
Artist: Jackie Brenston
Song: Rocket 88
Composer: Jackie Brenston
Album: I Like Ike! The Best of Ike Turner
Label: Rhino<
Artist: Elvis Presley
Song: Good Rockin' Tonight
Composer: Roy Brown
Album: The Sun Sessions
Label: RCA
Artist: Buddy Holly
Song: Crying Waiting Hoping
Composer: Buddy Holly
Album: The Very Best of Buddy Holly and the Crickets
Label: MCA International
Artist: The Flamin' Groovies
Song: Shake Some Action
Composer: Cyril Jordan
Album: This Band is Red Hot 1969-1979
Label: Raven
Artist: The Drifters
Song: This Magic Moment
Composer: Pomus/Shuman
Album: The Very Best of the Drifters
Label: Rhino
Artist: Lou Reed
Song: This Magic Moment
Composer: Pomus/Shuman
Album: Till the Night is Gone: a Tribute to Doc Pomus
Label: Rhino
Artist: Robert Johnson
Song: Me and the Devil Blues
Composer: Robert Johnson
Album: King of the Delta Blues
Label: Columbia
Artist: The Teddy Bears
Song: To Know Him is to Love Him
Composer: Spector
Album: Dreamboats and Petticoats: the Petticoat Collection
Label: Universal
Artist: Amy Winehouse
Song: To Know Him is to Love Him
Composer: Spector
Album: Amy Winehouse at the BBC
Label: Universal
Artist: The Five Satins
Song: In the Still of the Nite
Composer: Fred Parris
Album: Billboard Top R&B Hits: 1956
Label: Rhino
Artist: The Slades
Song: In the Still of the Nite
Composer: Fred Parris
Album: The Domino Records Story
Label: Ace
Artist: Etta James
Song: All I Could Do Was Cry
Composers: Berry Gordy Jr/Billy Davis/Gwen Fuqua
Album: The Essential Etta James
Label: Chess/MCA
Artist: Beyonce
Song: All I Could Do Was Cry
Composers: Berry Gordy Jr/Billy Davis/Gwen Fuqua
Album: Cadillac Records: original soundtrack
Label: Music World/Columbia<
Artist: Cyndi Lauper
Song: Money Changes Everything
Composer: Tom Gray
Album: Twelve Deadly Sins
Label: Sony
Artist: Barrett Strong
Song: Money (That's What I Want)
Composer: Berry Gordy Jr/Janie Bradfield
Album: 20th Century Masters: The Millennium Collection – Barrett Strong
Label: Motown
Artist: Lower Dens
Song: To Die In LA
Composer: Lower Dens
Album: Escape From Evil
Label: Ribbon Music
Artist: Caroles
Song: No You Know
Composer: Caroles
Album: Momentary Decline
Label: Caroles
Artist: Faith No More
Song: Superhero
Composer: Faith No More
Album: Soul Invictus
Label: Liberation, Ipecac Recordings
Interview: Dawn of Azazel
Artist: Dawn of Azazel
Song: Strike First, Strike Hard, Strike Often, Forever Enduring, Always Ready, Tarnished Gold, The Eagles Grasp, Progeny of Pain
Composer: Dawn of Azazel
Album: The Tides of Damocles
Label: Dawn of Azazel
Artist: Godspeed! You Black Emperor
Song: Peasantry or Light! Inside of Light!
Composer: Godspeed! You Black Emperor
Album: Asunder, Sweet and Other Distress
Label: Constellation