Music 101 for Saturday 28 March 2015
2:00 PM.The dance of Death and the Maiden, SJD presents 'Invisible Man', Pokey LaFarge in session and Graves' grinding intensity. Read more Audio
2–3pm

Cheap Trick
Frequently namechecked by artists like Slash, Foo Fighters, Taylor Swift and Green Day as an influence, Cheap Trick has carved out a career spanning four decades that is a product of relentless touring and a strong back catalogue. Trevor Reekie talks to guitarist and songwriter Rick Nielsen before their New Zealand shows with Billy Idol.

Cheap Trick (L-to-R: Rick Nielsen, Robin Zander, Tom Petersson and Daxx Nielsen / Photo by Jeremy Harris.

SXSW 2015
A music industry conference and festival which sees around 2000 acts and tens of thousands of people descend on Austin, Texas, the cornucopia of music that is SXSW is now done and dusted for another year. Music 101's Shaun Wilson and Yumi Zouma's Josh Burgess report back from deep in the heart of Texas.

Delaney Davidson outside the New Zealand showcase at SXSW 2015 / Photo by Shaun Wilson.

Death and the Maiden
Dunedin trio Death and the Maiden join us to talk about their dark synth debut, Death and the Maiden.

3–4pm

Pokey LaFarge in Session
Ahead of a near sold-out New Zealand tour, North American roots musician Pokey LaFarge heads into the Radio New Zealand Studios to play pared-back versions of a couple of his songs.
Toumani & Sidiki Diabate
"In our house, the kora is like a playstation." Malian kora masters Toumani and Sidiki Diabate join Nick Bollinger in conversation.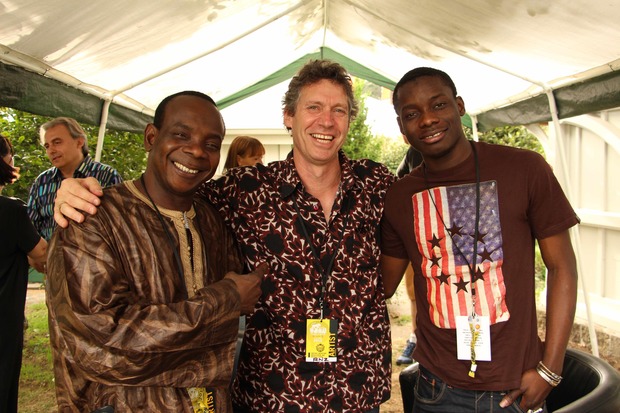 Toumani Diabate, Nick Bollinger, Sidiki Diabate / Photo by Emma Smith


Gig Guide
The Secret Life of Music Collectors
Do you have a loved one who only wears band T-shirts? Maybe they listen exclusively to live bootlegs? Or are hiding a a stash of gig posters in their wardrobe alongside their clothes? In the Secret Life of Collectors, Zac Arnold talks to a series of obsessive collectors and investigates why just listening to music just isn't enough for some music fans.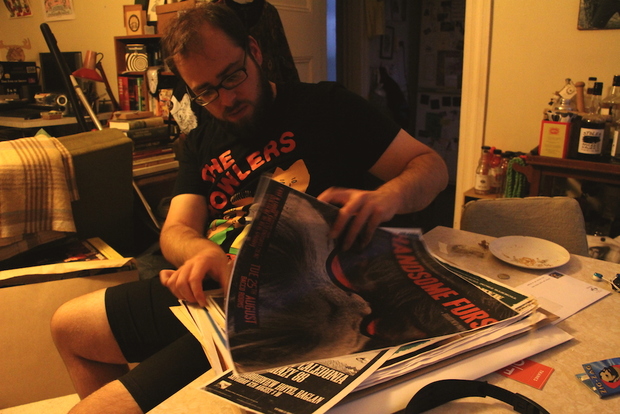 Gig poster collector Nick Pothecary / Photo by Zac Arnold.

Graves
Auckland DIY hardcore band Graves recently unleashed their third release, Fides Ad Nauseam. Filled with violent bursts of turbo-speed grinding noise, the album is intense, to say the least. Music 101 metal correspondent Craig Hayes caught up with Graves' Josh Hughes to discuss where the band see themselves sitting on the punk/metal spectrum.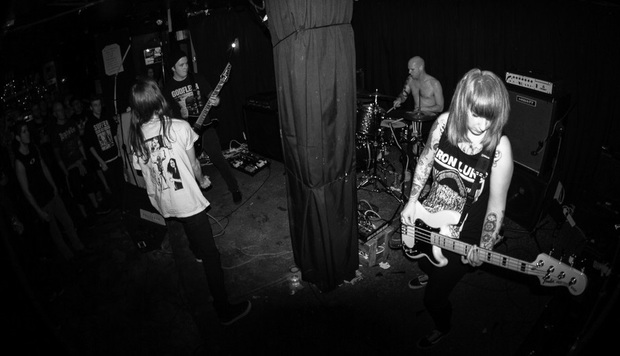 Graves / Photo by Joon Yang.

Introducing: Wurld Series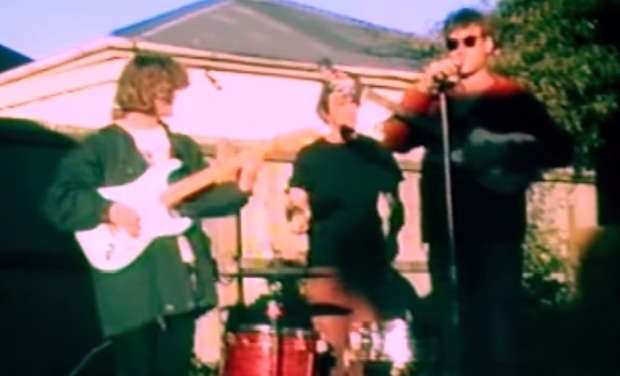 Wurld Series (L-to-R: James Sullivan, Jared Kelly and Luke Towart.
Music played in this show
2-3pm
Artist: Cheap Trick 
Song: Oh Boy [Instrumental]
Composer: Nielsen
Album: In Colour 
Label: Epic
Cheap Trick Interview
Artist: Cheap Trick
Song: Hello There, I Want You to Want Me 
Composer: Rick Nielsen
Album: In Color
Label: Epic 
Artist: Cheap Trick
Song: I Want You To Want Me, Goodnight
Composer: Rick Nielsen
Album: Cheap Trick At Budokan
Label: Epic
Artist: Cheap Trick
Song: Surrender
Composer: Rick Nielsen
Album: Heaven Tonight
Label: Epic
Artist: John Lennon
Song: I'm Losing You
Composer: John Lennon
Album: John Lennon Anthology
Label: Capitol, EMI
Artist: Cheap Trick
Song: Ain't That A Shame
Composer: Antoine Domino, Dave Bartholomew
Album: Cheap Trick At Budokan
Label: Epic
Artist: Cheap Trick
Song: Woke Up With a Monster
Composer: R. Nielsen, T. Petersson, R. Zander
Album: Woke Up With a Monster
Label: Warner Music 
Artist: Cheap Trick
Song: Dream Police
Composer: Rick Nielsen
Album: Dream Police
Label: Epic
Artist: Cheap Trick
Song: Don't Be Cruel
Composer: Otis Blackwell, Elvis Presley
Album: Lap ff Luxury
Label: Epic
Artist: SOAK
Song: Sea Creatures
Composer: SOAK
Album: Before We Forgot To Dream
Label: Rough Trade
SXSW 2015
Artist: Yumi Zouma
Song: Dodi, Catastrophe, Song For Zoe and Gwen
Composer: Yumi Zouma 
Album: EP II 
Label: Cascine
Artist: Kate Tempest
Songs: The Beigeness
Composer: Tempest/Carey
Album: Everybody Down
Label: Big Dada
Artist: Delaney Davidson
Songs: Rise and Shine
Composer: Davidson
Album: Swim Down Low
Label: Outside Inside
Artist: Death and the Maiden
Song: Bioluminescence, Flowers for the Blind, Dear __
Composer: Death and the Maiden
Album: Death and the Maiden
Label: Fishrider
Artist: Kane Strang
Song: Full Moon, Hungry Sun
Composer: Strang
Album: ???
Label: Fishrider
Pokey LaFarge Session
Artist: Pokey LaFarge
Songs: The Spark, Goodbye Barcelona
Composer: LaFarge
Album: RNZN Recording 
Label: RNZN Recording
Artist: John Renbourn
Song: Plainsong: 
Composer: Renbourn
Album: Nobody's Fault But Mine 1966-2005 (Compilation)
Label: Transatlantic
Artist: Toumani Diabate
Songs: Bi Lambam
Composer: Diabate
Album: New Ancient Strings
Label: Hannibal

Artist: Toumani Diabate Symmetric Orchestra
Songs: Toumani
Composer: Diabate
Album: Toumani Diabate's Symmetric Orchestra
Label: World Circuit

Artist: Toumani & Sidiki
Songs: Hamadan Toure, Rachid Ouiguini, Toguna Industries
Composer: Diabate/Diabate
Album: Toumani & Sidiki
Label: World Circuit
Introducing: Wurld Series
Artist: Wurld Series
Song: Oh Well
Composer: Wurld Series
Album: Wurld Series/Jim Nothing
Label: Melted Ice Cream
Artist: The Doldrums
Song: Blow Away
Composer: The Doldrums
Album: The Air Conditioned Nightmare
Label: Sub Pop
The Event Horizon
Artist: The Black Keys
Songs: Lonely Boy
Composer: Dan Auerbach, Patrick Carney, Brian Burton
Album: El Camino
Label: Nonesuch

Artist: Jimmy Cliff
Songs: Hard Road To Travel
Composer: Lloyd Chambers
Album: can't Get Enough Of It
Label: Trojan Records
Artist: Hunters & Collectors
Songs: Talking To A Stranger
Composer: Hunters & Collectors
Album: Hunters & Collectors
Label: White Label Records

Artist: The Beatles
Songs: Can't Buy Me Love
Composer: Lennon-McCartney
Album: 7" Single
Label: Parlophone

Artist:The Beach Boys
Songs: Fun Fun Fun
Composer: Brian Wilson, Mike Love
Album: Shut Down Volume 2
Label: Capitol

Artist: Gene Kelly
Songs: Singin' In The Rain
Composer: Arthur Freed, Nacio Herb Brown
Album: Singin' In The Rain OST
Label: MGM

Artist: Battles
Songs: Tonto
Composer: Battles
Album: Mirrored
Label: Warp Records

Artist: Street Chant
Songs: Scream Walk
Composer: Street Chant
Album: MeansLabel: Arch Hill Recordings

Artist: CSS
Songs: Let's Make Love and Listen To Death From Above
Composer: Adriano Cintra, Luísa Matsushita
Album: CSS
Label: Subpop

Artist: !!!
Songs: Slyd
Composer: M. Andreoni, N. Offer, P. Quattrone, T. Eggers
Album: Th!!!er
Label: Warp

Artist: Kraftwerk
Songs: Man Machine
Composer: Hütter, Bartos
Album:
Label:

Artist: Kraftwerk
Songs: Autobahn
Composer: Florian Schneider, Ralf Hütter, Emil Schult
Album:
Label:

Artist: Arcade Fire
Songs: Rebellion (Lies)
Composer:
Album:
Label:

Artist: Metallica
Songs: For Whom The Bells Tolls
Composer: James Hetfield, Lars Ulrich, Cliff Burton
Album:
Label:

Artist: Hunters & Collectors
Songs: Talking To A Stranger
Composer: Hunters & Collectors
Album: Hunters & Collectors
Label: White Label Records
Artist: Surf City
Song: Beat The Summer Heat
Composer: Surf City
Album: Jekyll Island
Label: Fire Records
Artist: Tame Impala
Song: Let It Happen
Composer: Tame Impala
Album: ???
Label: Spinning Top
Artist: Graves
Song: Hatred, Collapse, Flesh, Choke, Scorn, Vermin, Suffer, Skitliv, A Nation Sleeps
Composer: Graves
Album: Fides Ad Nauseam
Label: Graves

Artist:Graves
Song: Greed
Composer: Graves
Album: Graves
Label: Graves
Artist: God Bows to Math
Song: Ardent Pedestrian
Composer: God Bows to Math
Album: Brighter Futures
Label: Muzai
Artist: D Burmester and The Blind
Song: Ended Up In Debt
Composer: Burmester 
Album: Alright, Goodnight
Label:
Artist: Phoenix Foundation
Song: Big Mac (Run Rate)
Composer: Phoenix Foundation
Album: 
Label: