Music 101 for Saturday 10 January 2015
4:00 PM.The driving force behind much-loved bands Trinity Roots and Little Bushman and member of eclectic Featherston-based trio Vinyl Bison offers up a wonderfully diverse, chronologically-themed mixtape. Read more Audio
12-1pm 
Aaradhna live at the Apollo
New Zealand music history will be made in New York City this week when Porirua born, Los Angeles based soul singer Aaradhna steps on stage at a sold-out Apollo Music Café at the Apollo Theatre, the first time a Polynesian performer has headlined a venue that has witnessed performances from soul greats like Aretha Franklin, James Brown, Stevie Wonder, Ella Fitzgerald and Gladys Knight. Melody Thomas checks in with our own Soul Sister No. 1 before she treads the Apollo boards.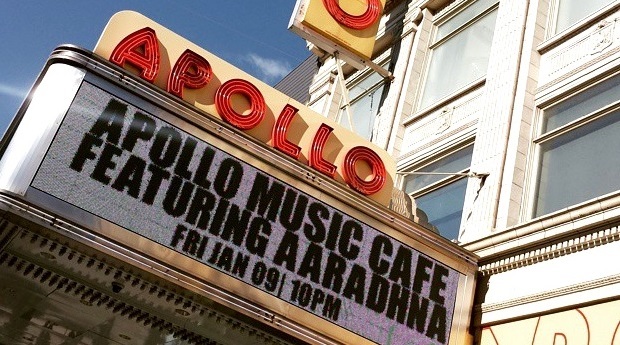 Photo by Andy Murnane
Carl Wilson - 'Let's Talk About Love'
Freelance writer and Slate music critic Carl Wilson's 'Let's Talk About Love' is an exploration into the phenomenon of Celine Dion and wider discussion around the nature of taste, good and bad. He speaks to Melody Thomas.
Far-fetch with Sam Scott - PC Music
A game of fetch where Sam Scott (The Phoenix Foundation, Bunnies on Ponies) is given an obscure genre and a week to return with relevant musical examples and stirring stories. This week, he makes sense of the future-shocked genre of PC Music.
1-2pm 
François & the Atlas Mountains
Franco-British indie pop outfit François & the Atlas Mountains, led by Brussels-based François Marry, are currently in the country to play a handful of shows and squeeze in as many swims and walks in the woods as they can. Ahead of their set at the Chronophonium festival in Coromandel this weekend, Kirsten Johnstone talks to the Atlas Mountains' frontman about his bilingual approach to song craft.  
François & the Atlas Mountains
Jack Ladder and Kirin J. Callinan in Session
Australian indie troubadours Jack Ladder and Kirin J. Callinan cross the ditch this week for co-headlining shows in Auckland and Wellington, while in the country, we corner the duo for a session at the Radio New Zealand studios.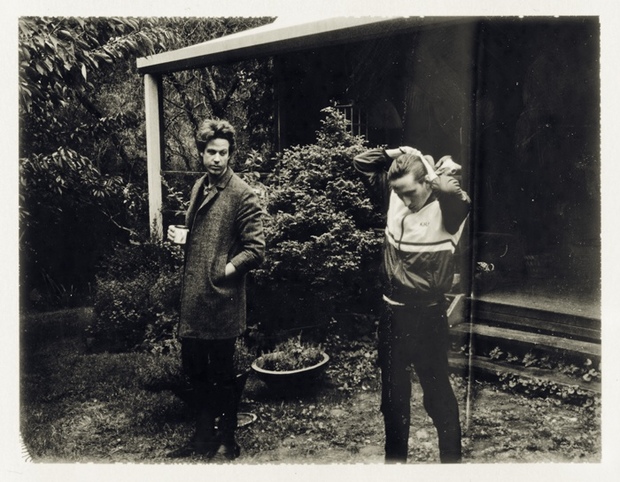 Jack Ladder and Kirin J. Callinan
Anatomy of a Song – Minuit
RDU's Spanky Moore calls in contemporary New Zealand musicians and bands to help dissect the sound elements that make up their hits. This week, Minuit's love letter to New Zealand, 'Aotearoa'.
2-3pm 
A History of Student Radio Part Three
A four-part journey through 45 years of student radio in New Zealand – the stars and bands who got their breaks, the politics, the music, the piracy and the 'No. 8 wire', sink or swim mentality.
For part three: Student radio's value skyrockets in the 90s as mainstream advertisers clamber for the youth dollar. Refusing to sell out, the stations continue to push the freshest musical trends with content so edgy it sometimes borders on 'too cool for school'.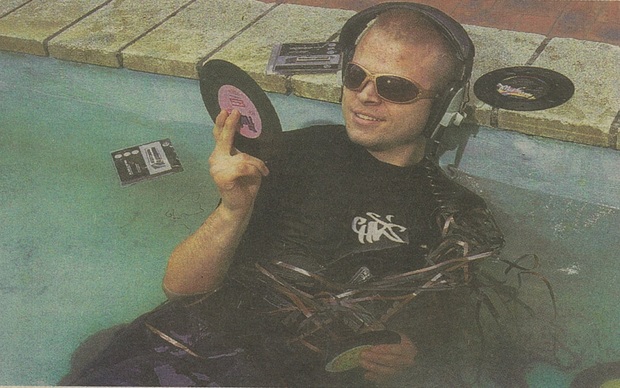 Radio Active DJ Lewis Tennant on the cover of Wellington's City Voice, 17 December 1998 / Photo courtesy of Lewis Tennant
3-4pm 
Live: Doprah at Galatos
Before Christchurch's skew-whiff pop outfit Doprah travelled to New York to play the CMJ Music Marathon in October, Steven Marr, Indira Force and co played a send-off show at Auckland venue Galatos. Radio New Zealand engineer Andre Upston was behind the boards to capture their beguiling set.
Doprah's Indira Force on stage at Galatos / Photo by Danielle Bolton - courtesy of cheeseontoast.co.nz
Stages: Kings Arms, Auckland
Anthonie Tonnon visits New Zealand's most talked about places to see music, from big city institutions to port town oddities and near-mythical stages in the bush.
The Kings Arms is a rite of passage for bands – and gig-goers – from around the country and one of the best places to catch an international act on the way up. It's just shy of its third decade, which in music venue terms makes it an institution. Anthonie Tonnon visits the Auckland venue, and its matriarch, Maureen Gordon.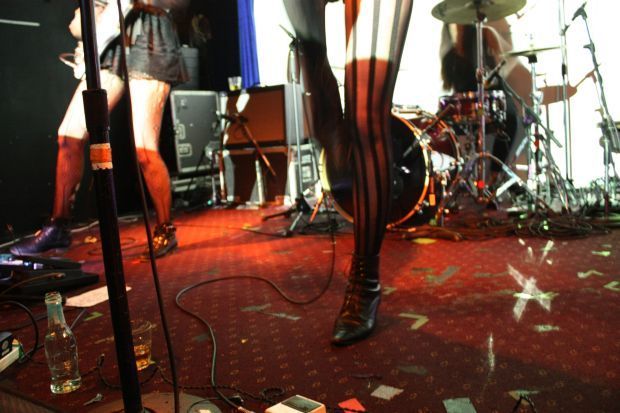 Dum Dum Girls on stage at The Kings Arms / Photo courtesy of Jenna Todd
4-5pm 
The Mixtape: Warren Maxwell
The driving force behind much-loved bands TrinityRoots and Little Bushman and member of eclectic Featherston-based trio Vinyl Bison offers up a wonderfully diverse, chronologically-themed mixtape. From his childhood in rural Whangarei to bogan days roaming the streets of Wellington and recent pinings for all things 80s, this is Warren Maxwell's life, as told in song.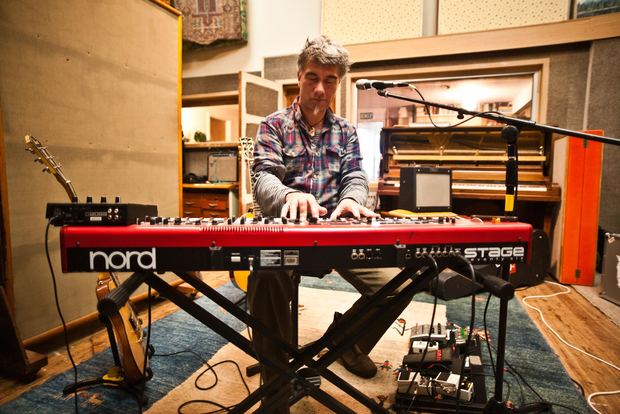 Warren Maxwell at Blue Barn Studios, Wellington / Photo by Pat Shepherd
Music played in this show
12-1pm
Artist: James Brown
Songs: Night Train 
Composer: Forrest, Washington
Album: Live At The Apollo 
Label: Polydor
Aaradhna at the Apollo Theatre

Artist: Aaradhna
Songs: Wake Up
Composer: Aaradhna Patel, Peter Wadams, Evan Short 
Album: Treble & Reverb
Label:Dawn Raid
Artist: Hiatus Kaiyote
Song: By Fire
Composer: Hiatus Kaiyote
Album: By Fire EP
Label: Sony
Carl Wilson - Let's Talk About Love: Why Other People Have Such Bad Taste

Artist: Celine Dion
Song: My Heart Will Go On
Composer: Will Jennings
Album: Let's Talk About Love
Label: Columbia

Artist: Nickleback
Song: How You Remind Me
Composer: Nickleback
Album: Silver Side Up
Label: Roadrunner

Artist: Hall and Oates
Song: You Make My Dreams
Composer: D. Hall/J. Oates, S. Allen
Album: Voices
Label: RCA

Artist: Beyonce
Song: All The Single Ladies
Composer: Beyoncé Knowles, Christopher Stewart, Thaddis Harrell, Terius Nash
Album: I Am... Sasha Fierce
Label: Columbia

Artist: Taylor Swift
Song: Blank Space
Composer: Max Martin, Shellback, Taylor Swift
Album: 1989
Label: Big Machine Records

Artist: Celine Dion
Song: Let's Talk About Love
Composer: Will Jennings
Album: Let's Talk About Love
Label: Columbia
Far Fetch with Sam Scott - PC Music

Artist: QT
Songs: Hey QT
Composer: Sophie/A.G. Cook
Album: Single
Label: XL Recordings

Artist: Lipgloss Twins 
Songs: Wannabe
Composer: A.G. Cook
Album: Single
Label: PC Music 

Artist: Hannah Diamond 
Songs: Attachment
Composer: H.Diamond
Album: Single
Label: PC Music 

Artist: Race Banyon 
Songs: Don't Need You
Composer: E.Johnston
Album: Whatever Dreams Are Made Of 
Label: Private
1-2pm
Francois and the Atlas Mountains Interview

Artist: François & the Atlas Mountains 
Songs: Boise, The Way to the Forest, Piano Ombre, La Fille Aux Cheveux De, Fancy Foresight, Réveil Inconnu 
Composer: F.Marry
Album: Piano Ombre
Label: Domino
Chronophonium Cross
Jack Ladder and Kirin J Callinan in session

Artist: Jack Ladder
Song: Her Hands
Composer: T.Rogers
Label: Radio NZ Recording

Artist: Kirin J Callinan
Song: Embracism 
Composer: K.Callinan
Label: Radio NZ Recording
Anatomy of a Song - Minuit "Aotearoa"

Artist: Minuit
Songs: Aotearoa 
Composer: Minuit
Album: Find Me Before I Die A Lonely Death.Com
Label: Tardus
A History of Student Radio Pt 3

Artist: Primal Scream
Song: Loaded
Composer: Bobby Gillespie/Andrew Innes/Robert A Young
Album:Screamadelica
Label: Sony

Artist: The Cure
Song: Pictures of You
Composer: Smith, Gallup, Williams, Thompson, O'Donnell, Tolhurst
Album: Disintegration
Label: Fiction Records

Artist: Bird Nest Roys
Song: Alien
Composer:Bird Nest Roys 
Album:Me Want Me Get Me Need Me Have Me Love
Label: Flying Nun

Artist: Push Push
Song: Trippin'
Composer: Havoc, Kane, Abplanalp, Push Push
Album:Single
Label: Tall Poppy

Artist: Headless Chickens
Song: Gaskrankinstation
Composer: C Matthews
Album:Body Blow
Label: Flying Nun

Artist: Bailter Space
Song: Robot World
Composer: Bailter Space
Album:Robot World
Label: Flying Nun

Artist: Hallelujah Picassos
Song: Rewind - Klink Klank Klunk Klonk(double spoon mix)
Composer: Pailing/Picassos
Album: U+I
Label: Wildside

Artist: The Breeders 
Song: Cannonball
Composer: Kim Deal
Album: Last Splash
Label: 4AD

Artist: Winston Francis
Song:Let's go to Zion extended mix 
Composer: Francis
Album: 7"
Label: Studio One

Artist: Nirvana
Song: In Bloom
Composer: Cobain/Grohl/Novoselic
Album: Nevermind 
Label: Geffen

Artist: Dark Tower
Song: You Beauty
Composer: Jody Lloyd
Album: On The Beat'n'Track
Label: Curious Records

Artist: The Orb
Song: Little Fluffy Clouds (Dance Remix 2)
Composer: Paterson/Glover)
Album: U.F. Off: The Best of The Orb
Label: Island Records

Artist: Strawpeople
Song: One Good Reason (Hell Of A Night Edit) 
Composer: P Judd
Album: Hemisphere 
Label: Pagan

Artist: Salmonella Dub
Song: More Dub Crazy 
Composer: Deakins,Penman,Taane,Tyler,Wilcox
Album: Salmonella Dub
Label: Curious 

Artist: Salmonella Dub
Song:Drunken Monkey
Composer: Salmonella Dub
Album:Calming of the Drunken Monkey
Label: Curious Records

Artist: Nas
Song: The World Is Yours
Composer: P. Phillips, N. Jones
Album: Illmatic
Label:Sony
Artist: Ronny Jordan
Song: The Jackal (the illest mix)
Composer:D.Bryant, R. Jordan, J. Campbell, T. Mason
Album: Bad Brothers: Ronny Jordan meets DJ Krush
Label: Island

Artist: Tool
Song: Forty Six & 2
Composer: Tool
Album: Aenima
Label: Zomba

Artist: Prodigy
Song: Breathe
Composer: 
Album: The Fat of The Land
Label: XL Recordings

Artist: Shihad
Song: Deb's Night Out
Composer: Shihad
Album:Killjoy
Label: Wildside

Artist: Mobile Stud Unit
Song: Boozing
Composer: 
Album: Green Eggs and Hamilton: A compilation of Hamilton Music
Label: Contact89FM

Artist: HDU
Song: Lull
Composer: T. Dingemans, C. Karlis, N. Phillips
Album: Higher ++
Label:Flying Nun

Artist: Fat Freddy's
Song: Hope
Composer: C. Faiumu, D. Tamaira, T.Laing, G. Nepia
Album: The Radio Active 89fm 21st Anniversary Compact Disc
Label: Radio Active

Artist: HDU and Peter Gutteridge
Song: Point that thing somewhere else
Composer: Gutteridge, Kilgour, Kilgour
Album:God Save The Clean - a Tribute to The Clean
Label: Flying Nun

Artist: Darcy Clay
Song: Jesus I Was Evil
Composer: Clay, Bolton
Album:Jesus I Was Evil
Label: Antenna Records

Artist: The 3Ds
Song: Outer Space
Composer: D Mitchell/ D Saunders/ D Roughan/ D Stones
Album: Hellzapoppin
Label: Flying Nun
Artist: Fazerdaze
Song: Reel
Composer: Fazerdaze
Album: Fazerdaze EP
Label: Self-released
Doprah live at Galatos

Artist: Doprah 
Song: Lucid Visons, Will I Be A Figure Eight, New Song, Whatever You Want, San Pedro
Composer: Doprah
Label: Radio NZ Recording
Stages: The King's Arms

Artist: The Datsuns
Songs: Harmonic Generator
Composer: Datsuns
Album: The Datsuns
Label: Infidelity

Artist: The National
Songs: Guest Room
Composer: The National
Album: Boxer
Label: WEA

Artist: Beirut
Songs: Elephant Gun
Composer: Zach Condon/ Ryan Condon 
Album: Feel
Label: 4AD

Artist: The Muttonbirds
Songs: In My Room
Composer: Don Maglashan 
Album: Free Range
Label: Flying Nun

Artist: SJD
Songs: Make Love Not War
Composer: Sean Donnelly
Album: Elastic Wasteland
Label: Round Trip Mars

Artist: Kitsch
Songs: Eleven/Eleven
Composer: Sam Icke
Album: Love Songs For Romantic Punks
Label: Shock

Artist: Mulholland
Songs: Let's Go Fishing
Composer: Jol Mulholland
Album: Unreleased
Label: 

Artist: 5.6.7.8's
Songs: I'm a Wild One
Composer: Umekawa
Album: Teenage Mojo Workout
Label: Timebomb

Artist: The White Stripes
Songs: The Hardest Button To Button
Composer: Jack White
Album: Elephant
Label: V2

Artist: Nightchoir
Songs: Caveman
Composer: Mike Hall
Album: See The First Star
Label: Elevenfiftyseven Records

Artist: Seeds of Orbit
Songs: Makeup of Moments
Composer: Mark Peterson
Album: Seeds Of Orbit
Label: Powertool Records

Artist: Giacomo Puccini
Songs: Un bel di vedremo
Composer: Giacomo Puccini
Album: 40 most Beautiful Arias
Label: Warner

Artist: The Eversons
Songs: Marriage
Composer: Mark Turner
Album: Summer Feeling
Label: Lil' Chief Records
Artist: Panda Bear
Songs: Crosswords
Composer: Panda Bear
Album: Panda Bear meets the Grim Reaper
Label: Domino
Artist: Jessica Pratt
Songs: Back, Baby
Composer: Pratt
Album: On Your Own Love Again
Label: Drag City
The Gig Guide
The Mixtape: Warren Maxwell

Artist: The Shadows
Song: Apache
Composer: Jerry Lordan
Album: Single
Label: Columbia

Artist: Quincy Jones
Song: Ai No Corrida
Composer: Chas Jankel, Kenny Young
Album: The Dude
Label: A & M

Artist: ACDC
Song: Back in Black
Composer: ACDC
Album: Back in Black
Label: Atlantic

Artist: John Coltrane
Song: Lonnie's Lament
Composer: John Coltrane, Jimmy Garrison, Elvin Jones, McCoy Tyner
Album: John Coltrane Quartet
Label: Impulse!

Artist: Outkast 
Song: Liberation
Composer: Outkast
Album: Aquemini
Label: LaFace Records

Artist: The Cure
Song: A Forest
Composer: Tolhurst, Hartley, Smith, Gallup
Album: Seventeen Seconds
Label: Fiction Records

Artist: Jeff Buckley
Song: Lilac Wine
Composer: James Shelton
Album: Grace
Label: Columbia