Music 101 for Saturday 3 January 2015
4:00 PM.Musical guests compile a C60, and talk us through the selections. This week, award winning Canadian-born country musician Tami Neilson with a selection of early influences and new discoveries. Read more Audio
12-1 pm
Music, interviews and summer festival coverage, with Melody Thomas.
Cairo Knife Fight
Cairo Knife Fight have been supporting Shihad on their FVEY tour, a seven-date summer run through the North Island alongside The Datsuns and I Am Giant.
The tour winds up this Saturday at Matakana Country Park. Ahead of the finale, Cairo Knife Fight's Nick Gaffaney checks in with a progress report, and reflection of the year just been.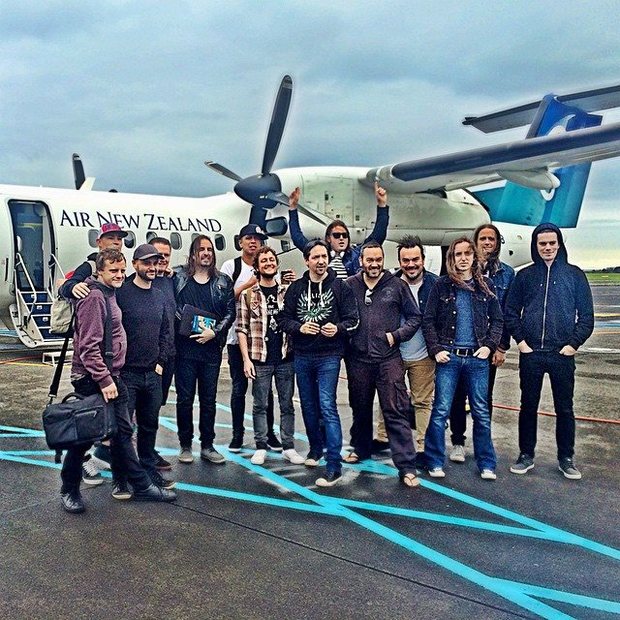 The Cairo Knife Fight/Shihad/The Datsuns/I Am Giant touring party / Photo by Shelton Woolright
Tigers of the Sea on the ferry to the Great Barrier Island NYE Party / Photo by Marcus Stickley
Far-fetch with Sam Scott
A game of fetch where Sam Scott (The Phoenix Foundation, Bunnies on Ponies) is given an obscure genre and a week to return with relevant musical examples and stirring stories. This week, he tackles the Punjabi genre of Bhangra.
Sam Scott plays fetch / Photo by Will Ricketts
1-2 pm
Music and Technology Hour
An hour devoted to discussion of how technological advancements affect the ways in which music is made, marketed and consumed.
The Shazam Effect- Derek Thompson
Senior editor at The Atlantic Derek Thompson on how the increasing availability of listener behaviour data drives the actions of scouts and label heads.
Estère
Musician Estère invites us into her bedroom studio to break down her writing process, which includes sampling sounds from her home and beyond, then layering them up with her MPC Lola.
2-3 pm
A History of Student Radio Part Two
A four-part journey through 45 years of student radio in New Zealand - the stars and bands who got their breaks, the politics, the music, the piracy and the 'No. 8 wire', sink or swim mentality.
In part two: Broadcasters who would go on to become household names recall their youthful antics in student radio, the 'taste barons' attempt to limit the playing of Joy Division, and the station managers negotiate with their Student Associations, amid the volatile political climate of the mid-80s.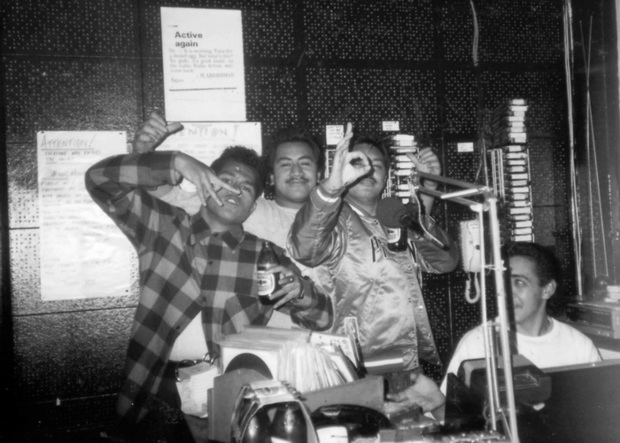 Wednesday Night Jam, Radio Active 1985 - Rhys B collection courtesy of AudioCulture
Anatomy of a Song - Reality Chant feat. Deadly Hunta
RDU's Spanky Moore calls in contemporary New Zealand musicians and bands to help dissect the sound elements that make up their hits. This week, 'Give Thanks' by Reality Chant featuring Deadly Hunta.
3-4 pm
Andrew Fagan and The People
The Mockers' Andrew Fagan has sailed the seas as much as he has commandeered the airwaves with a musical and literary career that has resulted in books of poetry, an autobiography, a broadcasting career and a back catalogue of songs spanning three decades. Trevor Reekie speaks to Fagan ahead of his nationwide tour with his band The People.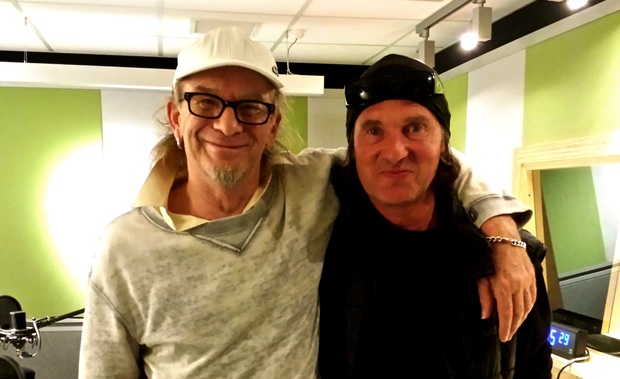 Trevor Reekie and Andrew Fagan / Photo by Andre Upston
Live: Jakob at Galatos
Hawkes Bay noisemakers Jakob returned with a vengeance in October when their first LP in eight years, Sines, finally saw the light of day. In November Jakob's Jeff Boyle, Maurice Beckett and Jason Johnston road-tested the album on a six-date North Island tour. Radio New Zealand engineer Andre Upston recorded their blistering set at Auckland venue Galatos, a performance he described as a "beautiful soundscape of distortion".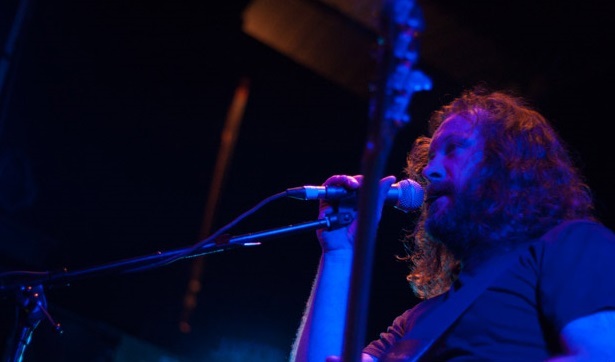 Jakob's Maurice Beckett on stage at Galatos / Photo by Yvonne Shearer - courtesy of cheeseontoast.co.nz
Stages: Chick's Hotel, Port Chalmers
Anthonie Tonnon visits New Zealand's most talked about places to see music, from big city institutions to port town oddities and near-mythical stages in the bush.
Twelve kilometres out of Dunedin, a long way from students and student bars, is Port Chalmers. It is a beautiful, eerie port town with enough industrial noise to ease the tinnitus of the musicians who call it home. Chick's Hotel is a dark, looming building that holds a few secret rooms and 19th century ghost stories, and allows bands from around the world to add to the noise.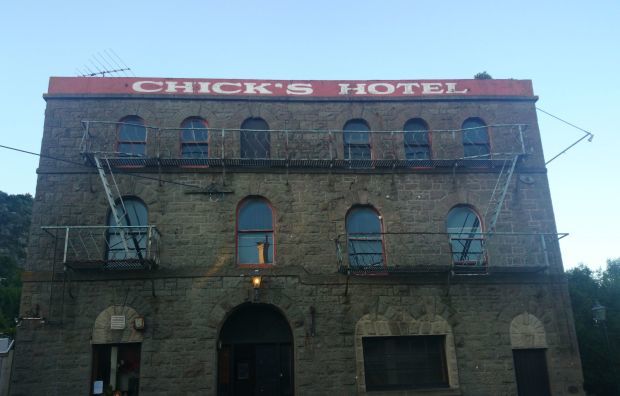 Chick's Hotel, Port Chalmers / Photo by Anthonie Tonnon
4-5 pm
The Mixtape: Tami Neilson
Musical guests compile a C60, and talk us through the selections.
Canadian-born country musician Tami Neilson has been in the business since she was a child, touring with the Neilson Family band and even opening for Johnny Cash. Almost a decade ago the singer moved to New Zealand, embedding herself in the country music scene. She has recently performed and collaborated with the likes of The Topp Twins, Marlon Williams and Delaney Davidson.  
2014 saw Neilson win the APRA Silver Scroll Award as well as Best Country Song at the NZ Country Music Awards and Best Female Artist at the National Country Music Awards. In her own words, from the 2014 Silver Scrolls: "Last year Lorde, this year me… You know what that means!"
Music played in this show
12-1pm
Artist: Shihad
Song: Cheap As
Composer: Toogood, Kippenberger, Knight, Larkin
Album: FVEY
Label: Warner
Nick Gaffney Interview

Artist: Cairo Knife Fight
Song: No Longer Silent
Composer: Gaffney
Album: Unreleased
Artist: Kimbra
Song: Love in High Places
Composer: Johnson, Giancia, Morris, Mason, Rastegar
Album: The Golden Echo
Label: Warner
Label: Sony
Far Fetch with Sam Scott - Bhangra

Artist: Punjabi MC ft Jay Z
Song: Mundian To Bach Ke (Beware Of The Boys)
Composer: Punjabi MC
Album: Westwood Platinum Edition 2003
Label: Def Jam UK

Artist: Heera
Song: Jagh Wala Mela
Composer: Heera
Album: Jagh Wala Mela
Label: Diamond Disc

Artist: Nusrat Fateh Ali Khan
Song: Jhoole Jhoole Lal (Tabla Mix)
Composer: Bally Sagoo
Album: Magic Touch
Label: Music Club

Artist: Sardara Gill
Song: Soho Road Utte
Composer: Gill
Album: Soho Road
Label: Moviebox Birmingham
1-2pm
Artist: St Vincent
Song: Digital Witness
Composer: Annie Clark
Album: St Vincent
Label: Caroline
Derek Thompson Interview - The Shazam Effect
Estere Interview

Artist: Estere
Song: Reptilian Journey
Composer: Estere Dalton
Album: Estere
Label: Self-released

Artist: Estere
Song: The Words That Maketh Murder
Composer: Harvey
Album: Live recording
Label: Aston Road
Artist: Kimbra
Song: Love in High Places
Composer: Johnson, Giancia, Morris, Mason, Rastegar
Album:The Golden Echo
Label: Warner
Russell Brown Interview

Artist: Thom Yorke
Song: You Wouldn't Like me When I'm Angry
Composer: Thom Yorke
Album: Tomorrow's Modern Boxes
Label:Self-released

Artist:The Phoenix Foundation
Song: God Rest Ye Merry Gentlemen
Composer: Traditional
Album: Single
Label: Self-released

Artist: Princess Chelsea
Song: The Cigarette Duet
Composer: Nikkel
Album: Lil' Golden Book
Label: LilChief

Artist:Paul Holmes
Song: Witchita Lineman
Composer: Webb
Album:Paul Holmes
Label: WEA
Artist: Aphex Twin
Song: PAPAT4 (pineal mix)
Composer: R D James
Album: Syro
Label: Warp
2-3pm
A History of Student Radio Pt 2

Artist: Violent Femmes
Song: Blister in the Sun
Composer: Gano
Album: Violent Femmes
Label: Rhino

Artist: Clarence Carter
Song: I'm The Midnight Special
Composer: Carter
Album: 7" Single
Label: Fame

Artist: Peter Tosh
Song: Legalize it
Composer: Tosh
Album: Legalize it
Label: CBS

Artist: Stonehenge
Song: Wings Of Steel
Composer: Stonehenge
Album: 12" Single
Label: Jayrem

Artist: Putty in Her Hands
Song: NZ music
Composer:
Album: Weird Culture Weird Custom: National Student Radio 1986
Label: National Student Radio

Artist: The Clean
Song: At The Bottom
Composer: Kilgour/Kilgour/Scott
Album: Oddities
Label: Flying Nun

Artist: Minutemen
Song: Dreams Are Free Motherfucker
Composer: Mike Watt, D. Boon, George Hurley
Album: Buzz Or Howl
Label: SST

Artist: Grandmaster Flash
Song: The Adventures Of Grandmaster Flash On The Wheels Of Steel
Composer: Chase/Glover/Jackson
Album: Grandmaster Flash and the Furious Five
Label: Flashback

Artist: Jesse Saunders
Song: On & On (1984 Original Vocal Remix)
Composer: Saunders
Album: 12"
Label: Jes Say Records

Artist: Shannon
Song: Let The Music Play
Composer: Barbosa/Chilsolm
Album: 12 Inch Dance Greats
Label: Old Gold

Artist: Able Tasmans
Song: Buffaloes
Composer: Humphries/Keen
Album: A Cuppa Tea And A Lie Down
Label: Flying Nun

Artist: The Dead C
Song: Bad Politics
Composer: Russell/Morley
Album: Making Losers Happy
Label: Xpressway

Artist: R.E.M.
Song: Pop Song 89
Composer:
Album: Green
Label: Warner

Artist: Crawbilly Creeps
Song: A Day In Lucky Gulch
Composer: Crawbilly Creeps
Album: Weird Culture Weird Custom: National Student Radio 1986
Label: National Student Radio

Artist: The Band Of The Royal New Zealand Air Force
Song: Those Magnificent Men and Their Flying Machines
Composer: Goodwin
Album: The Band Of The Royal New Zealand Air Force
Label: Salem

Artist: Nirvana
Song: Negative Creep
Composer: Cobain
Album: Bleach
Label: Geffen

Artist: Joy Division
Song: Love Will Tear Us Apart
Composer: Curtis
Album: The Very Best of Joy Division
Label: London

Artist: Straitjacket Fits
Song: She Speeds
Composer: Carter
Album: Melt
Label: Flying Nun

Artist: Upper Hutt Posse
Song: E Tu
Composer: Hapeta,Hapeta
Album: Upper Hutt Posse: Dedicated 1988-1991
Label: Kia Kaha

Artist: The Jean Paul Sartre Experience
Song: Own Two Feet
Composer: Mulcahy/Yetton/Laing/Sullivan
Album: The Jean Paul Sartre Experience
Label: Flying Nun

Artist: Public Enemy
Song: Fight The Power
Composer: Ridenhour, Sadler, Shocklee
Album: Fear Of A Black Planet
Label: Defjam
Anatomy of a Song - Reality Chant "Give Thanks"

Artist: Reality Chant feat. Deadly Hunta
Song: Give Thanks
Comp: Reality Chant/T.Samuels
Album: Single
Label: Reality Chant
3-4pm
Andrew Fagan Interview

Artist: Fagan and The People
Song: Ancestor
Comp: Fagan
Album: Ancestor EP
Label: Fagan

Artist: The Mockers
Song: The Good Old Days, Woke Up Today, Swear It's True, Alvison Park
Comp: Curtis, Fagan
Album: Swear It's True
Label: Reaction Records

Artist: The Mockers
Song: One Black Friday, 7 Years Not Wasted
Comp: Curtis, Fagan
Album: Woke Up Today: The Definitive Collection
Label: BMG

Artist: Andrew Fagan
Song: Jerusalem
Comp: Fagan
Album: Blisters
Label: Sony Music

Artist: Lig
Song: Empty, You
Comp: Fagan
Album: Bacterial Activity
Label: Abstract Sounds

Artist:The Mockers
Song: Forever Tuesday Morning
Comp: Curtis, Fagan, Wedde
Album: Woke Up Today: The Definitive Collection
Label: BMG

Artist: Andrew Fagan
Song: Exciting
Comp: Fagan
Album: Andrew Fagan
Label: Sony Music
Live: Jakob at Galatos

Artist: Jakob
Song: Magna Carta, Pneumonic, Blind Them With Science, Harmonia
Composer: J.Boyle, M.Beckett, J.Johnston
Label: Radio NZ Recording
Stages: The Chick's Hotel

Artist: Dear Times Waste
Songs: Alice/Blue And Gold
Composer: Claire Duncan
Album: Spells
Label: Isaac Promotions

Artist: Males
Songs: Over And Out
Composer: Richard Ley-Hamilton
Album: Run Run Run
Label: Fishrider Records

Artist: The Shifting Sands
Songs: Tonight
Composer: Mike McLeod
Album: Feel
Label: Fishrider Records

Artist: The Bats
Songs: Calm Before The Storm/Free All The Monsters
Composer: Robert Scott
Album: Daddy's Highway/Free All The Monsters
Label: Flying Nun

Artist: The Clean
Songs: Point That Thing Somewhere Else/Anything Could Happen
Composer: David Kilgour, Hamish Kilgour/ Robert Scott
Album: Anthology
Label: Flying Nun

Artist: Brains
Songs: I'll Decide
Composer: Matthew McCauley
Album: Constant Love Forever
Label: Self release

Artist: Bad Sav
Songs: Ruiners
Composer: Hope Robertson
Album: Awesome Feeling 4
Label: Real Groove

Artist: Die! Die! Die!
Songs: Caseman
Composer: Andrew Wilson
Album: Form
Label: Flying Nun

Artist: The Dead C
Songs: Sky
Composer: Michael Morley
Album: Harsh 70s Reality
Label: Siltbreeze

Artist: Trick Mammoth
Songs: Vesper II
Composer: Adrian Ng
Album: Floristry
Label: Fishrider Records
Artist: Frànçois & The Atlas Mountains
Songs: Summer of the Heart
Composer: F.Marry
Album: Piano ombre
Label: Domino
The Gig Guide

Artist: Slow Magic
Song: Girls
Composer: Slow Magic
Album: How To Run Away
Label: Downtown
4-5pm
Tami Neilson Mixtape

Artist: Willie Mae "Big Mama" Thornton
Songs: Hound Dog
Composer:Jerry Leiber / Mike Stoller
Album: Big Mama Thornton: Hound Dog, The Peacock Recordings
Label: MCA

Artist: Patsy Cline
Songs: She's Got You
Composer: Cochran
Album: Greatest Hits
Label: MCA

Artist:Judy Garland
Songs: The Man That Got Away
Composer: Arlen, Gershwin
Album: Judy Garland: America's Treasure
Label: Dunhill

Artist:Mavis Staples
Songs: Creep Along Moses
Composer: Traditional
Album: You Are Not Alone
Label: ANTI

Artist: Loretta Lynn
Song: Fist City
Composer: Loretta Lynn
Album:Loretta Lynn: Gold
Label: MCA

Artist: The Beatles
Song: If I Fell
Composer: Lennon, McCartney
Album: A Hard Day's Night
Label: Parlophone

Artist: Johnny Cash
Song: Sunday Morning Coming Down
Composer: Kristofferson
Album: Johnny Cash: Classic Cash 1988
Label: Mercury

Artist: The Temptations
Song: Ain't Too Proud to Beg
Composer: Holland, Whitfield
Album: The Temptations: Greatest Hits
Label: Motown