Music 101 for Saturday 27 December 2014
Music, interviews and summer festival coverage, with Melody Thomas. 
5:00 PM.Musical guests compile a C60, and talk us through the selections. In the first of Summer Music 101's Mixtape season, Electric Wire Hustle's David 'Taay Ninh' Wright and Mara TK share the songs that… Read more Audio
12-1pm
12.12pm Summer Music Venues
Every summer, go-to live music destinations shift from the main centres to the provinces, as music fans empty out of the cities and into venues like Coroglen Tavern, Mussel Inn, Mangawhai Tavern and Riwaka Tavern. Melody Thomas talks to the owner-operators behind these high season hotspots about how their venues come into their own over the summer months.
12.35pm The Datsuns - Summer Tour
Cambridge sons The Datsuns are back in town for the summer, kicking out the jams across a series of headlining shows before they ally with Shihad, I Am Giant and Cairo Knife Fight for their rock-fueled summer run. Street Chant singer/guitarist turned Music 101 correspondent Emily Littler checks in with The Datsuns' Dolf de Borst before the band put rubber to the road.
12:45pm Far-fetch with Sam Scott
A game of fetch where Sam Scott (The Phoenix Foundation, Bunnies on Ponies) is given an obscure musical genre and a week to return with relevant examples and entertaining anecdotes. This week, he gets his booty grinding to some Miami Bass.

Sam Scott plays fetch / Photo by Will Ricketts.
1-2pm
1:10pm Best Live Performances of 2014
Music 101 contributors Marty Duda, Martyn Pepperell and Elle Hunt join Melody Thomas to discuss some of the most memorable moments in live music this year.
1.40pm Latinaotearoa In Session
Brazlian/Venuzuelan/Kiwi collaborative project Latinaotearoa aims to bring Latin American dance music to NZ dance floors - band members Bobby Brazuka, Jennifer Zea, and Isaac Aesili bring those beats to the Music 101 studio for some festive fiesta. 
2-3pm
2.04 A History of Student Radio Part One
A four-part journey through 45 years of student radio - the stars and bands who got their breaks, the politics, the music, the piracy and the 'No. 8 wire', sink or swim mentality.
In Part One: From the humble home-made AM transmitters, illegally manned by tech-nerds on islands around Auckland for limited weeks of the university term, campus radio stations rapidly evolved into a beacon for music-lovers, on-air talkers and people who never finished their degrees.  We talk to some of characters who set the template for student radio in New Zealand, breaking rules, records, and radio transmitters.

Radio Active co-managers Linda Dale and Stu Birch in studio in 1984 / Photo courtesy of Stu Birch
2:45pm Anatomy of a Song - Beastwars, 'The Sleeper'
RDU's Spanky Moore calls in contemporary New Zealand musicians and bands to help dissect the sound elements that make up their hits. This week, 'The Sleeper' by Beastwars.
3-4pm
3:05 pm Live: The 2014 APRA Silver Scroll Awards
Every year at the APRA Silver Scroll Awards the finalists have their songs covered by other musicians. Hear recordings from the night, including a re-imagining of Tami Nielson's winning song 'Walk (Back Into Your Arms)' performed by throat-singer Johnny Marks and Gamelan Taniwha Jaya.
3:30pm Stages: Barrytown Hall, State Highway 6
Anthonie Tonnon visits New Zealand's most talked about places to see music, from big city institutions to port town oddities and near-mythical stages in the bush. While on a long summer tour this year, Tonnon met the organisers and audience members that keep our stages running, and collected stories from the bands who travel to play them.
The Barrytown Hall on the South Island's West Coast has been hosting bands since the early '70s, fuelling demand from a migration of alternative lifestylers. Its allure among musicians has seen it visited by international bands  like Fugazi and Townes Van Zandt, as well as providing an early touring stop for New Zealand bands, from Blerta to Trinity Roots and The Mint Chicks.

The Barrytown Hall / Photo by Anthonie Tonnon
Gig Guide
4-5pm
4:05 pm The Mix Tape: Electric Wire Hustle
Musical guests compile a C60, and talk us through the selections.
In the first of Summer Music 101's Mix tape season, Electric Wire Hustle's David 'Taay Ninh' Wright and Mara TK share the songs that inspire and influence them.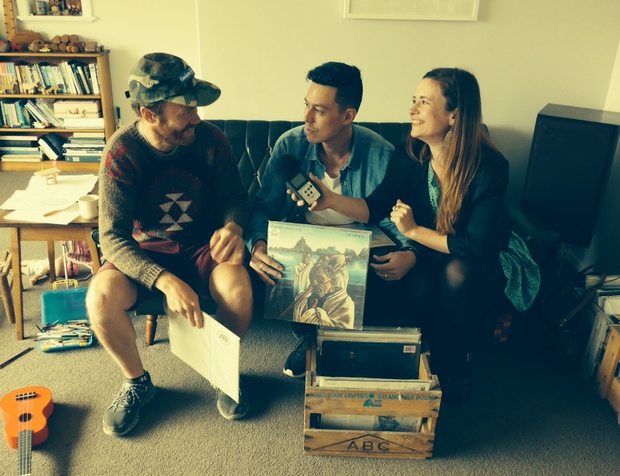 Electric Wire Hustle's Mara TK and Dave Wright digging in the crates with Melody Thomas / Photo by Paddy Bleakley
Music played in this show
12-1pm
Artist: Electric Wire Hustle
Song: The Golden Ladder
Composer: Electric Wire Hustle
Album: Unreleased
Label: Unreleased
Summer venues

Artist: Shapeshifter
Song: In Colour
Composer:Shapeshifter
Album: Delta
Label:Truetone

Artist: Pokey LaFarge
Song: Central Time
Composer: LaFarge
Album: LaFarge
Label: Thirdma

Artist: Dragon
Song: April Sun in Cuba
Composer: Hewson, Hunter
Album: Running Free
Label: Portrait

Artist: Kenny Rogers and Dolly Parton
Song: Islands in the Stream
Composer:Gibb, Gibb, Gibb
Album: The Essential Dolly Parton
Label: RCA
The Datsuns Interview

Artist: The Datsuns
Song: Caught in the Silver, 500 Eyes, Bad Taste, Sun in My Eyes
Composer: The Datsuns
Album: Deep Sleep
Label: Hellsquad Records
Artist: MØ feat. Diplo
Song: XXX 88
Composer: Ørsted, Vindahl, Pentz
Album: No Mythologies to Follow
Label: Chess Club/RCA Victor
Far Fetch with Sam Scott - Miami Bass

Artist: 2 Live Crew
Song: Throw the D
Composer: 2 Live Crew
Album: The 2 Live Crew Is What We Are
Label: Luke/Atlantic Records

Artist: B.V.S.M.P.
Song: I Need You
composer: Rodgers, Williams, Byrd
Album: The Best Belong Together
Label: BCM Records

Artist: Dimples Tee
Song: Jealous Fella's
Composer: T. Nelson
Album: Jealous Fella's 12-inch
Label: Bass Station Records
1-2pm

Artist: Nick Cave and the Bad Seeds
Song: The Mercy Seat
Composer: N.Cave, M.Harvey
Album: Tender Prey
Label: Mute Records
Artist: @Peace
Song: Matter
Composer: L.Tuisau, T.Scott, B.Haru, C.James, D.Dandruff
Album: Unreleased Live Recording
Label: Radio NZ Recording
Latinaotearoa in session

Artist: Latinaotearoa
Song: Bossa Nova Zelandoa
Composer: J.Zean, I.Aesili, L.McCallum, M.Kooga
Album: Unreleased Recording
Label: Radio NZ Recording

Artist: Latinaotearoa
Song: La Candela
Composer: J.Zean, I.Aesili
Album: Unreleased Recording
Label: Radio NZ Recording

Artist: Latinaotearoa
Song: Malele
Composer: I.Aesili, R.Mukai
Album: Unreleased Recording
Label: Radio NZ Recording
2-3pm
A History of Student Radio Pt 1
Music details to come
Anatomy of a song - Beastwars "Sleeper"
Artist: Beastwars
Song: The Sleeper
Composer: Beastwars
Album: Blood Becomes Fire
Label: Beastwars
3-4pm
Live: 2014 APRA Silver Scrolls

Artist: Gamelan Taniwha Jaya w/ Jonny Marks
Song: Walk (Back To Your Arms)
Composer: T.Neilson / J.Neilson
Label: Radio NZ Recording

Artist: Terror of the Deep w/ Rian Sheehan
Song: Bridges
Composer: C. Nott / G. Nott
Label: Radio NZ Recording

Artist: Estere
Song: Me At the Museum
Composer: H. Fullbrook / C. Mitchell / A. Frear
Label: Radio NZ Recording

Artist: Golden Awsome
Song: Back on my Feet
Composer: L. Baker
Label: Radio NZ Recording

Artist: West Coast Bullies
Song: Bob Lennon & John Dylan
Composer: The Phoenix Foundation
Label: Radio NZ Recording
Stages: The Barrytown Hall

Artist: The Bats
Songs: Things/ North By North
Composer: Robert Scott
Album: At The National Gird, Daddy's Highway
Label: Flying Nun

Artist: Alistair Riddel
Songs: Out On The Street
Composer: Alastair Riddel
Album: Space Waltz
Label: RPM

Artist: Chris Parfitt and the Hi-Revving Tongues
Songs: Tropic Of Capricorn
Composer: Chris Parfitt
Album: Tropic of Capricorn
Label: Zodiac

Artist: Blerta
Songs: Drugs/Dance All Around The World
Composer: Corban Simpson (Dance All Around The World), Geoff Murphy, Bruno Lawrence (Drugs)
Album: Dance All Around The World
Label: Epic

Artist: Rough Justice
Songs: When I Get To Heaven
Composer: Rick Bryant
Album: Radio Trax (RNZ compilation)
Label:

Artist: Fugazi
Songs: Waiting Room
Composer: Ian MacKaye
Album: 13 Songs
Label: Dischord Records

Artist: Bad Manners
Songs: Lip Up Fatty
Composer: Douglas Trendle
Album: (single)
Label: Telstar Records

Artist: Townes Van Zandt
Songs: Pancho and Lefty (with Freddy fender), Colorado Girl
Composer: Townes Van Zandt
Album: Legend
Label: Snapper

Artist: The Mint Chicks
Songs: Opium Of The People
Composer: Kody Neilson, Ruban Neilson
Album: Rippon 2006
Label: Loop

Artist: Die! Die! Die!
Songs: Paquin
Composer: Andrew Wilson
Album: Form
Label: Flying Nun

Artist: Alizarin Lizard
Songs: Hipster
Composer: Paul Cathro
Album: Hipster
Label: Banished From The Universe
RIP Rollcall

Artist: The Ramones
Song: Blitzkrieg Bop
Composer: Tommy Ramone, Dee Dee Ramone
Album: Ramones
Label: Sire/ABC

Track: Pie Cart Rock'n'Roll
Artist: Johnny Cooper
Album: Pie Cart Rock'n'Roll
Composer: J.Cooper
Label: Zerox

Artist: The Everly Brothers
Song: Bye Bye Love
Composer: F.Bryant, B.Bryant
Album: The Everly Brothers
Label: Cadence

Artist: Bobby Womack
Song: The Bravest Man in the Universe
Composer: B.Womack, D.Albarn, R.Russell
Album: The Bravest Man in the Universe
Label: XL

Artist: Peter Seeger
Song: If I Had a Hammer (The Hammer Song)
Composer: P.Seeger, L.Hays
Album: If I Had a Hammer: Songs of Hope and Struggle
Label: Smithsonian Folkways Recordings

Artist: Horace Silver Quintet
Song: Song for My Father
Composer: H.Silver
Album: Song for My Father
Label: Blue Note

Artist: Cream
Song: Sunshine of Your Love
Composer: Brown, Bruce, Clapton
Album: Disraeli Gears
Label: Reaction, Atco, Polydor

Artist: Joe Cocker
Song: The Letter
Composer: Thompson
Album: Mad Dogs and Englishmen [Live]
Label: Mobile Fidelity
Gig Guide
4-5pm
Electric Wire Hustle Mixtape

Artist: D'Angelo
Song: 1000 Deaths
Composer: D'Angelo
Album: Unreleased (leaked demo)
Label: n/a

Artist: Jay Electronica ft LaTonya Givens
Song: Better in Tune with the Inifinite
Composer: Jay Electronica
Album: Self-released
Label: Self-released

Artist: Flying Lotus
Song: Coronus, The Terminator
Composer: Stephen Ellison / Niki Randa
Album: You're Dead!
Label: Warp

Artist: Machine Drum
Song: She Died There
Composer: Machine Drum
Album: Rooms
Label: Planet Mu

Artist: Young Fathers
Song: I Heard
Composer: Young Fathers
Album: Tape Two
Label: Anticon

Artist: Georgia Anne Muldrow
Song: Seeds
Composer: Georgia Anne Muldrow
Album: Seeds
Label: SomeOthaShip Connect

Artist: James Blake
Song: Come Thru
Composer: Drake
Album: Self-released
Label: Self-released

Artist: Electric Wire Hustle
Song: Bottom Line
Composer: Electric Wire Hustle
Album: Love Can Prevail
Label: EWH